ANCA x h-pem | Kataro Winery at the Smithsonian Folklife Festival
September 05, 2018
This year's Smithsonian Folklife Festival highlighted some of Armenia's oldest and coolest productions. Among them is our rich legacy of winemaking. Armenian National Committee of America (ANCA) summer intern, Adrienne Tazian Schwartz, describes one such family-owned business, located in one of the region's most turbulent areas.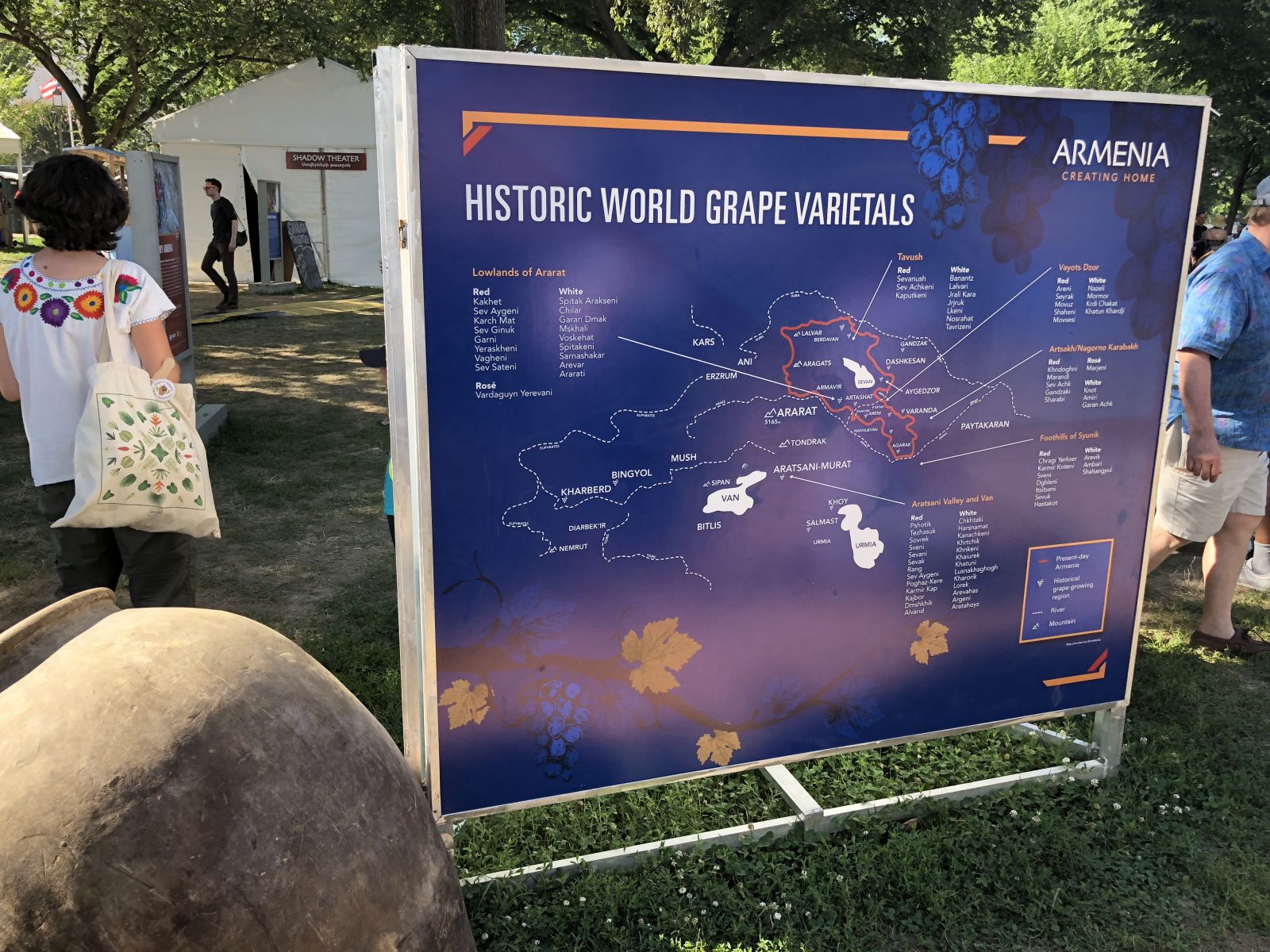 The rich variety of grapes in Armenia, as depicted at the Smithsonian Folklife Festival in Washington, D.C.
Reigniting an ancient cultural tradition
When the Smithsonian team came to Armenia looking for winemakers, Grigori Avetisyan of Kataro Winery, based in the Hadrut region of Artsakh, was picked for a multitude of reasons. Of the 30 wineries in the region, Kataro is a family business with its own vineyards and techniques. Grigori, personally, has been making wine for eight years, becoming an expert in the craft.
Kataro Winery has sustained through generations, revolutions, and wars.
Through all of this struggle and change, the Avetisyan family business has preserved the vineyards and continues to produce quality wines. The business is named after the mountainous and noble region in the south of Artsakh called Hadrut, home to an ancient temple named Kataro. In this region, the rare grape strand Khndoghni is found in abundance. The climate, soft sun, soil, and consistent care are what make Kataro wine great.
Avetisyan's favorite part of the Smithsonian Folklife Festival is that everything came together in an organized manner to display the culture of his country. He says he has truly enjoyed every moment and aspect of the festival. His booth offered tastings and information about the wine and was very popular among patrons. Several lecture series also took place discussing the social role of wine in Armenia, as well as the deep history behind the making of wine.
Regarding Armenian wine's legacy in America, Mr. Avetisyan would like people to know that Armenia is one of the oldest regions to make wine. Before the Soviet Union, Armenia was famous for wine and brandy. However, during Soviet times, every country was given a different industry and Armenia was assigned to produce brandy. During this era, wine production ceased in the region, so wine innovation was halted.
In 2007, the world's oldest known winery, Areni-1 cave, in Vayots Dzor, was rediscovered. Scientists believe that the winemaking procedure first began in this cave about 6,000 years ago! Now, in the post-Soviet era, Armenian wine production is booming again, as the new generation is re-inspired. Avetisyan is proud to be contributing to the development and improvement of Armenian wine production and is happy to share this history with the Smithsonian Folklife Festival.
Any additional references or recommendations? We would love to hear your suggestions!