The Nativity: 8 hidden facts in the magic of medieval Armenian art
January 06, 2021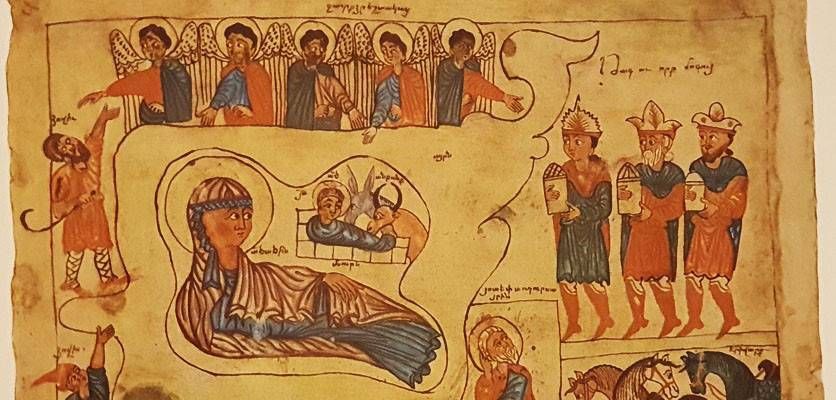 The birth of Jesus has been a recurring theme for Armenian artists since early times. Depictions of the nativity in medieval Armenian art, especially in miniature painting, are full of religious symbolism. Based on the nativity narratives in the Gospels of Matthew and Luke, they combine traditional approaches to iconography with diverse artistic mediums and common cultural elements.
Since ancient times Christianity has extended its influence to culture and the arts both in the East and the West. Artists have explored the life of Christ in a personal way, to develop their own philosophy based on a commitment to Christian teachings. In their efforts to meet the need of the society for religious images, they have galvanized major movements in art, in full-blown inventiveness.
The iconographic portrayal of the birth of Christ, a widespread feature in Christian art, has been a source of creative inspiration for many centuries. The nativity of Jesus— Surp Dsnund | Սուրբ Ծնունդ, celebrated throughout the Christian world as Christmas, has found creative expression in Armenian art since 301, when Christianity was adopted as the official religion in Armenia, a decade before it was tolerated in the Roman Empire.
The 6th century miniature painting of "The Adoration of the Magi" attached to a 10th century Etchmiadzin Gospel, as well as the bas-relief sculptures of the famous funerary monument at the Odzun church (5th–6th centuries), are among the earliest representations of the nativity in Armenian art. Outstanding Armenian miniaturists such as Toros Roslin and Grigor Tsaghkogh are most celebrated for their depictions of the subject. The 10th century frescoes of the Church of the Holy Cross on Akhtamar Island in Lake Van, are considered gems to be treasured.