From New York to Malawi and everywhere between: Meet global architect and urban designer Garine Boghossian
January 20, 2020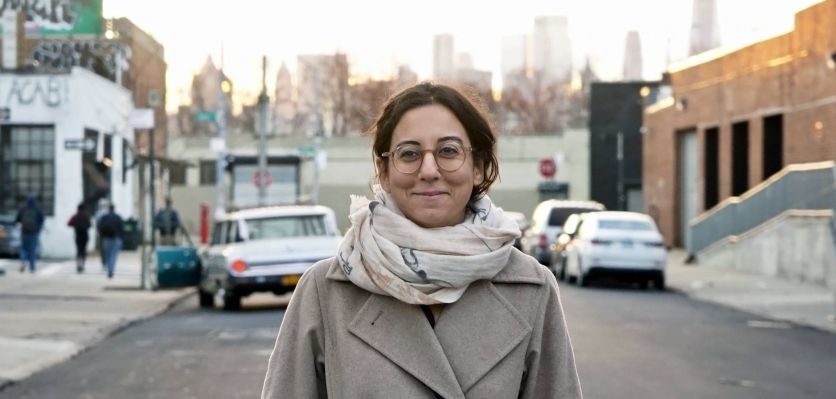 From Beirut to Boston to New York (and Beijing, Bogota, Moscow, Berlin, Katowice, and Ulaanbaatar in between!), Brooklyn-based architect and an urban designer Garine Boghossian is constantly on the lookout for new opportunities and ways to be involved in her community(ies). Read her recent interview with h-pem below and find out what drives her, wherever she may be...
A little over a decade ago, as she was set to graduate from high school, Garine Boghossian found herself facing an important decision: to pursue a career in music or one in architecture and design?
"I love playing the piano. When I play, I drift away from the terrestrial," she explains during a recent chat. "It is an uncanny feeling, but it's also a lonely one: As much as I enjoyed playing, it made me detached from the social, economic and political reality in which I was living," she goes on. Garine was completing a baccalaureate in piano studies right around the time she was finishing her tenure at the historic Hamazkayin Armenian Lyceum (Djemaran) of Beirut.
While a career as a pianist sounded pretty interesting, Garine decided that she wanted something that is more applied; something more communal.
And so, Architecture presented itself with what she called "the often-heard cliché: as a practice where art meets science." "I was sold! So, I enrolled in the Architecture program at the American University of Beirut (AUB)," she explains, right before humbly giving a nod to her parents' sacrifice and unwavering support for making it all happen.
Looking for the larger context
After countless sleepless nights and group projects, Garine graduated from the renowned program at AUB and went on to work at famed Lebanese architect Bernard Khoury's office in Beirut. Khoury's work, which has been widely published, started in an independent practice back in 1993. Since then, his office has gained international praise and built quite the reputation, with projects in Lebanon and around the world, including several in Armenia, like the Tumo Center for Creative Technologies (2011), the Tumo Park (2011), and the Epygi Park Master Plan (2013).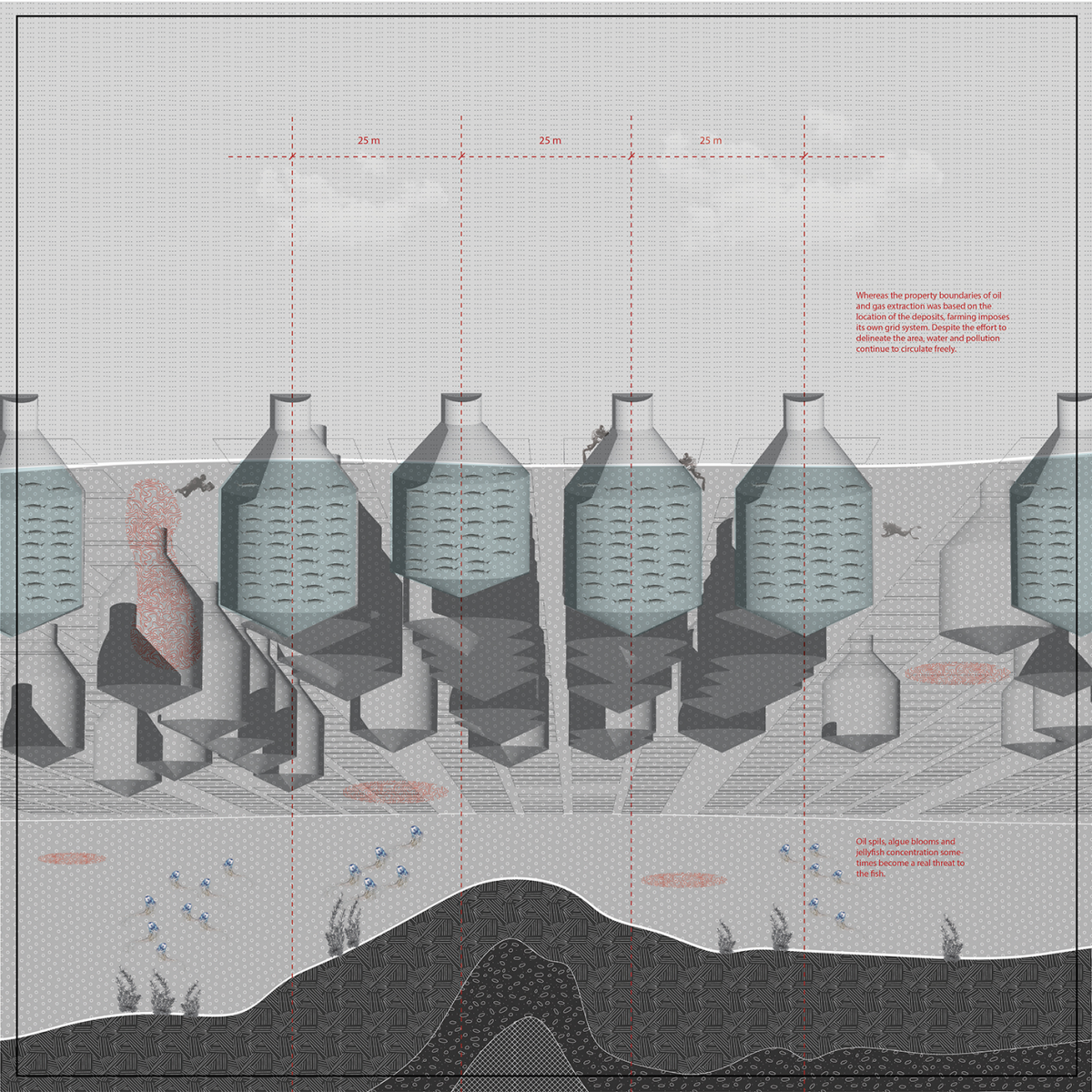 The Book of Wonders: The Caspian Sea (Courtesy of Garine Boghossian)

While working at the firm, Garine was given the opportunity to work on the feasibility/concept of Tumo Gyumri. She soon realized that her interest in the built environment was growing; she wanted to learn about the larger context in which architecture operates. "Growing up in Lebanon—a country where the public realm is continuously negotiated through economic and military violence—the politics of architectural production imposes itself as a reality; a reality that I wanted to understand better," she explains.
So, she applied to MIT's Architecture and Urbanism program and made the move to Boston. During her time at the coveted university, she was given the opportunity to travel around the globe and be exposed to issues pertaining to urbanization in different parts of the world—from Detroit, to Beijing, to Bogota, Moscow, Berlin, and Katowice. After graduating, Garine went on to teach Architecture and Urbanism studios at Northeastern University and the Boston Architectural College.
Before her move to New York, Garine worked with her professor Rania Ghosn on the U.S. Pavilion for the 2018 Venice Biennale. Her studio, "Design Earth," was assigned to address notions of design and citizenship at the scale of the cosmos. The project, entitled "Cosmorama," presented fictional narratives to address current issues that shape humanity's relationship to the cosmos.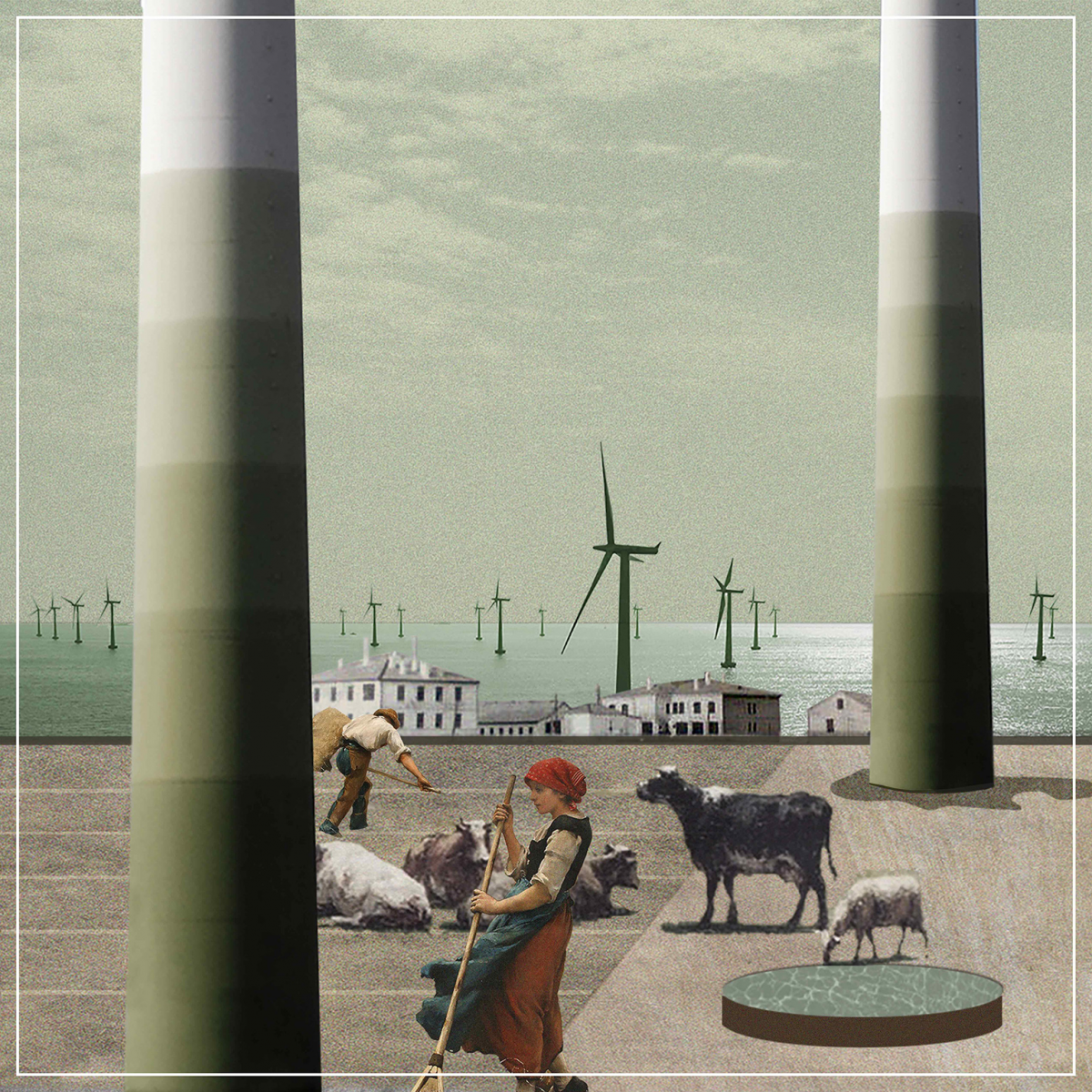 The Book of Wonders: The Caspian Sea (Courtesy of Garine Boghossian)

Soon after, Garine joined PAU (Practice for Architecture and Urbanism)—a design studio in New York— to work on two fascinating projects. The first was a master plan in Queens. "The site, Sunnyside Yard, is an active railyard at the heart of different neighborhoods. Our team included over 12 consultants, from rail engineers, landscape designers, civil and environmental engineers, and other stakeholders," she explains. With a timeline spanning over 80 years, the project had to consider potential changes that might impact cities in the coming decades, from climate change to technological advancements in mobility, construction, and other parameters.
The second project was a mixed-use development in, of all places, Ulaanbaatar, the capital of Mongolia. "The project proposes a shift from traditional building typologies that control the pedestrian and breaks away from linear and gridded plans. It encourages freedom of movement in an auto-centric and congested city," she says. As the project manager and lead designer, her responsibility also included coordinating work between the New York and Mongolia teams. Thanks to the project, Garine was able to visit Ulaanbaatar, a city, she says, she likely would not have seen if it were not for her work. "Not only did [visiting Ulaanbaatar] help with the particular project, but it also introduced me to a different urban reality—one I had not been exposed to," she explains.
Professionally engaging with the homeland
Garine's connection to Armenia began early on. "In 1996, just a few years after the country became independent, my parents put me on a plane and sent me to my uncle who was living alone in Yerevan," she says. Since then, and throughout her education, Garine and her Lisbon-based architect brother Garen would spend every summer in Armenia. "Looking back, I realize that, though I was not a resident, I was not a tourist either. The fact that I was there every summer and for a long duration, allowed me to understand the city and experience its urban culture," she says.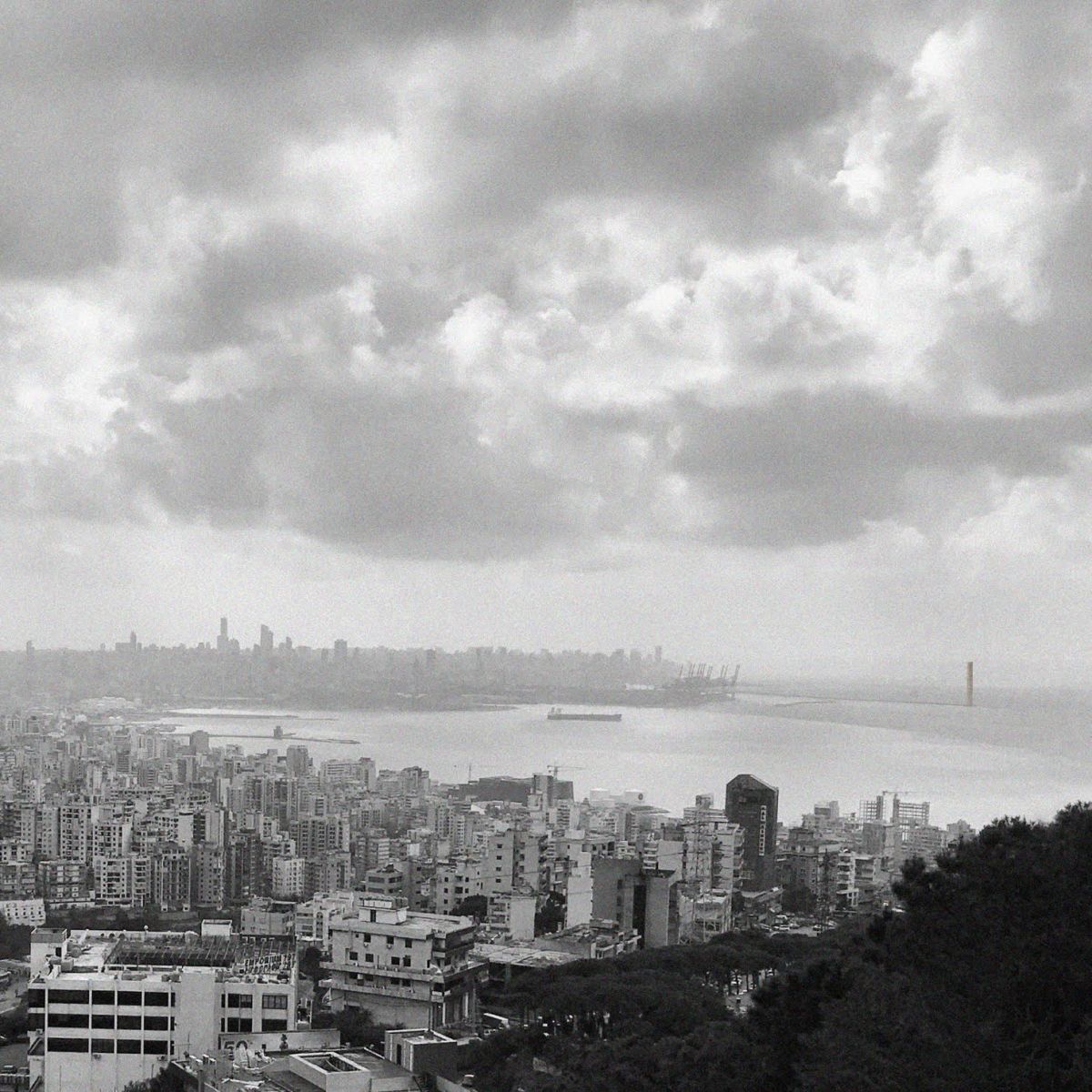 The Beirut Lighthouse (Photo: Garine and Garen Boghossian)

And although engaging with the country as a professional can require some adjustment for a non-native, Garine is determined nonetheless, by immersing herself in creative and critical work in Armenia.
This year, the Boghossian Foundation with Urbanlab in Yerevan announced an open international competition called "Reviving NPAK"—a call to reimagine the Armenian Center for Contemporary Experimental Art in Yerevan. The competition received an unprecedented number of entries, proof that people are thirsty for such initiatives in a context where open competitions are rare. "We formed a team of four architects, which included [my brother] Garen and myself. We submitted a proposal that consolidates NPAK as a space in continuous dialogue with the city," she explains. Garine's team introduced a major pedestrian walkway along the structure of NPAK, connecting Buzant Street to Tchaikovsky Street. With this new urban corridor, NPAK would become not only a destination for art lovers, but a point along a journey through the streets of Yerevan.
"The proposal preserves and highlights the principal architectural features, with which NPAK has presented itself to the city for the past decades; the circular window and the quadruple arches," she says. Competitions, according to Garine, are great opportunities for putting ideas on paper and sharing them with others. "It is creative work that becomes a way to exchange ideas and generate new ways of thinking and being in the world," she explains.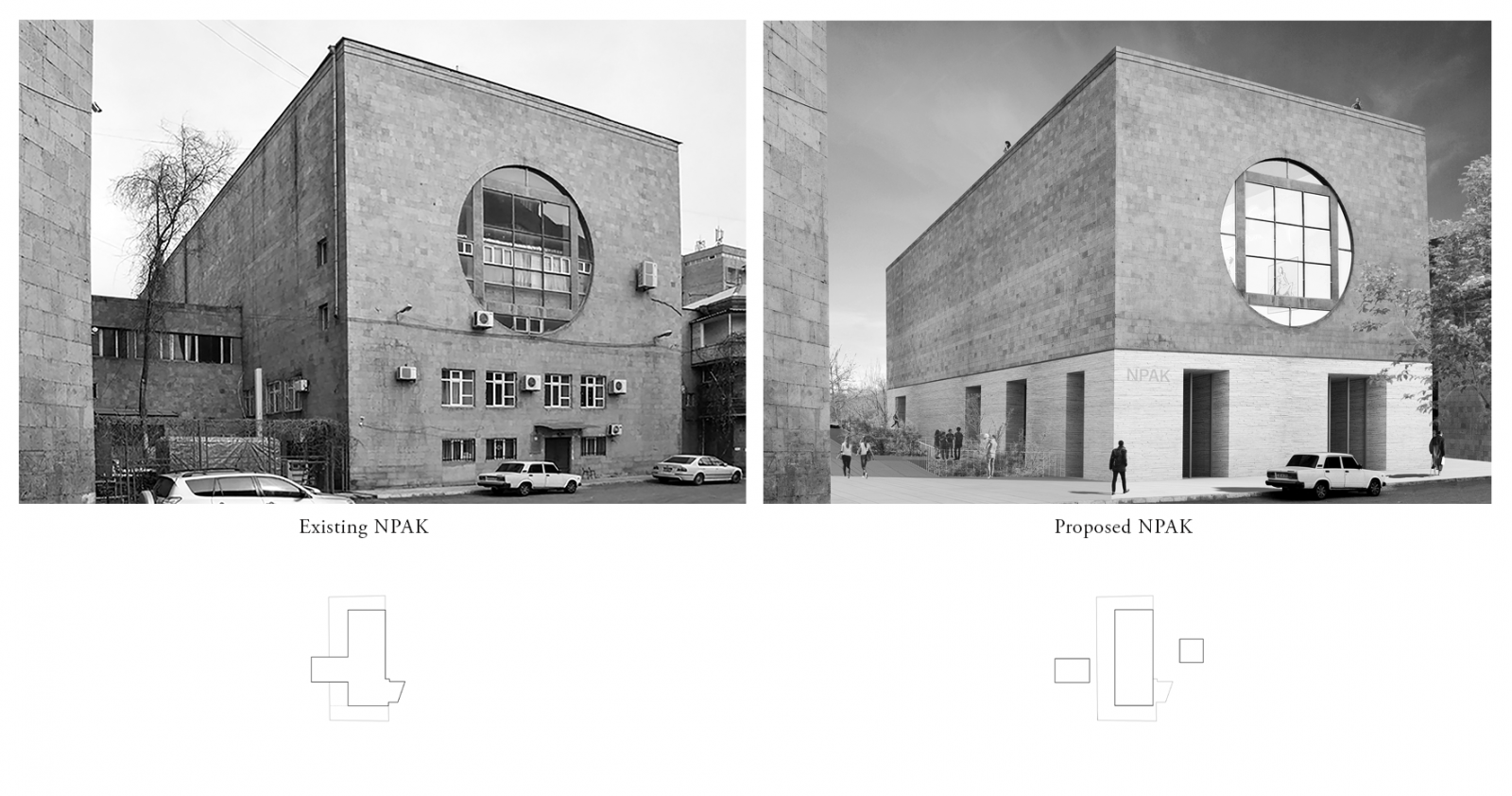 To the left is a view of NPAK as it is today; to the right, the proposal (Courtesy of Garine Boghossian, Garen Boghossian, Elisa Bosi, Gabriele Paravati)

Garine's work with Armenian institutions has not been strictly confined to Armenia. Prior to her move to the U.S., she joined a group of professionals who were leading an urban activism campaign to preserve the Historic Bird's Nest (Թռչնոց Բոյն | Trchnots Pouyn) Orphanage in Lebanon, which gave shelter to thousands of orphaned refugees who had survived the Armenian Genocide. The site includes two of the world's earliest landmarks built by genocide survivors: a chapel in 1921 and a cemetery in 1924.
The campaign opposed turning the site into a private beach resort which would necessitate the destruction of the cemetery and the conversion of St. Kayane Chapel into a beach club and restaurant.
"We have been successful in delaying the project, which has not received a construction permit yet; however, the developers have illegally started operation on site. So, the fight is still not over and the threat is still very present," she explains. "These decisions should be driven by policies and not people in positions of power," she goes on.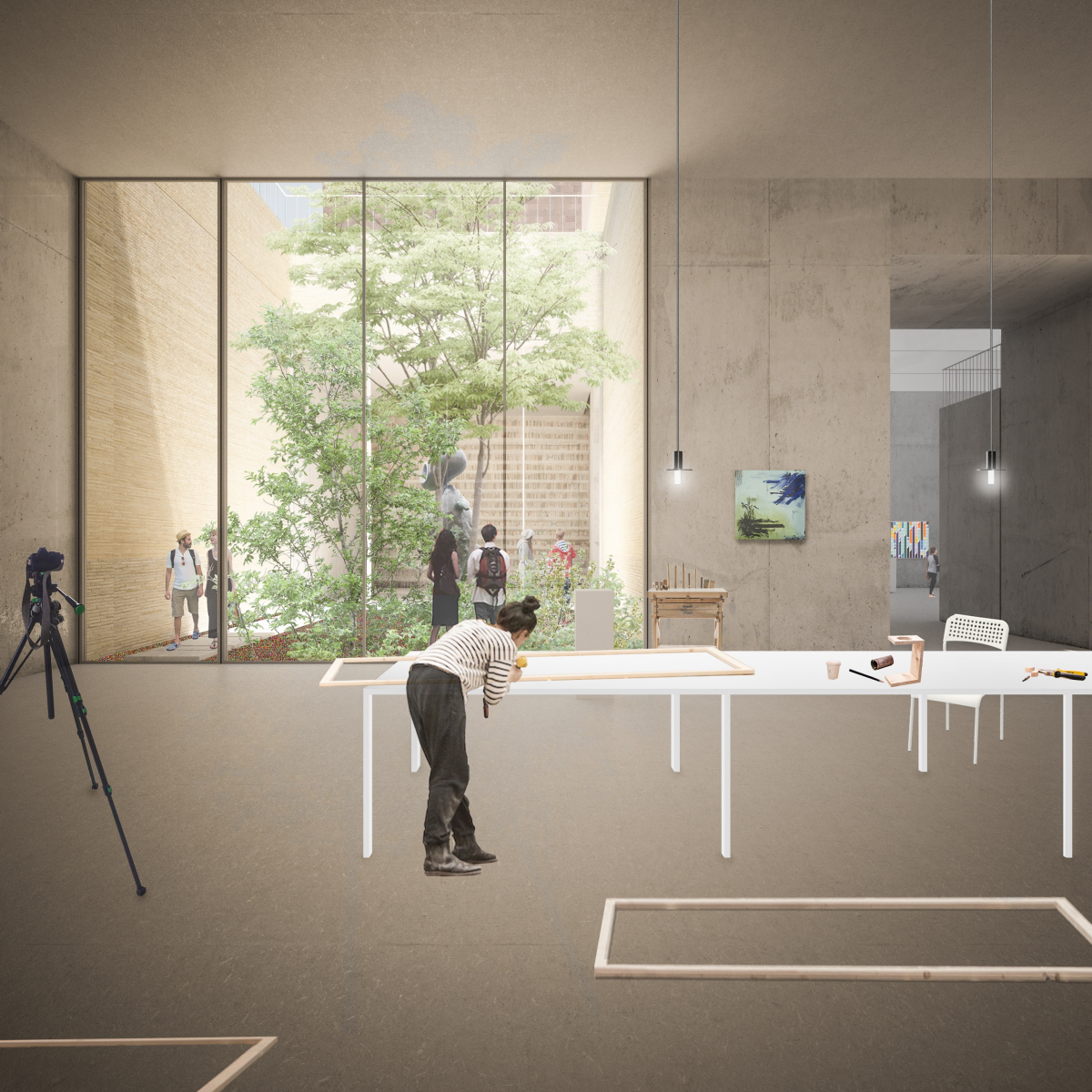 NPAK proposal - the view from the workshop space into a courtyard (Courtesy of Garine Boghossian, Garen Boghossian, Elisa Bosi, Gabriele Paravati)

In a recent article in Yerevan's EVN report, Garine called for Armenia to "rethink its relationship to territory." The article, she says, was driven by an urge to address a structural problem in the urban planning sector in Armenia—one, which according to her "requires a deep conversation" between the government and professionals in the field. "The Velvet Revolution came with a promise of change. It is incumbent on us to push for this change by engaging in critical conversation about all aspects of life, from human rights to the economy to urbanism," she explains.
According to Garine, the post-revolution government has not yet reformed the politics and policies that govern the architecture and planning sector in Armenia. "It is business as usual. For instance, a few weeks ago, a group of architects and architecture studios circulated an open statement calling for reforms within the architecture and planning sectors, in reaction to recent developments in architectural projects in the country. As I mention in my article, members of society are fully ready to engage in reforms. The government would be derelict in its duties if it does not respond to those calls immediately," she says.
Opportunities ahead
Garine's interest in architecture and urbanism has always been at the intersection of practice and teaching. Recently, the architect and urban designer took on a new position at ORG Permanent Modernity to work on a national physical plan for the government of Malawi.
At the same time, Garine says she would like to visit Armenia and Lebanon more often, and engage with people and collectives who are doing work on the ground. "I am always on the lookout for opportunities to be involved, and when the right project arises, I will pounce on it," she says.
Whether in design practice or education, Garine is constantly ready for what's next—wherever it may be...
Learn more about Garine and her work by visiting her website garineboghossian.com.