'Inch G'ella': Collectif Medz Bazar is changing the tune of despair, that's what!
Collectif Medz Bazar
December 13, 2019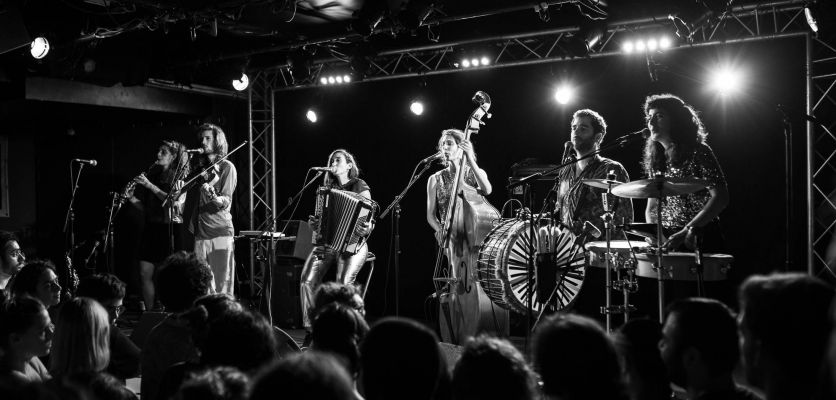 Stomp your feet to this latest Collectif Medz Bazar tune, full of raging emotional envy and a continuous pumping beat—a reflection of uncompensated affection (sans-melancholy). Directed and edited by the colorful genius behind their extravagant "Poshmanella" video, Samuel Buton, and shot at the New Morning in Paris, the "Inch G'ella" music video perfectly presents the second single from their third studio album, "O"—another collection of multilingual indie-folk-experimental hits from the eclectic group.
| | |
| --- | --- |
| Genre | Ethno folk |
| Released | 2019 |
| Location | Paris, France |
| Language | Western Armenian |
| Duration | 4:59 |
| Link | |
Gaining diaspora traction from the well-known shots fired at the social and political cliches of the French-Armenian community (with over 335,000 views since 2014), "Ariur ar Ariur" (which translates to "100 percent") served as a base for what's become Collectif Medz Bazar today. Five years and three albums later, Collectif has become an essential must in our "Armenian bands" playlists.
The "Inch G'ella" (which translates to "What happens?") music video, released on the first day of this month, perfectly portrays what the Collectif concert atmosphere is almost always like: crazy, upbeat, non-stop dancing (like an Armenian version of the party Jack and Rose infamously escape to in "Titanic"). The performers are enthusiastic and shameless while enjoying the lyrics of condemning the actions of a man who hasn't returned his love-y dues. Having spent a lot of time with band members Sevana, Shushan, and Vahan throughout the Gulbenkian-organized Zarmanazans in 2018 and 2019, I texted them right away to inquire about my favorite song of the album and its new-released video for this h-pem piece.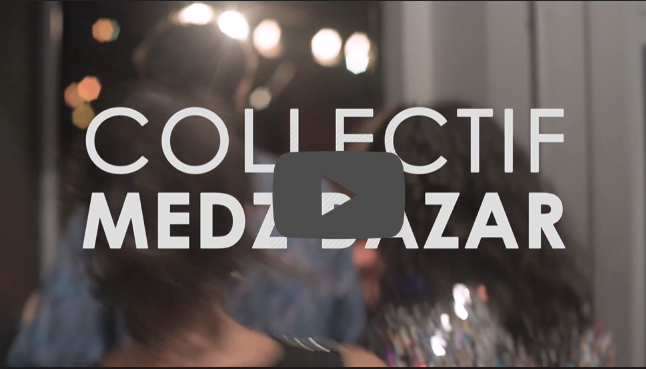 During a recent interview on Public Radio of Armenia's "The Notes of Success," the song's lead vocalist Sevana said that were she ever to choose a genre to play forever, she'd choose Armenian folk—understandably so! "Yallah, yallah! Bir daha! Encore une fois!" ("Come on, come on! Once more! Once more!") she yells to the crowd during the Western Armenian song: a trilingual call to the multicultural crowd to repeat the song bridge for a second time.
Check out Samuel Buton's awesome shots from Collectif Medz Bazar performance/video shoot at the New Morning in Paris in our photo section below!
How is a song about longing for love not sad and slow? Sevana, who was recently referred to as the "Duchess of Folk," breaks it down: "During rehearsals at a residency in Portugal, [vocalist; percussionist] Vahan started playing these three notes on his cümbüş over and over again. I started freestyling, [percussionist] Ela started jamming on percussion, so I recorded it on my phone. When the residency was over, I came back to Armenia and started writing the lyrics, inspired by stories from me and my friends' complains of 'ah! s/he did that to me!' The song is rhythmic and energetic because it's the ultimate song of despair. Instead of doing it in pathos, it's done with a different type of energy—in a trance melody. I was already seeing myself jumping on stage, singing to that." (Spoiler alert: She's seen in the video doing exactly that!)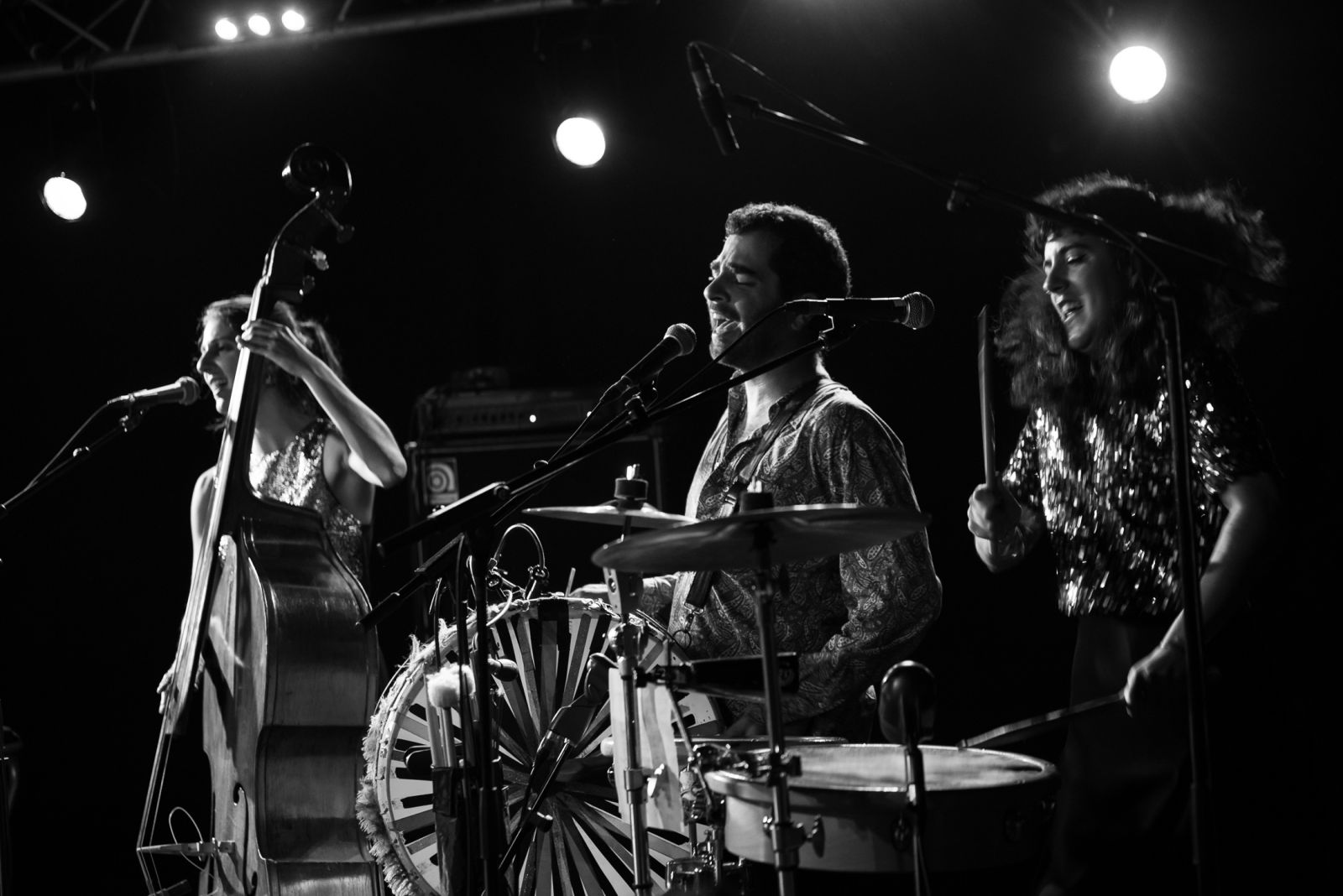 From the Collectif Medz Bazar performance/video shoot at the New Morning in Paris (Photo: Samuel Buton; courtesy of Collectif Medz Bazar)

Shushan (double bass), on the other hand, took a little break from her Fierce Flowers musical trio UK tour to tell me what the video means to her. The "O" album, she says, is "an ode to love, a stepping stone towards a new chapter of Medz Bazar's life!" I made sure to ask her why they went with "Lion & Bear," a much calmer song, as the newly released album's debut single instead of the head-bopping "Inch G'ella."
"The aim of the 'Inch G'ella' music video is to transmit the amazing, warm, explosive vibes and energy that happen during our concerts. We offer different moods on stage, from calmer atmospheres to faster and more festive ones. This beautiful energy, the joy we share with the audience, is extremely precious and I think this song and this video translates this perfectly! I couldn't stop smiling after the concert," she explained.
Be sure to stream Collectif Medz Bazar's music on Spotify, Deezer, Anghami, or whichever platform you use! Also, if you happen to be in Switzerland this weekend, don't miss their concert in Aarau, Switzerland!

Join our quest to keep up with the trends!
Video
"Inch G'ella" by Collectif Medz Bazar

(Video: Collectif Medz Bazar YouTube page)
?>

"Inch G'ella" by Collectif Medz Bazar