Saroyan in (Western) Armenian: An audiobook brought to you by h-pem
William Saroyan
March 24, 2020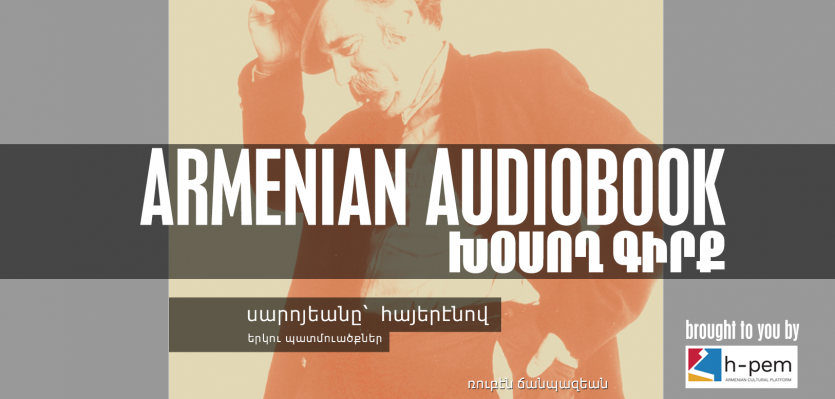 H-Pem is happy to release the audiobook of the 53-page Saroyan in Armenian, first published by the Sosé & Allen's Legacy Foundation in 2015.
| | |
| --- | --- |
| Released | 2015 (paperback) ; 2019 (e-book); 2020 (audiobook) |
| Publisher | Sosé & Allen's Legacy Foundation; h-pem |
| Location | Toronto, Canada |
| Language | Armenian (with English subtitles) |
| Duration | 56:46 |
| Link | |
We at h-pem decided to put this audiobook together after being inspired by our good friend Alik Arzoumanian's virtual Armenian language storytime sessions.
During this time of physical distancing amid the global pandemic of COVID-19, we figured this may be a useful resource for parents and teachers.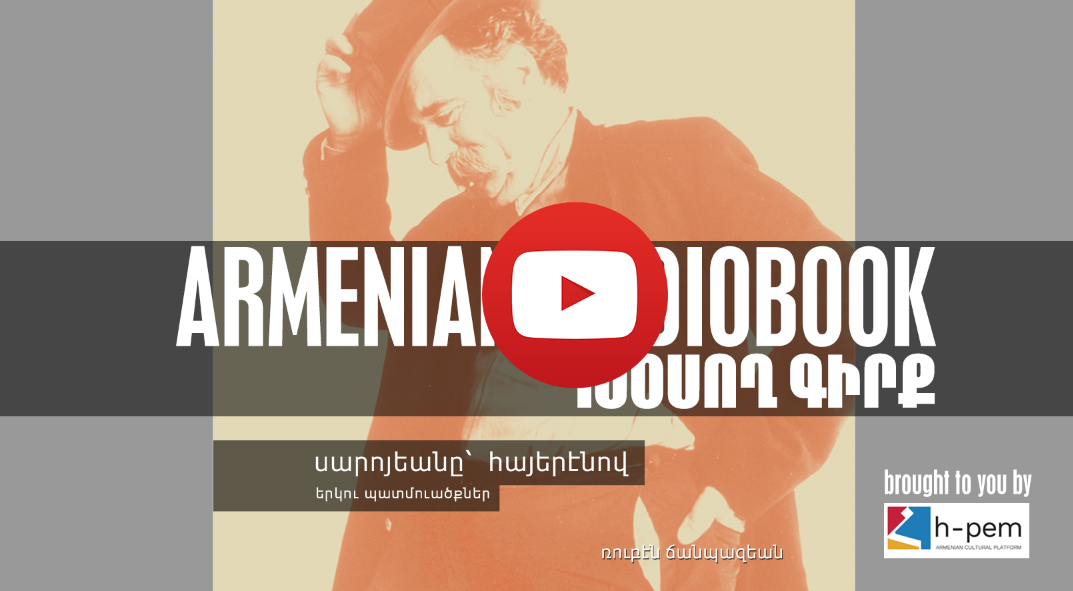 The e-book version of Saroyan in Armenian: Two Short Stories («Սարոյեանը՝ հայերէնով, երկու պատմուածքներ») can be accessed and read for free on the Sosé & Allen's Legacy Foundation Issuu page.
The 53-page Saroyan in Armenian includes the Western Armenian translations of Saroyan's famed "Seventy Thousand Assyrians" and "Five Ripe Pears," and Saroyan's biography written by filmmaker Paul Kalinian ("William Saroyan: The Man the Writer," 1991). The book, which includes 10 original color graphics by Janbazian, was edited by Yeprem Tokjian of Toronto.
Saroyan in Armenian was first published (paperback) in 2015 in memory of Sosé (Thomassian) and Allen Yekikian following their untimely passing in 2013. The Foundation continues Sosé and Allen's vision by establishing programs and supporting existing programs aimed at bridging the gap between Armenia and its Diaspora, through an emphasis on education, repatriation, and volunteerism within the homeland. More than 200 print copies of Saroyan in Armenian were distributed free of charge at Los Angeles-area public event honoring the memory of Sosé and Allen in 2018.
Join our quest to keep up with the trends!
Video
Saroyan in (Western) Armenian: Two Short Stories (AUDIOBOOK)

(Video: h-pem)
?>

Saroyan in (Western) Armenian: Two Short Stories (AUDIOBOOK)