Birthright Armenia: At the crossroads of self-discovery and nation-building
August 19, 2019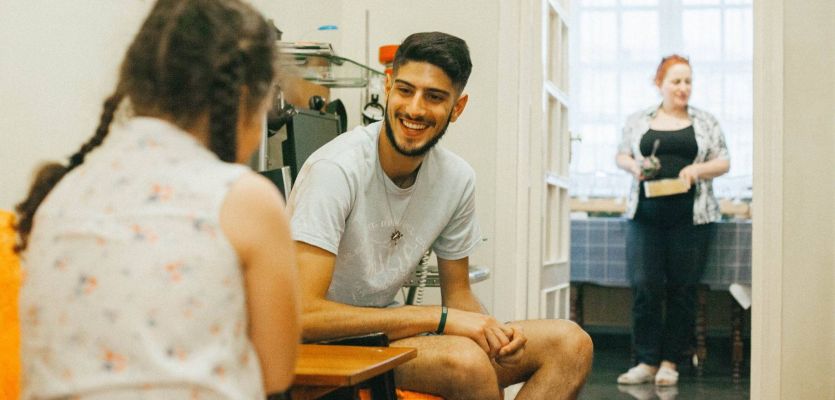 What happens when you join a bus full of cosmopolitan 20-somethings on a trek through the sloping mountains of Armenia's Aragatsotn province? If you ask the volunteers of Birthright Armenia, they would answer, "pure joy." Last summer, I tagged along on one of their jaunts, and it became one of the most memorable experiences of my six-week stay in Armenia.
Armenia has no shortage of stupefying wonders. A pilgrimage to an ancient stone monastery, sprawled across the lush, quiet countryside; evening strolls along busy streets where blaring car horns harmonize with the ethno-jazz rhythms of outdoor cafes; a dip in the cool waters of Sevan or a hike in the picturesque forests of Dilijan—summers in Armenia, especially, are an enthralling experience for many diasporans.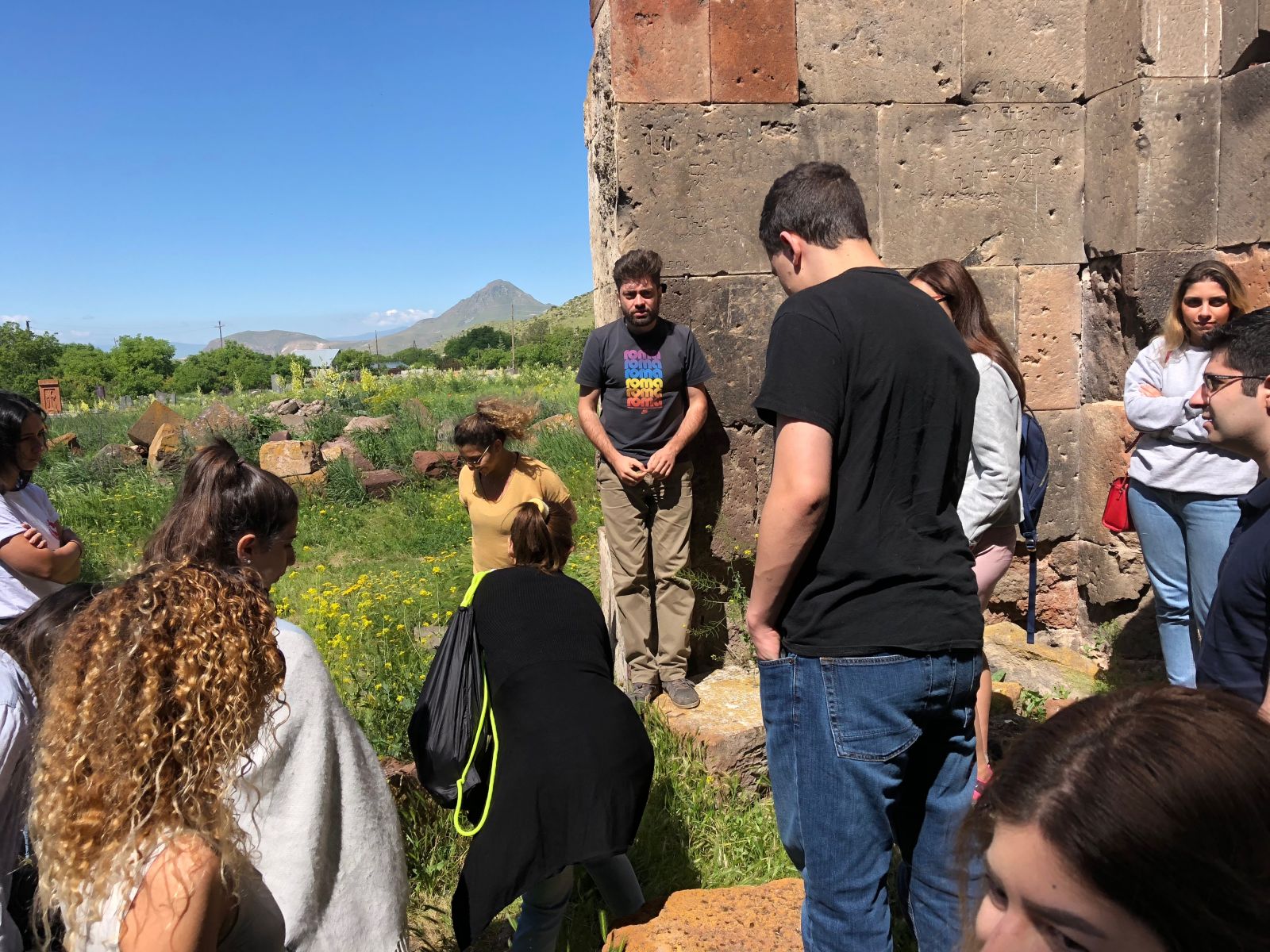 Birthright Armenia volunteers listen to a local guide's lowdown on the Talin region (Photo: Lilly Torosyan)

A Birthright Armenia volunteer could experience all of these joys on the same day. These individuals are a part of an expanding network of diasporans—from Beirut to Boise (that's in Idaho, in case you didn't know!) and everyplace between—who embark on a journey to discover their new, yet ancient, land, and along the way, uncover dormant parts of themselves. Fitting that "A Journey to Self-Discovery" was one of the original mottos of the Birthright Armenia program.
Check out what a day in the life of a Birthright Armenia volunteer is like in our video section below!
Though not a political organization, one could argue that the entire mission of Birthright Armenia is predicated on a specific motivation that is, in essence, political: the idea that they transcend politics. The name "Birthright Armenia" bears an uncanny resemblance to Birthright Israel, but that is, more or less, where the similarities start and end. Its mission is not simply to highlight the best parts of Armenia to unsuspecting youth, but to show the complete truth: the beautiful warmth of her people, juxtaposed with the ugly reality of a harsh history and, at times, painful present.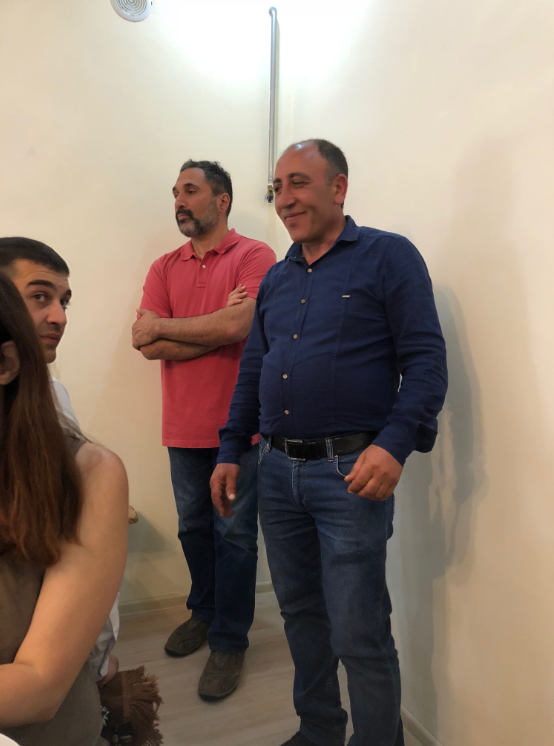 Our gracious Talintsi host (R) and Birthright Armenia Country Director Sevan Kabakian (L). (Photo: Birthright Armenia)
Armenia is not a mystical holy grail; she is a land of many contradictions, each with an important story to tell. And Birthright Armenia portrays Armenia's destiny on a canvas that all of us have the birthright of painting. In addition to internships and host family stays, volunteers also attend excursions every weekend, where they—as one participant from Argentina described—"discover, and fall in love with, a new piece of Armenia." I, too, would soon embark on a similar journey of discovering a new piece of our beautiful homeland.
One quiet Saturday morning, I joined an eclectic mix of students, recent graduates, and young professionals from nearly every continent on the globe on a trek to the Talin region, a mountainous part of Armenia where many refugees from Sasun resettled after the Armenian Genocide—including my own family. I was excited that my first Birthright foray included a piece of my personal story.
Want to learn more about Birthright Armenia? Check out h-pem's exclusive, in-depth interview with Birthright's Country Director Sevan Kabakian here!
After the obligatory church visits, we did something few other tour groups do. We visited the home of a local Talintsi (Talin resident), whose family had prepared an authentic homemade meal for fifty hungry 20-something year-olds—out of his own pocket. Men dressed in taraz (Armenian tradtional costume) entertained us with Western Armenian tunes, accompanied by a traditional folk band. In one corner of the room, a group of Birthrighters from Argentina and France were making conversation with the host's timid children through a medley of broken phrases and rapid hand gestures; in the kitchen, a pair of young men from Brazil were thanking the women who prepared their meals, insisting repeatedly (and turned down repeatedly) to help distribute the coffees they were making; in the living room, a volunteer from California was intent on lending his piano skills to the band.

Along the narrow hallway piping through to the front yard, one could hear a slew of tongues, from Spanish and French to Russian and English (which are, perhaps not so coincidentally, the four official languages that Birthright Armenia now caters to on its website); yet remarkably, the conversations were all explicitly Armenian. Soon after, we locked hands to learn the dances of our ancestors. In the blazing heat, stepping on each other's toes, led by strangers speaking a foreign tongue, surrounded by farm country—everyone should have been uncomfortable—miserable, even. Looking in from the outside, one would never guess that such a diverse, multinational group of young adults would be enjoying themselves in a tiny village among strangers in the Armenian countryside. Yet, not a single sweaty face was without a smile. Not a single person wished to be elsewhere.
For more information on Birthright Armenia, visit their website birthrightarmenia.org.
All photos are courtesy of Lilly Torosyan unless otherwise stated.

Video
Birthright Armenia: A Day in the Life of a Volunteer (English captions)

(Video: Birthright Armenia YouTube page)
?>

Birthright Armenia: A Day in the Life of a Volunteer (English captions)