Raffi Joe Wartanian's 'Critical Distance': An acoustic homage to the fretless
November 21, 2019
After a six-year hiatus, Raffi is back with his sophomore album, "Critical Distance," which he hopes will drop by the end of the year. Check out our review of the record, then consider supporting the album's fundraising campaign through the link below!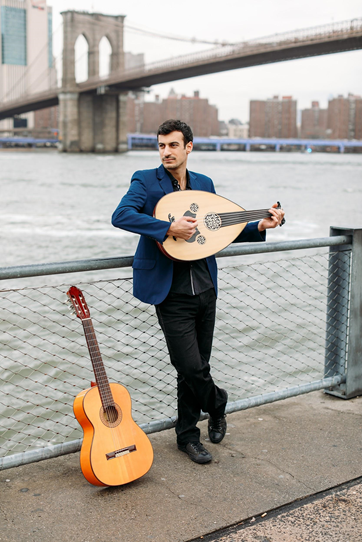 The writer, performer, and musical mastermind behind "Critical Distance": Raffi Joe Wartanian, with an oud in his arms and guitar by his side.(Photo: Anastasia Italyanskaya)
Writer, musician, activist, and friend of h-pem, Raffi Joe Wartanian, wears many hats. After a six-year hiatus from his debut album, "Pushkin Street," he is back with a fresh set of tunes, cementing another title to his ever-growing repertoire: instrumental recording artist. His upcoming album, "Critical Distance," is an acoustic journey through the many cultural and artistic styles, sounds, and inflections that have influenced the multitalented artist.
If songs were stamps in a passport, "Critical Distance" would be quite the world traveler, and its owner, Raffi Joe Wartanian, the perfect spy. You may be familiar with Raffi the poet, from his h-pem submission: a heart-wrenching poem about the Medieval Armenian city of Ani; or Raffi the author and lecturer from his writing courses at Columbia University. But like any good spy, he has many tricks up his sleeve—or colors on his palette.
One of those is Raffi the musician: his first passport, "Pushkin Street," was a sonic exploration of many cultural sounds—from Armenian tetrachords to American twangy blues to the strums of the Spanish guitar and beyond. Six years later, his follow-up record, "Critical Distance," picks up where "Pushkin Street" left off—and covers some more (critical) distance.
Unlike its predecessor, all 10 original compositions on "Critical Distance" are instrumental. Raffi (as he prefers to be called) tells us that his goal was "to let the instrument(s) sing." And, indeed, they do—the "singers" feature a multiethnic ensemble of fingerstyle guitar, oud, and mandolin. Another departure from his first foray, Raffi collaborated with other musicians on this album, namely Grammy Award-winning percussionist MB Gordy and renowned bassist Jake Leckie, to build on the many styles and sounds he grew up listening to, as well as those he picked up along his journeys—both physical and artistic.
Yet, despite the album's eclectic nature, nothing "clashes." From the slow buildup and wild coda in "Anthem of the San Gabriels," to the almost biographical story of "El Molino Viejo," (meaning "the Old Windmill" in Spanish), to the soft flutter and gentle strikes in "Appalachatolia" (my personal favorite), "Critical Distance" is "a conversation between the music of Armenia and Appalachia," says the creator. Like names of people, the record's title reveals some clues…
In philosophy, "critical distance" is the attempt to rationally understand reality and seek truth by questioning everything. In acoustics, the term signifies the distance between the microphone and the sound source, at which the level of reverberation in the room equals the level of the direct sound. At its core, the album is about synthesis. Or rather, it is synthesis. Different styles complement, rather than compete against, each other. The takeaway (if there is one) is that, like well-traveled spies, we should all open ourselves up to different styles, cultures, and experiences.
But don't take our word for it: See what Raffi has to say about the album in our upcoming in-depth interview with him, then consider purchasing a copy. Through a newly-launched Indiegogo campaign, "Critical Distance" is anticipated for release by the New Year—just in time for Armenian Christmas (Jan. 6); it makes a great stocking stuffer!
Look out for h-pem's exclusive in-depth interview with Raffi to be pusblished in the coming days!