'Khio': The soothing rhythms of village life
The Bambir
June 13, 2018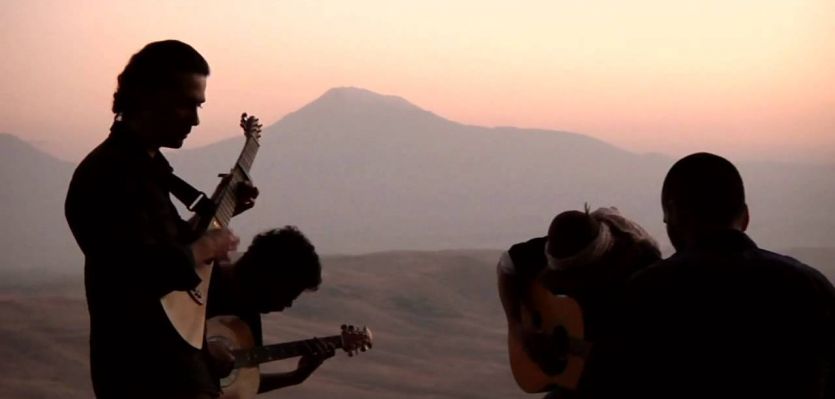 One of our favorite Armo folk songs is "Khio," a traditional village women's labor song.
| | |
| --- | --- |
| Genre | Ethno folk; folk rock; labor song |
| Released | 2014 |
| Location | Gyumri, Armenia |
| Duration | 5:46 |
| Link | |
While working in the house or toiling on the fields, Armenian women would often come up with songs to pass the time, incorporating elements of their work into the music.
The song "Khio" is a classic example.
The simple chorus is comprised of the words, "khio khio, khane khane," the sound that is made when striking a mortar. The rhythms and harmonies mimic the measured, orderly movements involved in women's work.
There are countless versions of this song floating around YouTube, but perhaps the most popular is from the self-described "folky situation" band, The Bambir. Hailing from Gyumri—long known as the arts capital of Armenia—The Bambir is one of the country's oldest bands, founded decades ago, with some 50 members who have come and gone through the ranks; the current lineup includes the children of the original bandmates.
The band's folksy, bluesy, rock sound is all felt in this stunning rendition, with a video set against the backdrop of a dreamy Armenian sunset. Akh akh…
Liked this? Listen to another version
A light rock version by Jerusalemite-Armenian musician, Apo Sahagian, and Armenian singer-songwriter folk duo from Budapest, ArusenKaa, (comprised of Arusyak Mirzoyan and Karen Arutyunyan) contains the lyrics in Armenian with English translations in the description. It was even featured in a recent traditional wedding promotional video.
When Kim Kardashian and Kanye West visited Armenia in April 2015, Kanye checked out the Tumo Center for Creative Technologies, an amazing free, digital media-learning center for children in Armenia and Artsakh. During his visit, a group of kids were singing "Khio." He liked the folk song a lot, so Tumo bands, Pyramidz and TmbaTa, were inspired to create a modern pop/hip-hop rendition of the song, called "Sweet Words," with a "sweet" video, to boot.
Join our quest to keep up with the trends!
Video
"Khio" by The Bambir

Video: The Bambir YouTube page

"Khio Khio" by Apo Sahagian & ArusenKaa

Video: Apo Sahagian YouTube page

"Sweet Words" by Tumo's Pyramidz feat. TmbaTa

Video: TumoTube YouTube page
?>

"Khio" by The Bambir

?>

"Khio Khio" by Apo Sahagian & ArusenKaa

?>

"Sweet Words" by Tumo's Pyramidz feat. TmbaTa