On the quest for Aurora Borealis: Finding heat and Ararat in Iceland
January 16, 2020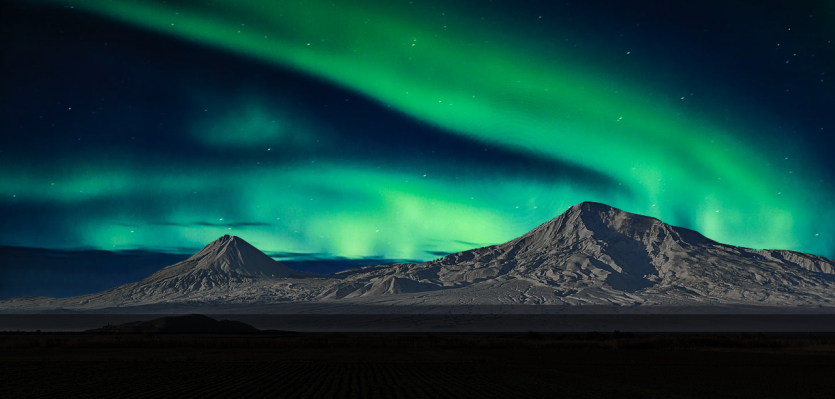 Winter is a time to bask in the stillness around us. From an eternally snow-capped mountain in the Armenian Highlands to the bright lights shining upon the Land of Ice, nature reveals itself in the most majestic and mystifying ways.
They say that winter is the nighttime of the seasons, marked by a frosty chill thickening the air. During these next few months, children will huddle around warm campfires to hear spooky sagas of yore, while others will delight in frigid tales under solitary covers, guided by flashlight. Heeding Jon Snow's ominous words, "Winter is coming," our lives slow down as our imaginations expand.
What is it about the cold weather that makes us so reflective?
Iceland's Reynisfjara Black Sand Beach, a popular filming location for many productions, such as Game of Thrones and Star Wars. In 1991, National Geographic included it on its list of Top 10 non-tropical beaches to visit. It's not hard to see why. (Photo: Lilly Torosyan)

Perhaps we search for warmth in words. Dostoevsky wrote about mortality, inspired by his years on the brink of death in the gulags of the Siberian tundra; Victorian winters were almost characters in their own right, in the stories of Dickens and Woolf; and in the Medieval Icelandic "Prose Edda," many an arctic tale were penned in this beloved poetic style. Indeed, words can ignite heat on the human body in ways that even fire cannot.
Or, perhaps more carnally, we imbibe and libate and make merry with firewater to lose our inhibitions, coming in contact with our truest selves. Ironically, it is the cold that undresses us to our bones, not the Sun. But does one need to be in Russia or England or Iceland to encounter this existential truth?
Fire and ice: A jaunt with the elements
In Jan. 2018, I visited the "Land of Fire and Ice" (no, not Westeros, but its real-life inspiration, Iceland) after my inaugural journey to Western Armenia (summer 2017) and before my ninth trip to Armenia (summer 2018). It was about as far from Armenian geography, culture, and people as I thought one could get; a simmering counterweight to two explosive focal points of Armenian reflection. In short, Iceland was my reset. Though I yearned to ensconce myself from the heat entrenched within the Armenian Highlands, I also wanted to see the beauty of this island nation that is so often heralded as one of Earth's natural wonders.
Iceland's breathtaking Diamond Beach. (Photo: Lilly Torosyan)

In this Nordic oasis, isolated by sea from neighbors and enemies, and with a population just 10 percent of Armenia's, I felt the whiplash steam from the Skógafoss waterfall, the pungent squirts of the Strokkur geyser, and the docile sun, resting softly against the grey clouds, which, like aerial guards, protected the sky from the flash of our cameras. It was a surreal wonderland, unlike anything I had ever seen or experienced before. But, like most tourists, I was most excited to catch a glimpse of the mother of all marvels: Aurora Borealis, commonly referred to as the Northern Lights.
Aurora Borealis features prominently in Old Norse mythology. Early Icelanders believed, among other things, that the lights relieved the pain of childbirth, so long as mothers did not look directly at them while giving birth (otherwise, the child would be born cross-eyed...Like Santa Claus and the Tooth Fairy, seeing is not believing!). Another legend dictates that the lights were the reflections from the shields of the Valkyrie (not the Tom Cruise film), who were female figures believed to be responsible for choosing who lived and who perished during battle. In short, Aurora Borealis occupies a venerable, hallowed place in Icelandic folklore.
The tales reminded me of the many legends connected to our sacred natural emblem: the snow-capped top of our beloved mountain, Ararat, which once upon a time was an active volcano and the setting for many mythological feats and tribulations of our ancient (demi) gods—such as that of the imprisoned vishap (dragon-serpent)-possessed Prince Artavazd, whose shackles were gnawed at by a pair of dogs, seeking to free the man who, they believed, should conquer the world; the fear that Artavazd would, one day, escape from his banished mountain prevailed for many centuries in the Armenian Highlands.
Lingering twilight in Iceland, where (dim) sunlight is limited to about five hours a day, this time of year. (Photo: Lilly Torosyan)

Many have proclaimed Ararat to be the very essence of "Armenianness," if such a thing could ever exist. And it is not hard to see why. Long after the summer heat draws scores of exiled diasporans and tourists to Armenia (the "other" side), what image burns so brightly in their minds and hearts but the distant white of their beloved լեռ ("ler" | mountain)?
Yet, there is a fundamental difference between the two sacred sights: Aurora Borealis is not contained to just one nation—Norway, Russia, Canada, parts of the U.S. all enjoy her spectacular beauty at different points in time. Her image, ever-fleeting, never stays in one place for long. Ararat, however, has never moved, even though her mailing address has. If we could wrap her basalt rocks and lava domes in an Armenian carpet and unfurl her across the Turkish border—to her "rightful" home—I do not doubt that most Armenians would try, or at the very least, entertain the possibility of doing so. What about this mountain causes us so much pain? Is it the fact that she lies within our grasp but is firmly ungraspable? Or because she remains in the "possession" of our looters and conquerors?
Whether or not we want to admit it, like Aurora, Ararat is beyond us, and therefore, does not really belong to us. The older I get, the more I am puzzled by my connection to this majestic, white-capped mountain.

From Kirkjubæjarklaustur to Kars: Constructing a new iconography
In a remote Icelandic village, where the piercing chill of perpetual night basks under wispy clouds, we explore our lodging: a spacious yet cozy cabin, devoid of modern amenities. This is not a place one ventures to merely stay indoors, we were sure. But for the past four days, we had been playing a game of tag, trying to sneak a peek of the famous Northern Lights. Not finding it would be a failure akin to reaching Paris and missing the Eiffel Tower or traversing around Giza and eluding the Great Pyramid. In the world of Instagram and wanderlust surfeit, were you really there if you didn't snap these landmarks?
It was our last night before beginning our journey home, and we'd all but admitted defeat. Online, my sister read that the lights were, in fact, there, just "hiding" behind the clouds. "Well, what good is that if we can't see them?" I remember retorting.
A vishapakar (vishap stone) in the Armenian countryside. (Photo: aratta.wordpress.com)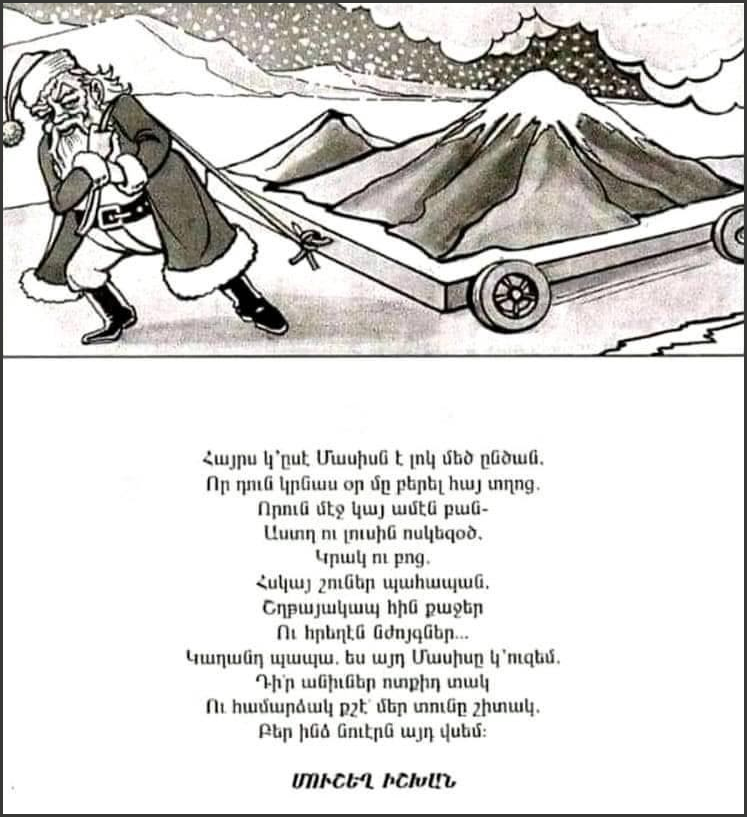 In "A Letter to Santa Claus," by 20th-century Armenian author, Moushegh Ishkhan, a child requests that Gaghant Baba (Santa Claus) gift him Mount Ararat for Christmas. You may view the poem, in full, here.
The only entertainment we could find was an old puzzle box, sitting on the dining room table. Gracing the cover was a breathtaking panorama, not unlike the one outside our window. To wash off the silent disappointment, my sister, perhaps too-eagerly, suggested we refocus our efforts on the puzzle instead.
And there, we all sat, silently putting together this Icelandic scenery, from which we would soon depart. At first, my mind was overwhelmed with images of the lights, taunting us with their elusive nature. It was tough to recall the previous days of adventure and fun. Yet, the longer and harder we focused on the task at hand, the lights began to fade, and a new image appeared in its place—one I had written off since the trip began: Ararat, our holy mountain.
I pictured her, set against the backdrop of these lights—which we did not see—not technically, anyway. I thought of how much it saddened me to see her from the "possessor's side"; how much fuller my heart was every time I saw her from "the other side"—the exiled side. I pictured Ararat, from this angle, looking up at the lights that are technically there but unseeable to the naked eye. There was something poetic about it—I'm sure our pagan ancestors would have had a field day with that image. Oddly enough, it was in that moment of complete toasty calm when I felt the numbness I was yearning for all along.
You must be wondering: Did we finish the puzzle? I'll leave that to your imagination…