On this day - Jan. 22, 1921: Multi-gifted pianist and composer Arno Babajanian was born
January 22, 2021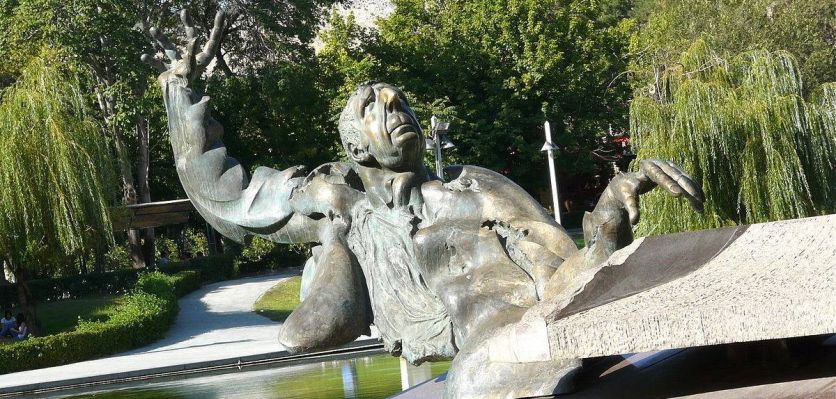 On this day in 1921 one of Armenia's beloved pianists and composers, Arno Babajanian's was born!
His statue is one of the most controversial monuments in Armenia; his "Yerevani siroun aghjik" ("Երեւանի սիրուն աղջիկ" | "Beautiful Girl of Yerevan") and "Chknagh yeraz" ("Չքնաղ երազ"| "Wonderful Dream") are among the most beloved songs composed in the Soviet era; he has won accolades for his passionate Cello Concerto written for Mstislav Rostropovich; and beside his musical talents, his typical "Armenian" nose has earned him an endearing appeal!
Arno Babajanian was born on this day in 1921, in Yerevan. In fact, it was the world-renowned composer Aram Khachaturian, who first told Babajanian that he should "be engaged in music" after hearing him sing in Kindergarten.
Babajanian's melodies carried echoes of Armenian folk music, as well as classical influences from contemporary composers like Khachaturian, Rachmaninov, Shostakovich, and Prokofiev. His Piano Trio in F-sharp minor was considered a somber and timeless masterpiece. While he often performed his songs in concerts, he also collaborated with poets like Yevgeny Yevtushenko to create new songs. In the second half of the 20th century his compositions were being performed across the Soviet Union.
Yet, the man, whose music embodied a variety of genres from classical to pop music, jazz, and film music, "represented a whole nation and its fate," with a true "sense of responsibilities towards the people," as fellow-composer Ghazaros Sarian once observed. Babajanian is much celebrated for the trumpet music he composed for My Heart Is in the Highlands, a 1975 Armenian film based on William Saroyan's play of the same name, about Armenian immigrant life in the United States.
It was no wonder that people in Yerevan had their say when Babajanian's extraordinary statue first unveiled near Swan Lake and the Opera House in 2003. The sculptor, David Bejanyan, was asked to modify the elongated fingers and grotesque expressions. The controversy may not be over, however, the statue, depicting the legendary composer playing the massive piano, has become a dynamic landmark in Central Yerevan, where young folks like to try their luck by rubbing the "brilliant piano teacher's" nose!
Video
Trio Aeternus plays

Babadjanian Piano Trio
?>

Trio Aeternus plays