On this day - Jan. 19, 1886: Mystic poet and humanist Misak Medzarents was born
January 19, 2022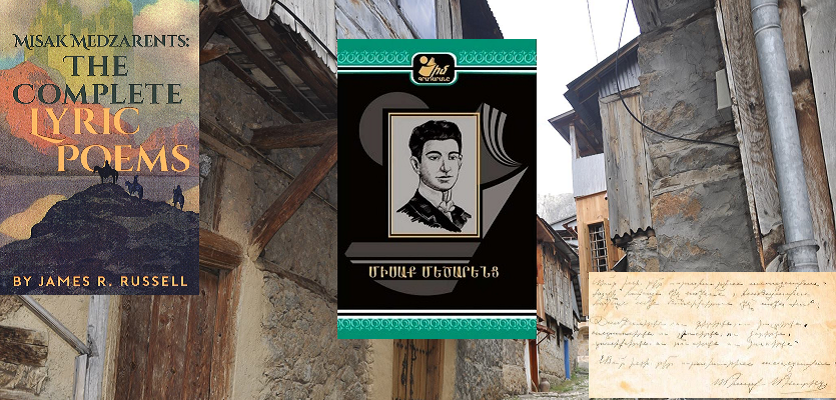 On this day - Jan. 19, 1886: Mystic poet and humanist Misak Medzarents was born.
"Give me, oh Lord, an impersonal joy
To hang like ribbons braided with bells
On each door I pass." *
"Տո՜ւր ինծի, Տէ՜ր, ուրախութիւնն անանձնական.
Զանգակներո՜ւ պէս զայն կախեմ ամէն դըրան"։
Misak Medzarents, the most sensuous Western Armenian poet, was barely twenty-two years old when he wrote these verses on the first day of 1908, the year he died of tuberculosis. Unlike his predecessor, Bedros Tourian, a pioneer of the Armenian national awakening in Constantinople, Medzarents refused to succumb to the crippling disease and longed for the bright edges of the universe. His "Prayer for the New Year," originally titled as "The Lord's Prayer for the Modern-Day Man," ("Արդի մարդուն Հայր մերը") is a humanistic legacy of love, empathy, and compassion.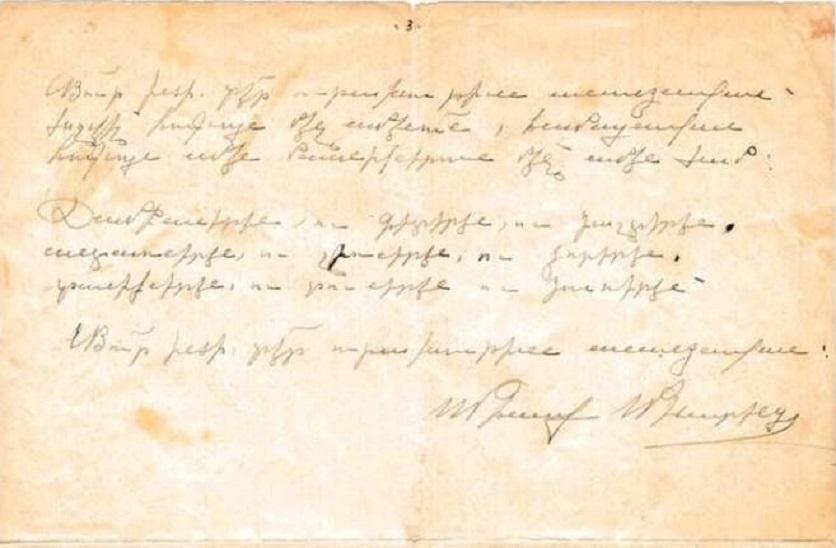 The original manuscript of "The Lord's Prayer for the Modern-Day Man," at the Yeghishe Charents Museum in Yerevan.
Born on Jan. 19, 1886, Medzarents was largely unrecognized during his short life. His lyricism, symbolism, mysticism, and unpredictable analogies stemming from nature, light, color, form, and essence, were widely criticized as vulgar.
"What joy, to behold in the rustle of a leaf the secret power of the cosmos, and to depart from that particular thing for the infinite," ** wrote Medzarents in defense of his first book of poems, "Dziadzan" ("Ծիածան" | Rainbow).
Often compared to Vahan Terian, his Eastern Armenian counterpart, Medzarents was romantic at heart and a humanist by nature. He is one of those rare Armenian poets who appeals to people of all ages. As a young adult it's easy to relish in the spirit of his "Sirerg" ("Սիրերգ" | Love Song). "The night is sweet, the night is sensuous/ Perfumed with hashish and balm," he muses. "Hyughu" ("Հիւղը" |The Hut) is a poem that grows on the reader with time:
"Ah, I would be, I would be!
On a road in the plain
Or at the foot of the mountain
I would be the hut and wait
For the wayfarer to come." ***
"Ա՜հ, ըլլայի՜, ըլլայի՜,
դաշտի ճամբու մը վըրան,
կամ ըստորոտը լերան,
ուղեւորին Ժամանման
ըսպասող հի՜ւղն ըլլայի"։
The hut that Medzarents evokes is an ode to his ancestral home in the village of Pingean, near the city of Agn in Turkey. While there is no trace of the great poet's memory in this cobblestoned village today, he survives in more than one hundred and thirty lyrical poems imbued with feelings of tenderness and goodwill towards fellow man—some have been set to music by Ian Krouse, Emirsian, and Dabandjian. Now more than ever, they connect nature with our inner lives, affirming the possibility of renewal and rebirth.
* From Anthology of Armenian Poetry, translated by Diana Der-Hovanessian.
**&*** From Misak Medzarents: The Complete Lyric Poems by James R. Russell.
Check out our favorite "Hyughu" from the album "Papak" in our video section below!
Video
"Hyughu"

by Emirsian & Dabandjian
?>

"Hyughu"