ANCA x h-pem | Stitching through history
September 07, 2018
While traversing the booths of the Smithsonian Folklife Festival this summer, Armenian National Committee of America (ANCA) intern, Lucine Mikhanjian, came across a Syrian-Armenian needleworker, whose story of preserving the craft of her ancestors in Armenia inspired her.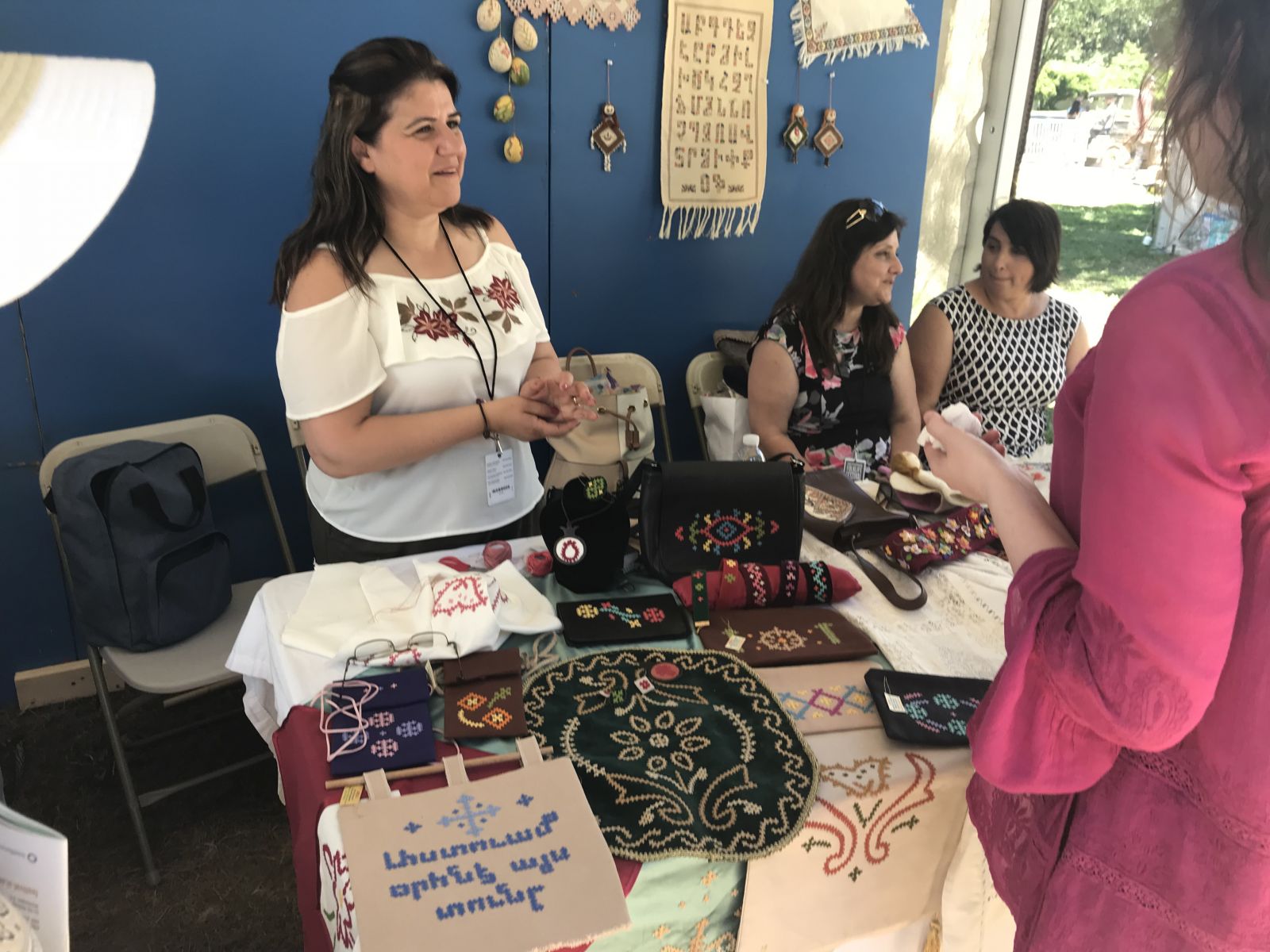 Syrian Armenian needleworker, Ayda Santouian Degirmenjian, displays her craftwork at the Smithsonian Folklife Festival.
A piece of Marash in D.C.
In an era that revolves around technology and innovation, traditional craftsmanship often feels left behind in the dust. The work of Ayda Santouian Degirmenjian strives to keep up with the fluctuating trends of the world, all the while preserving the ancient Armenian tradition of needlework.
Her booth at the Smithsonian Folklife Festival was carpeted with pieces of cloth stretched over circular wooden frames, embroidered purses, tapestries, necklaces, fabric, belts, and even children's shoes. The variety was impressive, yet there was a striking consistency of colors and shapes between all the mediums.
As we conversed, I learned that Ayda's ancestors' historical city of Marash, Cilicia provided the root and inspiration of the repeated red, blue, and gold hues stitched into the patterns. The stitching was quite geometric, as well, with shapes imitating pixelated crosses, squares, and floral designs.
As I probed further, I felt the passion Ayda radiated into her work. From a young age, her grandmother taught her the art of needleworking–a popular trade ingrained in the families of Aleppo, Syria.
Originally a school teacher in Aleppo for six years, Ayda found it less than effortless to adjust to the different dialect in Armenia, after deciding to escape political instability and civil strife. As a result, she explored options for work that would allow her to support her daughters through school and allow her to devote time to motherhood.
Ayda noted that the tradition she knew so well was much more scarcely shared in Armenia. She took this as an opportunity to share her talent while building a community of people with similar interests. Now, she not only represents needlework through her company, Arika, but she is also the head of the needlework subdivision of a Syrian-Armenian organization of professionals and artists. This community bonds over their shared talent and works to publicize this passion as a part of the Armenian cause.
At Arika, Ayda and her fellow artists began by crafting rugs, tapestries, and wall décor; however, their attempt to fit ancient Armenian needlework into the frame of the modern market has expanded the range of products to purses, shoes, belts, wallets, necklaces, and more. Controversy over the best way to preserve ancient Armenian traditions and culture often emerge in our modern discourse, whether discussing language, dance, or craftsmanship. Yet, Ayda seems to have found a balance of old and new in Arika's products, resulting in something beautiful, historic, and marketable.
Their main objective is to appeal to younger generations and inspire them to carry on the symbols that the Arika team recreates through the needleworking craft. "Our culture is rich with symbolism and history," she states, "and we should share it."
Ayda repeated two words several times in our conversation: "recognition" and "appreciation." By being flexible in representing the historic symbols of Armenia through modern products, they parallel the efforts of preserving Armenian heritage in its many other forms. Incorporating modern dance with the Armenian "Kochari," allowing the Armenian language to evolve with new words and jargon, and representing ancient designs and symbols on modern clothing all attempt to do this. It begs the question of where our culture will be in the next decade or century. It is difficult to say for certain, but we can agree that with the efforts of organizations such as Arika, preservation is in good hands.
Any additional references or recommendations? We would love to hear your suggestions!