ArtLinks x h-pem | 'Love has no thorns': (Re)Imagining medieval poetry in the 21st century
June 18, 2019 - December 16, 2019
The Hamazkayin ArtLinks program has become the premier destination for all things art and Armenian for young diasporans in North America. It is no shock, then, that h-pem would join forces for a collaboration of the ages!
In June 2019, the fourth installment of ArtLinks took place in the remote Canadian countryside, where a creative writing workshop stirred some creative juices. The result was a modern production of poems using a traditional style perfected by a medieval Armenian monk. Read all about it below!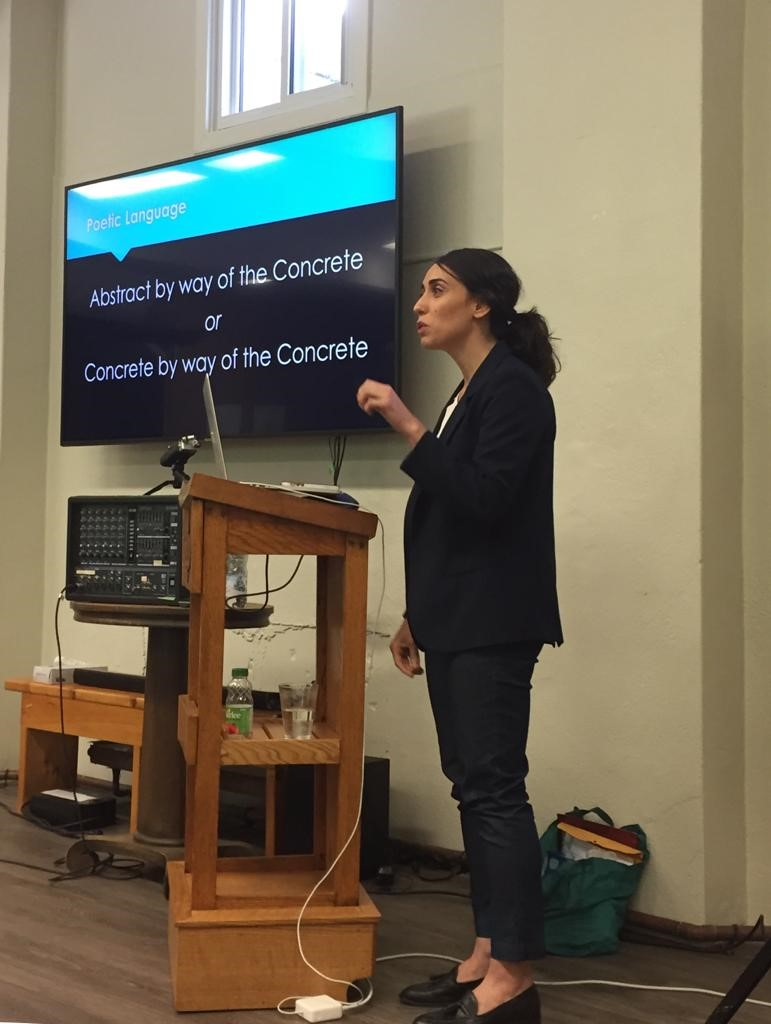 Dr. Gulesserian speaking to the crowd at the 2019 Hamazkayin ArtLinks retreat program. (Photo courtesy of Hamazkayin ArtLinks).
"Love is like a red, red rose," began Dr. Lisa Gulesserian. The Harvard University professor was leading an Armenian creative writing workshop at the 2019 Hamazkayin ArtLinks retreat program, located in "Canada's Prettiest Little Town." Moments earlier, a couple dozen students and young professionals (myself included) filed into the room. I overheard a few participants share how uncomfortable poetry made them—let alone, Armenian poetry. No one knew what to expect, but we were acutely aware of the fact that we were not the typical audience Dr. Gulesserian was used to.
"Love is a red, red rose," she uttered, slower this time. The room roared with laughter. The point of the exercise was to show the subtle, yet significant, difference between abstract (a is like b) and concrete (a is b) imagery, using an oft-satirized line, which we did not realize was actually penned by famed Scottish poet, Robert Burns. Techniques aside, what it also accomplished was perhaps far greater: our anxieties mellowed and curiosities blossomed.
Dr. Gulesserian told us about Nahapet Kuchak, a 16th-century monk and poet who composed verse in a 13th-century Armenian prose style called "hayren." Kuchak was the hayren master, and the form is almost synonymous with his name. We read a couple of his creations, as well as a few contemporary renderings, and analyzed them with zeal.
After some time, the Ivy League professor proclaimed that, by the end of the workshop, we all will have composed our own hayrens. The form is simple, consisting of quatrains of 15 syllables per line, centered on a single coherent theme. One person noted that it's like the Armenian version of a haiku. (After the program, I discovered that there is a second part to the form. I thank our instructor for sparing us.)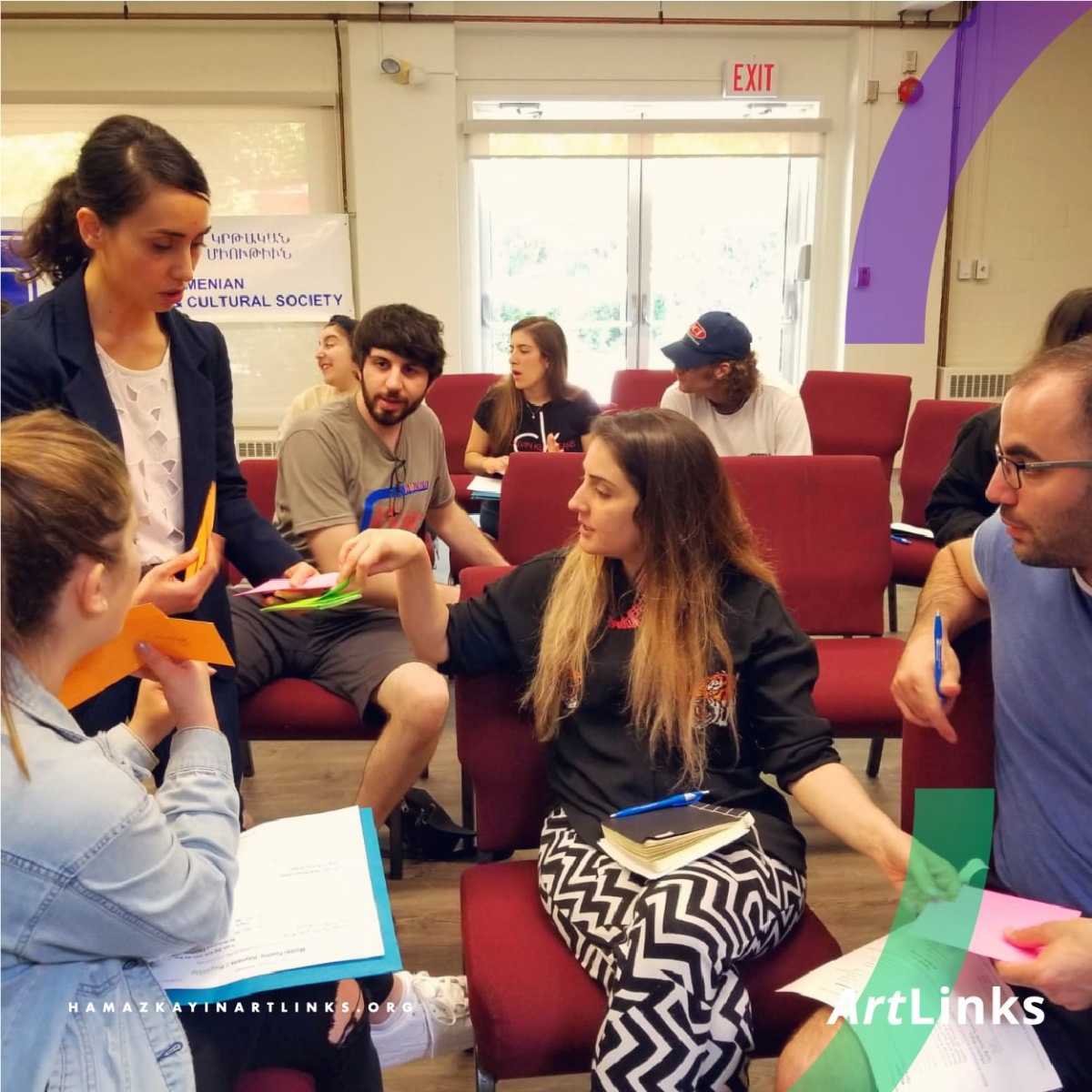 A scene from the creative writing workshop (Photo courtesy of Hamazkayin ArtLinks).

Lost (and found) in translation
In this collaboration between h-pem and ArtLinks, we present four hayrens that were composed during Dr. Gulesserian's workshops: two in English and two in Armenian (with English translations). Why two languages? Traditionally, hayrens were composed exclusively in Armenian, but this form need not be limited to one language. Indeed, the haiku is not solely rendered in its original Japanese. Why shouldn't the hayren be enjoyed by all Armenians—and the world at large? Armenian culture, language, and art should be consumed and utilized by everyone—regardless of language ability or starting level. Our platform shares ArtLinks' mission of invigorating Armenian youth with the resources and space to do exactly that—and what better conduit than poetry: writing that is designed to stir up emotions, imagination, and creativity in the reader?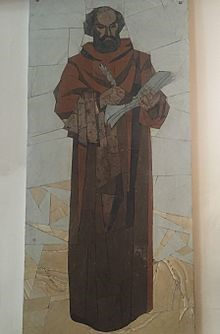 Nahapet Kuchak's image as it appears in Yerevan State University (Photo: Wikimedia Commons).
But before delving deeper, let us address the hay(e)ren in the room: "hayren" both looks and sounds devilishly similar to "hayeren" (the Armenian word for the Armenian language). As Missak (one of our ArtLinks collaborators and an h-pem contributor) points out in his story about ArtLinks2019, the fact that the two words are only one letter/syllable off is confusing. Yet, because the hayren is Armenian in nature, and often in hayeren, the pairing makes sense
What does not, however, is the name(s) of its wielder: "Nahapet" (meaning "progenitor" or "patriarch" in Armenian) and "kuchak" (meaning "small" in Persian) is a bilingual contradiction. Though not a progenitor of the hayren, Kuchak's efforts were integral to its popularity, many centuries after its development. Like the ashughs (troubadours) and monks who would follow (such as Sayat Nova and Komitas), Kuchak was a man of deep faith but his work was largely secular, centered on the universal theme of love, frequently extolling the beauty of nature and women—whom he fiercely believed were equal to men—and bewailing the grief of unrequited or unattainable love. His poetry was a lyrical meditation on humanism and a challenge to medieval dogmatism, feudalism, and the undue suffering of his fellow humans.
Much about Kuchak's life and legacy has been shrouded in mystery, but admirers have been aplenty, including Russian Symbolist poets Valery Bryusov and Alexander Blok and American suffragist Alice Stone Blackwell, who translated some of his poetry into English. Soviet Armenian writer, Yeghishe Charents, praised Kuchak's brilliance in his poem, "I, My Sweet Armenia" ("Yes im anush Hayastani"), right next to the lauded medieval theologian Narekatsi. In short, there was nothing "small" about Kuchak or his contributions to Armenian culture.


Cooperation from the classroom to the cyberspace
In recent years, Kuchak's hayrens have been recreated and synthesized in classical and contemporary compositions, inspired works of art (like the one below), and discussed and debated in classrooms across the Armenian sphere—among them, Dr. Gulesserian's workshop.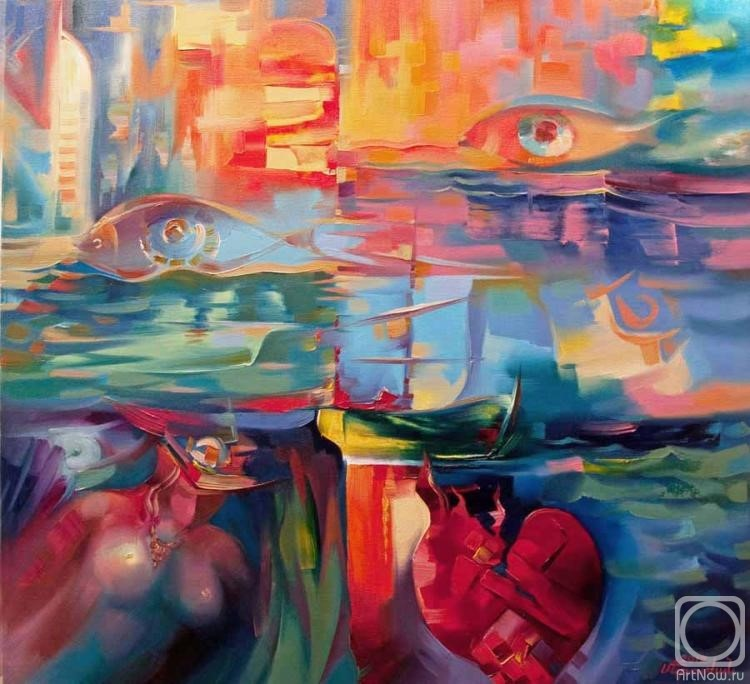 "I am the eye, you are the light, my love. I am an eye, and you аrе a light, soul." One of a series of paintings inspired by the poetry of Nahapet Kuchak. 60 x 70 cm, canvas/oil, 2012. Artist: Meruzhan Khachatryan, Yerevan, Armenia (Courtesy of Meruzhan Khachatryan).

From film and shampoo to magic and mythology, the poems of our ArtLinks participants all concern various forms of love. Missak's hayren reads like the opening remarks of his Magic Missak show. Aram's poem also tackles the form with humor. His ordeal of running out of shampoo (really, who hasn't been afflicted by this problem before?) proves the age-old adage that you really can make a story out of anything—and in Western Armenian, to boot. Armen, whose film premiered at last month's Hamazkayin Pomegranate Film Festival, used the medium as his star—performing "under the moon's gaze." Nareh's rhythmic ode to our mythological gods of yore through the love story of Astghik and Vahagn is yet more reason to value the poetic nature of Western Armenian. In them all, the spirit of the 700-year-old hayren comes alive for a contemporary audience.
While this journey began in the Canadian countryside with an 18th-century Scotsman's "red, red rose," it ends online, with the blossoming rosebuds of a Medieval Armenian monk, whose legacy lives on in the prose of the young talents at ArtLinks.
Excerpt of a love hayren by Nahapet Kuchak (translation by h-pem)
How many times shall I say,
Do not love the rose, for it has thorns.
Go love the violet,
It has no thorns and a sweet smell.
Do not love the opened rose,
For it will come and wilt on your bosom,
Love the rosebud,
So that it may come and bloom on your bosom.
Քանի՜ ու քանի՜ ասեմ,
վարդ մի՛ սիրեր, փուշ ունի,
Գընա՝ մանուշակ սիրէ,
փուշ չունի, անուշ հոտ ունի,
Վարդըն բացուած մի՛ սիրեր,
որ գայ ի ծոցըդ թառամի,
Վարդըն պուլպուլիկ սիրէ,
որ գայ ի ծոցըդ ու բացուի։
Enjoyed Kuchak's lyrical take on love? Read the four ArtLinks hayren submissions to h-pem and fall in love with this beautiful Armenian poetic style…
Any additional references or recommendations? We would love to hear your suggestions!