POM at 14: Looking back at the festival's brightest moments
November 11, 2019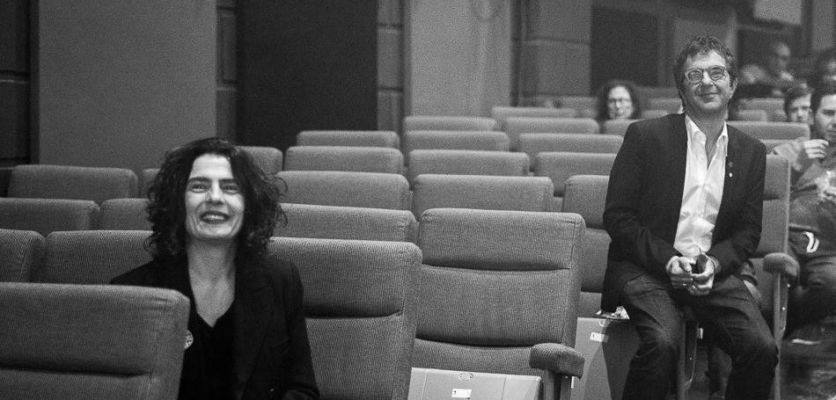 Since 2006, the Pomegranate Film Festival has offered audiences a spectacular array of films and unique programing. Like its fruity namesake, the pomegranate, this film festival is fresh, dynamic, and prolific. Longtime POM committee member Roubina Shnorokian takes a look back at the last 14 years of POM in this h-pem exclusive highlight reel!
The term "high light" was originally applied in regard to paintings, for the brightest part of a subject. When looking back on the highlights, the bright moments of the past 14 years of the Hamazkayin Pomegranate Film Festival, there are several memories that have left their profound mark on the Armenian film community in Toronto.
POM had the honor of inviting two prolific individuals who sadly passed away in 2019. One was the famed screenwriter Mardik Martin, best known for his early collaborations with his friend Martin Scorcese; the other, Spanish journalist, José Antonio Gurriarán.
Mardik Martin at POM 2015 (Photo: Whitephoto.ca; courtesy of the Pomegranate Film Festival)
Martin gained worldwide acclaim for writing the screenplays for
"Raging Bull,"
the story of boxer Jake LaMotta (regarded today as one of the best movies ever made), and
"Mean Streets,"
starring a young Robert De Niro and Harvey Keitel. Having withdrawn from fame by going into teaching and struggling with addiction, he visited POM twice. The first time was for
"Mardik: From Baghdad to Hollywood,"
a documentary about his own life, for which he received a standing ovation from the audience at POM. The second visit occurred after he co-wrote the
"The Cut"
by
Fatih Akin
, which was screened at the 71st Venice Film Festival and three times in Toronto, including POM's first sold-out screening at
Fairview Cineplex
.
José Antonio Gurriarán
attended POM for the special screening of
"Don't Tell Me the Boy Was Mad"
by French-Armenian director Robert Guediguian. The film is based on the true story of how Gurriarán was left in a paralyzed state after a bomb was set off purportedly by the Armenian Secret Army for the Liberation of Armenia in Madrid in 1981. His autobiographical novel
La Bomba
served as the basis for the film. He too received a standing ovation as the closing film at the Festival's 10th anniversary marking the centennial commemoration of the Armenian Genocide.
POM has had long-standing ties to several exceptional Armenian filmmakers, including Canadian director
Atom Egoyan
, who first presented
"Citadel"
at the inaugural Festival in 2006. Attendees have also relished exclusive sold-out screenings of
"Chloe"
and
"Devil's Knot"
at Toronto's iconic
Regent Theatre
. Along with Egoyan's screenings of
"The Captive,"
"Calendar,"
and
"Remember."
Egoyan and
Arsinée Khanjian
also presented the 15th-anniversary edition of
"Ararat,"
with a special performance by singer Eileen Khatchadourian, who presented her new song composed for the film.
Arsinée Khanjian at POM 2017 (Photo: Achtenburg; courtesy of the Pomegranate Film Festival)
Similarly, POM has showcased the works of
Robert Guediguian
and
Serge Avedikian
. Guediguian's films have explored the social realities in European society and shed light on dynamic political events in films such as
"Ariane's Thread,"
"Army Of Crime,"
"Snows Of Kilimanjaro,"
and
"La Villa."
Avedikian directed the feature
"Lost in Armenia,"
the documentary
"We Drank The Same Water,"
in addition to his unforgettable film,
"Paradjanov,"
on the famed life of iconic filmmaker
Sergei Parajanov
. The film was introduced by the beloved late photographer
Kaloust Babian
, a noted Parajanov expert who spent time with the famed maestro while he was under house arrest in Georgia during the Soviet regime. Avedikian's short film
"Barking Island"
winner of the Best Short Film at the
Cannes Film Festival
, linking the dogs cleansed from the streets of Constantinople in 1910 as an analogy to the victims of the genocide, was also presented at POM in 2010 with an introduction by Atom Egoyan.
The beloved late photographer Kaloust Babian, a noted Parajanov expert who spent time with the famed maestro while he was under house arrest in Georgia during the Soviet regime, introduces Avedikian's "Paradjanov" in 2013. (Photo: Whitephoto.ca; courtesy of the Pomegranate Film Festival)
Syrian-born, Lebanese-based filmmaker
Nigol Bezjian
has also screened several insightful films at POM shedding light on humanitarian crises and important contemporary issues. Bezjian's presentations at POM include
"Temple of Light"
on the fate of the Melkonian Institute in Cyprus;
"Thank You Ladies and Gentlemen,"
about the struggles of Syrian refugees in Lebanon;
"Milk, Carnation, and a Godly Song,"
regarding the legacy of the martyred Armenian writer Daniel Varoujan;
"After This Day,"
concerning the notorious Armenian orphanage in Antoura, Lebanon; as well as
"I Left My Shoes in Istanbul,"
chronicling the resilient Armenian community in the metropolis referred to as
Bolis
. He returns to POM2019 with two films; his latest feature film
"Broken Dinners, Postponed Kisses,"
paired with his short,
"Me, Water, Life."
POM 2013 volunteers and guests (Photo: Whitephoto.ca; courtesy of Pomegranate Film Festival)
Laughter has often been the best medicine at POM. Amongst the better-known filmmakers in that regard is
Gor Kirakosian
, who returns to Toronto this month for his latest feature comedy
"Honest Thieves."
Kirakosian has had POM audiences rolling in the aisles with his earlier screenings of
"Big Story in a Small City"
and
"The Knight's Move."
His hit movie
"Lost And Found in Armenia,"
which brought
Angela Sarafyan
(of "Westworld" fame) and
Jamie Kennedy
to the festival, was presented a record 10 times across Canada by POM.
LA-based and Iranian born talent
Vahik Pirhamzei
has delighted attendees with everybody's favorite uncle in
"My Uncle Rafael,"
which resulted in a sold-out screening, and on a more serious note,
"Guardian Angel"
as well as
"3 Weeks in Yerevan."
He returns to POM this year for two screenings of his latest film
"10e."
POM has dispensed an inter-disciplinary approach when planning its events. It has not been uncommon to find singers, musicians, authors, and academics alongside the filmmakers to present memorable panel discussions following the film screenings.
"From Music to Madness: The Story of Komitas"
by Dr. Robert Deranian led to a panel discussion between the director, Pulitzer Prize-winning author, Professor
Peter Balakian
, and filmmaker Atom Egoyan.
Collectif Medz Bazar
, the urban diaspora band comprised of musicians belonging to Armenian, Turkish, French, and American cultures, memorably performed after the screening of
"Ariane's Thread"
by Guediguian.
Though POM screens films in multiple cinemas throughout Toronto every year, the Hamazkayin Theater has been home base since day one. (Photo: Pomegranate Film Festival)
The Festival has focused on women filmmakers as well as presenting films about women's experiences.
Bared Maronian's
"Women Of 1915"
was an eye-opening documentary on the humanitarian role of women during and after the genocide. The world premiere of
"Diana Apcar: The Stateless Diplomat"
by
Mimi Malayan
was a fascinating glimpse into the life of the 19th-century writer living in Japan whose mission became the survival of her people. Other films such as
"Grandma's Tattoos"
by Suzanne Khardalian and
"Finding Zabel Yesayan"
by
Lara Aharonian
and
Talin Suciyan
served as momentous tributes to women who were ahead of their time. Maronian will be back for this year's installment of the festival with a screening of his work in progress,
"Anatomy of a Revolution"
(working title)—a journey behind the scenes of the inspirational true story of Armenia's 2018 peaceful revolution fueled by the will of the youth, women, and a persistent quest for true democracy.
Canadian talent has also been at the forefront of the Festival. In addition to the films of Egoyan and Arsinée Khanjian, POM has exposed the films of various Canadian artists, such as
Ara Sagherian
,
Armen Poladian
,
Kalen Artinian
,
Emmanuel Shirinian
, and
David Hovan
. Retired Executive Producer for the
National Film Board of Canada
,
Silva Basmajian
, has also been an avid supporter of POM, having overseen the jury since its inception. Fellow Canadians,
Lara Arabian
,
Norayr Kaspar
,
Hrant Alianak
,
Hagop Goudsouzian
, and
Kumru Bilici
, have also been on the Festival Jury.
The festival also takes pride in recognizing the outstanding contributions to Armenian culture through its Golden POM initiative. The recipients to date include
Mary Apick
, Silva Basmajian,
Dean Cain
, Atom Egoyan, Bared Maronian,
Valerie McCaffrey
, Vahik Pirhamzei, and
Montel Williams.
We hope you can join us at
#POM2019
to experience this year's highlights first hand!

Follow h-pem for the latest from Pomegranate Film Festival 2019!
Join our community and receive regular updates!
Join now!