Eric Nazarian: 'Storytelling is a medicine and a drug'
July 14, 2018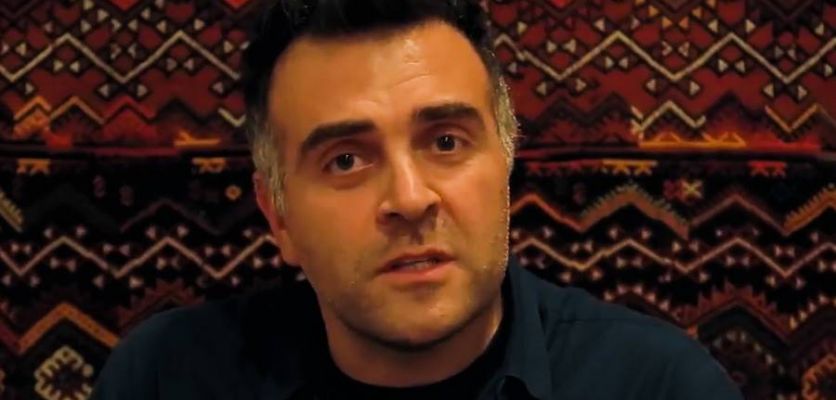 His projects run the gamut—from documentaries on nearly-forgotten cultural relics to award-winning short films to beautiful animation videos for nonprofit campaigns. The list goes on. Eric Nazarian's uphill climb in the world of cinema has been meticulous yet approached with the levity of a schoolboy, still excited at the prospect of living out his childhood dream every day. Tall, gregarious, yet almost unbelievably humble, his cadence is distinctly Angelino, but his prose reads like a carefully crafted Faulkner novel—fitting, as the writer was one of his childhood influences. Somehow, we managed to snag the busy filmmaker for a chat, and with the help of a little ale from the Irish pub across the street, he opened up about a variety of topics—not the least of which, his artistic muses and mistresses, inspirations and heroes.
The role of a filmmaker is to tell a story. For the past century, a small but talented group of diasporan filmmakers helped shape the landscape of "Armenian" cinema, transcending borders and cultures to tell beautiful stories for the masses. Names like the late greats Rouben Mamoulian and Henri Verneuil, and contemporaries Atom Egoyan and Robert Guédikian come to mind. Joining this cohort is Eric Nazarian, a young filmmaker who burst unto the scene a decade ago with his debut film, "The Blue Hour," an ode to his beloved City of Angels.
As a filmmaker, screenwriter, photojournalist, and advocate for the Armenian arts, Eric—as he prefers being called—is the consummate storyteller. His energy is like a film reel, spinning and unraveling a mile a minute, revealing the man behind the cameras. His catchphrase, "mi khnayir", («մի խնայիր», "never hold back!" in Armenian) is uttered at least once every conversation and has become a defining slogan for his relationship with his closest friends: the "Mi Khnayers" (their version of the Three Musketeers), which includes novelist Chris Bohjalian, academic Khatchig Mouradian, and artist Serj Tankian. After just 10 minutes with him, it's apparent to see why.
2017 was a busy year for Eric, with a string of projects coming to a head, including a documentary on Armenian oud players—which he calls a "love letter" to these virtuosos—and a film called "Three Christs," with an all-star cast featuring Richard Gere, Julianna Margulies, and Peter Dinklage, which premiered at the Toronto International Film Festival (TIFF) in September. These days, his main focus is on the highly anticipated film adaptation of Chris Bohjalian's award-winning novel, The Sandcastle Girls, which begins production soon in Jordan.
But before he jets off to the Middle East, the filmmaker flew in from Hollywood to join us for one last pre-Sandcastle rendezvous. We are in the top office of the historical Hairenik building in Watertown, Mass., the Armenian mecca of the East coast. Flanked by books—many first edition, large maps of Armenia through the ages, and old issues of the Hairenik and Armenian Weekly newspapers, half a dozen journalists and researchers have congregated in these hallowed halls for a two-day closed workshop on the fundamentals of audiovisual storytelling (in layman's terms: How to shoot and edit videos).
Eric is to lead a seminar on the theoretical and technical fundamentals of cinematography. But before then, we sit down to chat—one on one—about artists, activists, and average Hovseps. We all are storytellers, according to the storyteller-in-chief, and the beauty of film is in its power to uplift marginalized voices by highlighting their stories. Read on for our full conversation below.
All photos are courtesy of Eric Nazarian, unless otherwise noted.


Pictured with Golden Globe-winning actor Richard Gere and wife, Sera Dink, at the premiere of the film, Three Christs, co-starring Gere.
As a kid, I asked my doctor where imagination comes from. He looked at me strangely and said, 'It's in your brain?' I said, 'No, it's in your heart.'
Eric Nazarian
Lilly Torosyan: From writing scripts and shooting films to documenting images around the world, you are a connoisseur of many different mediums, yet choose to describe yourself as a storyteller above all else. What does storytelling mean to you and how do you approach this process?
Eric Nazarian: There are certain things that come to you when you're older and certain things when you're young. Storytelling really started with my family—bookworms, music lovers, and cinema aficionados—especially my father. We had a movie for every occasion my whole life. The most important lesson my dad taught me was that the purest form of anything in the world is imagination. Your imagination, unlike your heart or lungs, is not something you can point to. Where is this imagination? Isn't that a freaking miracle? All human endeavors have been created from imagination, but we don't know where it comes from.
Storytelling is a medicine and a drug; it's a healing mechanism because stories in their highest context reveal truths about yourself you didn't realize, and they also help you escape reality. If I were ever imprisoned, I would probably read 90 percent of my day because imagination is the best escape. After watching "ET" as a kid, I tried flying off the Los Angeles River. That's how powerful storytelling is. I am a storyteller because inside me exists an energy. I'm writing 90 percent of my time. If I stop writing, I stop living—and I go crazy.
Because cinema making is such a long, painstaking process, it's not an immediate gratification. Everything is a fixed medium, except cinema. It requires so much time, engineering, editing, sound design…the list goes on. (In his signature deadpan, he stresses the next few syllables.) Cinema is my wife and writing is my mistress. Storytelling is the most immediate vehicle for understanding my essence of this world and documenting it in a way through fictional characters who reach for truth, which is very ironic. Everything that I see in the media today is reality, but they're lies. Everything about our society today on the highest level is a lie. It's a farce. It is poison; it is toxic, because it is built on hate, power, and profit.
And that's the sound bite. When everything in our society is a lie, the only truth you find is in fiction and in art—the life of the imagination.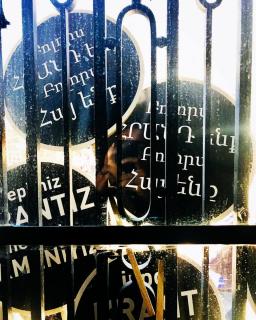 On his hero, Hrant Dink: "People like Che Guevara, Monte Melkonian, Hrant Dink—they risked their lives because they believed in something very, very, very fiercely, and it cost them so much." Pictured is a snap Eric took at the 11th commemoration of the death of Turkish Armenian journalist, Hrant Dink, in Istanbul earlier this year. The signs in the photo read, "We are all Hrant; we are all Armenian." Dink has played an integral role in Eric's life for the past 20 years—well before he ever met his wife, Sera (Hrant's daughter).
L.T.: That begs the age-old question: do artists have a responsibility to shine a light on controversial but evocative stories, or do they have agency to choose? In other words, is escapist art okay?
E.N.: I think that the concept of responsibility is relative. As an artist, first and foremost, you are responsible to your inner calling, whatever that may be. Stanley Kubrick was a different kind of genius than Pablo Picasso. Picasso painted in his Blue Period, then he went into Cubism, and then he painted his Weeping Woman. He had a responsibility to his personal spirit, his passion, his muses, and his ego. Then, Guernica was bombed and he created this massive piece on that tragedy because he felt a responsibility to create an echo of an injustice.
And I think, for the most part, artists from my tribe feel a responsibility—not that we're saviors—to give a voice to those who are disenfranchised, those who do not have a voice, or untold stories whose time has passed. I think the key thing to remember is that we cannot fall victim to big ideas. So, I am not a big fan of speeches and martyrs and "now, we're going to do this" and "now, we're going to do that." All that is unimportant because the greatest change makers and revolutionaries and rebels, dreamers, and iconoclasts were people who thought globally but acted locally, meaning that they worked in their own backyards. Whether it was Nelson Mandela, Monte Melkonian, James Baldwin, or Lao Tzu thousands of years ago, Judy Bari with the environmentalists or Clara Barton with the suffragettes, it was one child at a time. I'm drawn toward people who risk their lives for an idea.
(Read Eric's beautiful ode to his father-in-law here.)
Everybody has a big idea; everybody wants to be a general; everybody wants to change the world. But the people who do are the soldiers in the trenches, one word, one syllable, one day at a time.
L.T.: You are in town this week to facilitate a workshop on the techniques and processes for creating effective video content. The Armenian Revolutionary Federation (ARF) Eastern U.S., which is sponsoring the event, has stated that the broad aim is to supply the basic knowledge of filmmaking to diasporan organizations so that they can create their own audiovisual content. What drew you to come all the way out here to lead a session?
E.N.: We're always talking about storytelling, but we're not focusing on visual storytelling. We have a very honorable and old diaspora that's preserved its traditions, but we've never really contributed or invested in the visual culture of our times, other than genocide education, documentation, and testimony. I'm hoping that this diaspora starts to really invest in audiovisual literacy because it is so crucial. Unfortunately, we really need a week to two to go through the full workshop. This is a crash course—a boot camp in the fundamentals of visual storytelling—which are character, image, sound, editing, juxtaposition, color, and music.
My hope is that this will be the stone that hits the avalanche—that we can do more of these workshops to really narrow in on how to become audiovisual journalists in an era where digital sound and images are replacing print. How are our organizations making that leap, from print to audiovisual journalism? I want to give you the basic ammunition to go out there and shoot, edit, cut, assemble, and present a story that makes the maximum emotional impact.
L.T.: In Jan. 2017, it was reported that only seven percent of the top 250 films of 2016 had a female director, down from nine percent the year before. Without women at the helm of production, many of their stories become muted and lost. How do we tip the scales and invite females to the table as directors, writers, and producers?
E.N.: I'm actually more impressed by the amount of Armenian female filmmakers in Armenia than in the diaspora—like my friends, Lusine Sargsyan, ("The Abode"), Inna Sahakyan ("The Last Tightrope Dancer in Armenia"), and Maria Saakyan ("I'm Going to Change My Name"). They have much more challenges but they get these beautiful movies made. So yes, there is a discrepancy but I think that Hollywood is really trying to change the game in addressing that. A lot more women now work in television as writers. Is there discrimination? Absolutely. Is it tolerable? Absolutely not. There are 60 million Latinos in this country. They are the biggest minority and only two or three Latino TV shows get made. So, it's not just women who need to be included in this process; all minorities do.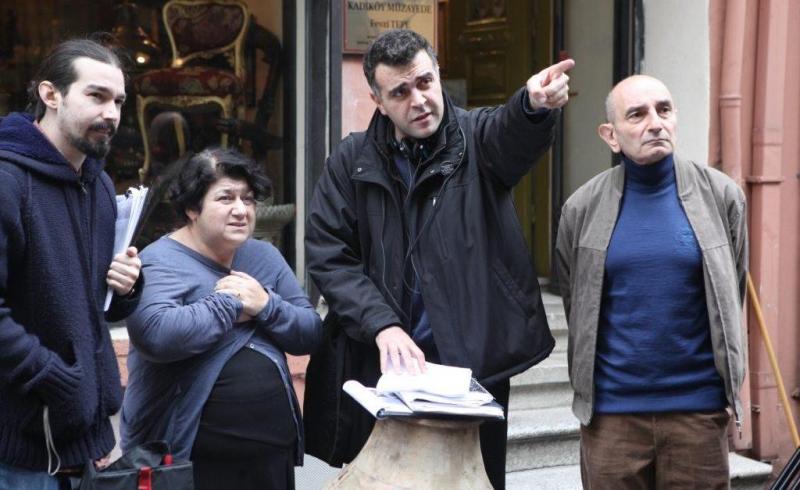 On the set of his 2011 short film, "Bolis," with writer Serra Yilmaz (second from left) and actor Jacky Nercessian (right). Bolis was the first Turkish film to explicitly state the word "genocide" in reference to the Armenian Genocide. (Photo credit: Armenian Weekly)
L.T.: What is the one takeaway you hope to convey to budding artists and leaders in the diaspora?
E.N.: We have become a society that is a slave to the Buzzfeed—a slave to the soundbite. Even the Armenian diaspora adopts this like sheep, and we have to be really critical and proactive because the essence of our identity has been self-preservation through self-segregation, which is a very dangerous thing. This is my biggest fear. It's like the great Armenian exceptionalism. We really don't know a lot about our neighbors. We have to inspire artists who are firmly rooted in their culture and soul, like the Iranians. Just look at all of these great Iranian movies, like "A Separation" and "The Salesman." The former is the greatest film ever made about divorce. It was a number one blockbuster in Israel. Two arch enemy republics, literally at war with each other, but this film becomes a bestseller in the other's country. Talk about the power of art!
We say we're ethnic and we eat other people's food, but how much time do we actually spend learning about other cultures?
L.T.: Perhaps there are similarities to be drawn with the Armenian song, "Mi Gna?" It is wildly, bewilderingly popular in Turkey. When I was there last summer, I heard it everywhere!
E.N.: Dude, they race to that music in the middle of the night! Again, this is the power of art. What Turkish and Armenian presidents couldn't do, Super Sako did!