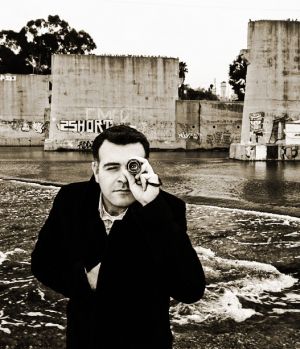 Profile | Eric Nazarian
July 24, 1976
Profile
He may have gotten his start depicting angels in the blues, but Eric Nazarian's cinematic journey has unfurled along what our elders would call a կանաչ ճանապարհ ("a green path," meaning blessed with good fortune). A passionate storyteller by way of film, screenwriting, and photojournalism, Nazarian depicts the voices and stories of those who have been silenced, forgotten, or ignored and, in doing so, hopes to bring to light the truth and awaken the imagination in all of us.
Etching the blueprint to his own story
Born in Armenia to Iranian-Armenian parents from Teheran, Nazarian has lived most of his life on the sun-kissed boulevards of the world's movie capital, Los Angeles. While studying at the USC School of Cinematic Arts, his first film, "The Blue Hour," shot on a microbudget, was screened at film festivals across the world and raked in several awards. Soon after, the budding screenwriter received a fellowship to finance his second film, "Giants," which was inspired by, and dedicated to, the passing of his brother. Tragedy and heartbreak became woven into his craft, setting him off on a decade-long journey of artistic creation. The rest, as they say, is history.
His steady climb up the career ladder has been like a movie of his own. Having worked with some of the world's most recognized screenwriters, authors, and actors, Eric Nazarian has solidified his place as a professional storyteller, whose mediums of film, pen, and lens have led him all around the world. Gravitating towards stories that focus on the voiceless or neglected, Nazarian's projects include everything from short films and documentaries to thought-provoking movies and inspirational editorials.
(Quote from h-pem interview: Eric Nazarian: "Storytelling is a medicine and a drug".)
When everything in our society is a lie, the only truth you find is in fiction and in art—the life of the imagination.
Eric Nazarian to h-pem
Character, spirit and style
Nazarian's work often depicts stories of the human condition, where ordinary characters accomplish extraordinary feats in the day to day. His films are driven by the belief that cinema is an art form, where the image and sound function as two separate and equally important modes that, when combined, should be harmonious not competitive.
Influences and contributions
His foremost inspiration has been his late father, Haik Nazarian, who lit his cinematic fire with a constant stream of films on their TV and movie poster decorations all over their home. For his 14th birthday, he even gifted the young cinephile the script of his favorite screenplay. Another seminal influence has been his other "father figure," Turkish Armenian journalist Hrant Dink, whose pen was mightier than the bullet that brought him down. Steven Spielberg, Stanley Kubrick, Bernardo Bertolucci, Martin Scorsese, Woody Allen, Billy Wilder, and Budd Schulberg are just some of the cinematic virtuosos who have shaped and inspired Nazarian's art.
Achievements
Nazarian's 2011 film, "Bolis," was the first film in Turkey to move past the censors and explicitly use the "G-word" to describe the Armenian Genocide.
He is a member of the Writers Guild of America.
Interesting facts
His childhood best friend is musician Serj Tankian of System of a Down fame.
His wife, Sera, is the daughter of one of his personal heroes, Hrant Dink.
In April 2017, Nazarian monitored the parliamentary elections in Armenia, as part of the group Justice Within Armenia. Exactly one year later, he traveled again to Armenia with friend, actress Arsineé Khanjian, to participate in the peaceful movement to change Armenia's leadership.
He is a founding member of the Armenian "Rat Pack." Nazarian and his close circle of friends, fellow Armenian artists, call themselves the «Մի՛ Խնայիր»-s ("never hold back-s").
Awards and recognition
"The Blue Hour" won six international awards, including the Best Armenian Film and Ecumenical Jury awards at the 2008 Golden Apricot Film Festival in Yerevan.
In 2008, Nazarian won the Academy of Motion Picture Arts and Sciences' Nicholl Fellowship, the most prestigious screenwriting award in the world, for Giants.
In 2011, "Bolis" won the Best Short Film Award at the 14th Arpa International Film Festival.
Nazarian demonstrates an uncanny affinity for the language of cinema… this is clearly another filmmaker to watch out for in the coming years… like the late Cassavetes, Nazarian demonstrates an uncanny ability to compose the most striking images and memorable performances on a shoestring budget.
- Turin Film Festival
Like this profile? Any favorite works? Additional references?
Send a message
Join our community and receive regular updates!
Join now!