#IsolateWithHPem episode 2: The Vegan Armenian Kitchen's Lena Tashjian
April 09, 2020 - May 17, 2020
Running out of juice during these trying times? Well, we've got you covered! On April 6, h-pem kicked-off its social connection initiative #IsolateWithHPem. For the foreseeable future, we will periodically post exclusive videos from our talented friends, who are professionals in their respective fields—from cooking and dance to comedy, journalism, and beyond. Their snappy tutorials will help us all combat the challenges posed by physical isolation through a virtual learning hub. Stay tuned!
We continue our #IsolateWithHPem social media initiative with writer, recipe developer, and h-pem contributor, Lena Tachdjian! You may recognize Lena from her YouTube cooking channel or her The Vegan Armenian Kitchen Cookbook, where she offers up some tasty plant-based Armenian meals.

Lent officially ends this weekend, but until then, why not keep busy (and Lent-friendly) by experimenting with some new recipes? Two days ago, Chris Bohjalian recommended we all eat some cake. Check out these Lenten-approved food tips from Lena. And, who knows, you may just be inspired to bake a vegan cake!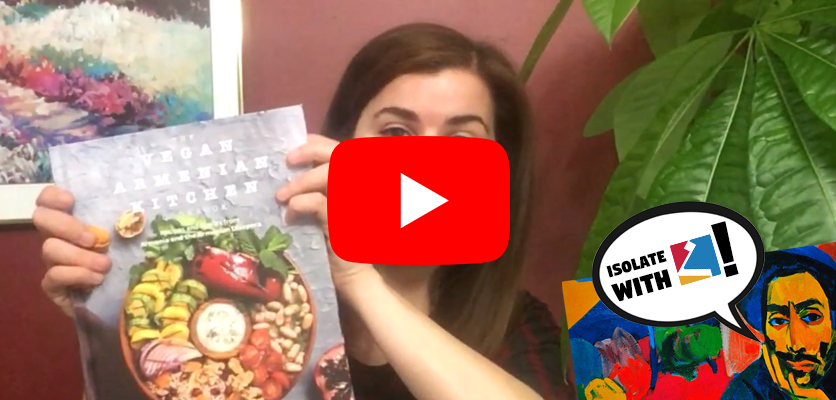 Stay tuned for more tutorials from other professionals!
Any additional references or recommendations? We would love to hear your suggestions!
Video
#IsolateWithHPem episode 2: The Vegan Armenian Kitchen's Lena Tashjian

(Video: h-pem)
?>

#IsolateWithHPem episode 2: The Vegan Armenian Kitchen's Lena Tashjian