'Im Chinari Yare': The Kousan Chamber Choir's theatrical twist on a Komitas classic
The Kousan Chamber Choir
June 28, 2019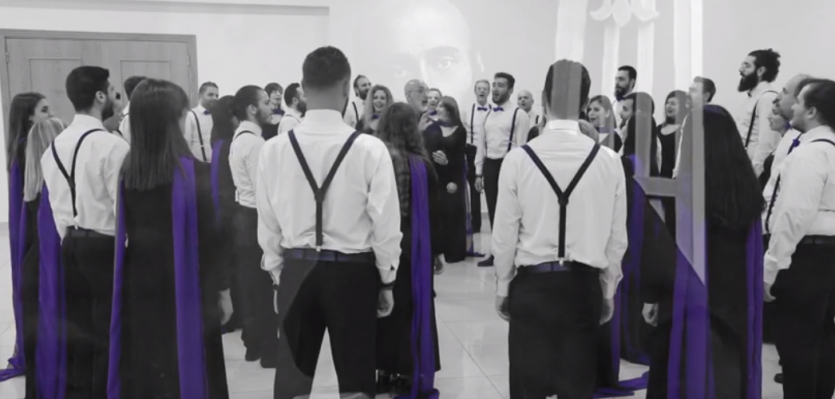 The lyrics are looped in pursuit of the significant other and the melody makes one dance on tiptoes. They ring down through the ages to spin a jovial celebration of love. Yet, there is more to the newly released video clip of the song by the Hamazkayin Kousan Chamber Choir of Lebanon. It highlights the vibrant side of a pioneering composer's legacy and imbues his creative world with tangible warmth.
| | |
| --- | --- |
| Genre | Classical; Folk |
| Released | 2019 |
| Location | Lebanon |
| Language | Armenian (with English subtitles) |
| Duration | 3:16 |
| Link | |
"The sun rose sprightly, my lovely sweetheart
We began to argue, my sad sweetheart
The light is on, it is on, my lovely sweetheart
Her father began to hate me, my sad sweetheart."
The composer who saved this Armenian folk song from oblivion and turned it into a classical love song is Komitas, whose 150th birth anniversary this year is included in the UNESCO calendar of anniversaries.
"[Komitas] did for Armenia what Bartók did for Hungary, turning simple material into bewitchingly sophisticated polyphony," wrote Michael Church in The Guardian, back in 2011.
It's not an easy venture to pay tribute to such an iconic figure—one, who has become a universal cultural reference. Bearing the namesake of the Kousan Choir founded in 1910 by the legendary composer, ethnomusicologist, researcher and singer, imposes even greater responsibility.
However, the Hamazkayin Kousan Chamber Choir of Lebanon has taken these challenges to heart by restaging "Im Chinari Yare (Իմ չինարի եարը)" as a tender and affectionate song for the everyday folk.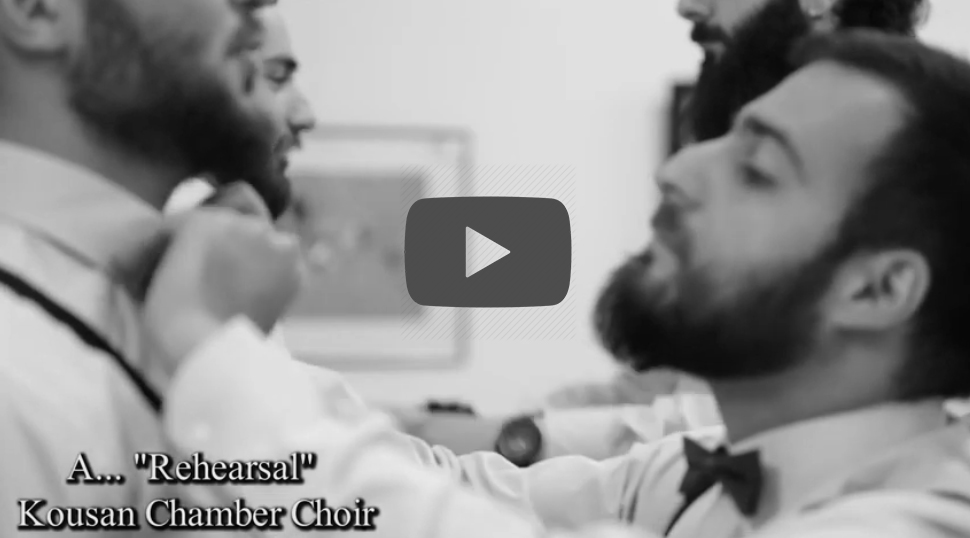 "When the music of Komitas tends to become a bit too classical, it tends to get further away from the masses, whereas quite the opposite should happen," said conductor Krikor Alozian, in his exclusive conversation with h-pem.
"In this song, the eternal theme of love, characterized by immediacy and simplicity, acts as a bridge connecting the past with the present," he explained. "I wouldn't say our interpretation draws Komitas away from his status as a classical composer. However, it makes his music relatable not only to music experts and cognoscenti, but also to large audiences."
According to Alozian 'Im Chinari Yare' is not a typical Komitas song, yet their rendition of the piece is what he calls, "an anniversary gift for people who love Komitas and an invitation to all who feel an interest in his music."
From this standpoint, it was important for the classical chamber choir to perform off-stage, to remove the music of Komitas from its conventional settings, and to make a stark point about juxtaposing the past and the present in real time.
"We have achieved this through the synthesis of black and white images and the application of a single color as a unifying motif," explained Alozian, who has played a key role in devising and implementing the video aspect of the song.
For Alozian, Komitas, like Mesrop Mashtots, spurred a revolutionary movement in Armenian culture. "They [Komitas and Mashtots] challenged the status quo and sought to highlight cultural and national traits. Komitas stands as an eternal milestone in this regard," he asserted. "The national classical music institute that Komitas founded, elevated Armenian music to international levels. It's very important to share his music with the world, thus helping to enrich cultural diversity."
Check out some video clips by Kousan Chamber Choir below.
The Kousan Chamber Choir will hold a concert on Sunday, June, 30, at National Evangelical Church in downtown Beirut, at 7:30 p.m., in celebration of the 150th birth anniversary of Komitas.
Join our quest to keep up with the trends!
Video
"Im Chinari Yare"

The Kousan Chamber Choir turns up for rehearsal, the conductor adds the final touch, and the song evokes a feeling of continuity with the past, coupled with a playful sense of humor and nostalgia. (Video: Kousan Chamber Choir YouTube page)

"Good News of Nativity" or "Avetis (Աւետիս)"

In a bid to ensure the survival of folk songs which were performed in Armenian villages on the Eve of Theophany, the Kousan Chamber Choir sings a classical polyphonic version of ancient folk tunes. (Video: Garen Yosoulkanian YouTube page)
?>

"Im Chinari Yare"

?>

"Good News of Nativity" or "Avetis (Աւետիս)"