Photography | Artsakh through Souren Papazian's (iPhone) lens
February 24, 2020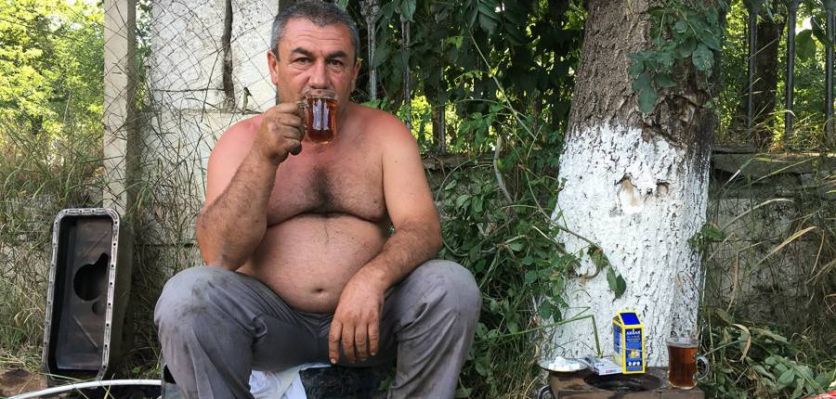 In the summer of 2016, Souren Papazian, a then-recent grad from Columbia University's Computer Science program, was placed in Artsakh for three weeks as a part of his community work as a Luys Foundation scholar.
"I found the people of Artsakh to be very different from folks in the rest of Armenia—different even from spyurkahais [Diasporan Armenians]. Just a different mindset and philosophy: reserved but kind, they don't talk much, very into nature," he explains.
Souren's submission to h-pem is a series of 17 photographs taken on his iPhone during those three weeks in Artsakh—a collection of the faces and places that spoke to him most.
Artist's name
Souren Papazian
Occupation

Computer programmer

City/Country
Brooklyn, N.Y.
About the artist

Born in Barcelona, Spain; grew up in Glendale, Calif. and Yerevan, Armenia; studied Computer Science in New York
Photography is one of his hobbies; Recently has been experimenting with film photography
His Artsakh series was shot in the summer of 2016 and all of the photographs were taken on an iPhone
Taking photographs has been a hobby of Souren's for some years now. And though he believes that his pastime does not exactly relate to his professional field of Computer Science, his interest in the medium has only grown with time. "When I walk around and see things around me that are meaningful and beautiful, I want to capture that moment, so that I can refer to it later. My camera is my companion, in that regard, and I really enjoy having it with me to be able to do that," he says.
For Souren, taking photographs is also a way of familiarizing himself with his surroundings: "It was a way for me to get to know Artsakh better while I was there."
Zhingyalov hats, a flatbread stuffed with finely diced herbs and greens, being prepared. It is a traditional dish of Armenians of Artsakh and Syunik. (Photo: Souren Papazian)

When asked about where he is from, Souren is quick to answer: "It's complicated," he says.
"I was born in Barcelona, grew up in Glendale, then my parents decided to move to Armenia, so I spent between the ages of 10 to 18 there—in Yerevan. I went to high school there," Souren explains. After graduating, he moved to New York to pursue an undergraduate degree in Computer Science at Columbia University. After completing his degree, Souren ventured off to San Francisco, Calif., where he worked in software engineering for three years before relocating back to New York, where he is currently participating in a programming retreat and thinking about his next moves professionally. "I am thinking about moving into game development, graphics, visuals," he explains.
Looking through his Artsakh series, it is clear that the small, unrecognized republic—and especially its people—left an immense impact on Souren. Through his iPhone's lens, he has been able to beautifully capture the kindness of Artsakh's people on one hand and their reserved nature on the other.
One photograph, in particular, is striking. It is of an older gentleman sitting at the base of a monument, looking away from the camera. Souren says that he was so attached to the military commander—Armenia's late Defense Minister and later Prime Minister Vazgen Sargsyan—that he was treating his statue like the general was still alive. And Souren was able to capture the emotion at that moment almost perfectly.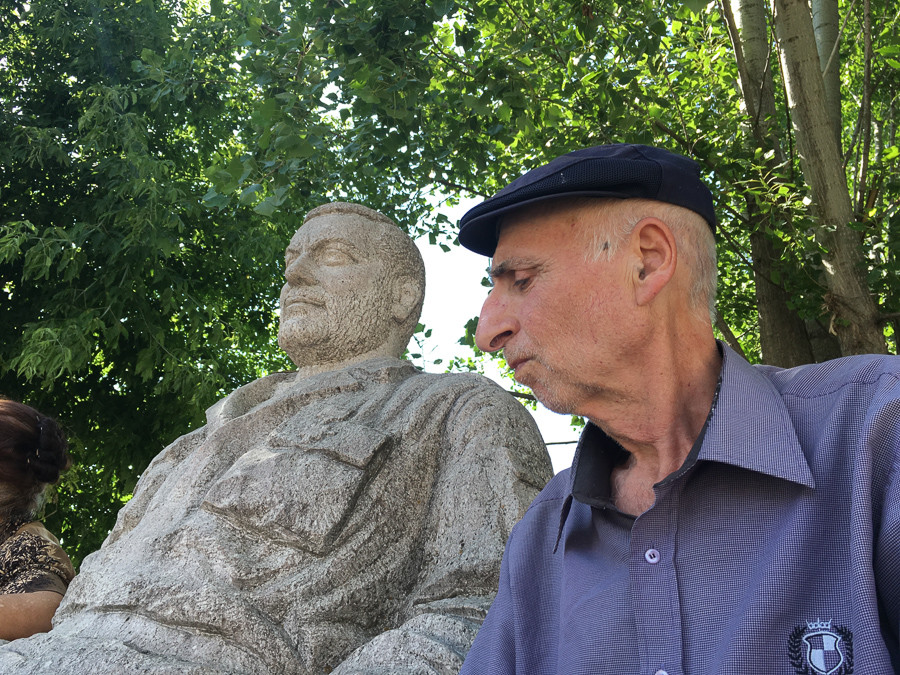 A man sitting next to a statue-memorial of Armenia's late Defense Minister and later Prime Minister Vazgen Sargsyan in Shushi. (Photo: Souren Papazian)

Though he took this entire series on his iPhone, more recently, he has been experimenting with film photography—a once vanishing medium, which has recently been making quite a comeback in recent years. Souren says that he actually prefers shooting film for two principal reasons: "First of all, it helps me slow down. You really have to think hard before taking a photograph on film. A lot more goes into taking a photo, developing it, seeing the physical photo. The feedback loop is much longer—you don't just see it right away, so you have to pay more attention," he explains.
Souren says that film photography also pushes one to learn more about how cameras work since there "isn't much room for trial and error." That is why Souren decided to enroll in a photography class during his last year at Columbia University—a decision he doesn't regret for a second. His time in that class gave him a thorough understanding of the process of film photography, which is something he would not be able to grasp by merely "trying, failing, and adjusting" over and over.
"The other reason [I prefer film] is the physicality of it all," he says. "I like being in the darkroom, developing the photographs, being in control over the whole process from start to finish. I like the physical aspect of it. Often times, the end result of film photography is a physical, tangible photograph you can hold in your hand, rather than a digital file," he adds.
In many ways, film photography continues to be a dying art, however, there is a growing movement around the world, led by young photographers like Souren, to keep it alive.
"Of course, I scan my negatives and use them digitally, but you have the option to produce a print in a very intuitive, almost natural way. I enjoy that process much more than, say, editing a picture on a computer, finding an expensive printer, and using that to produce a physical photograph," he says.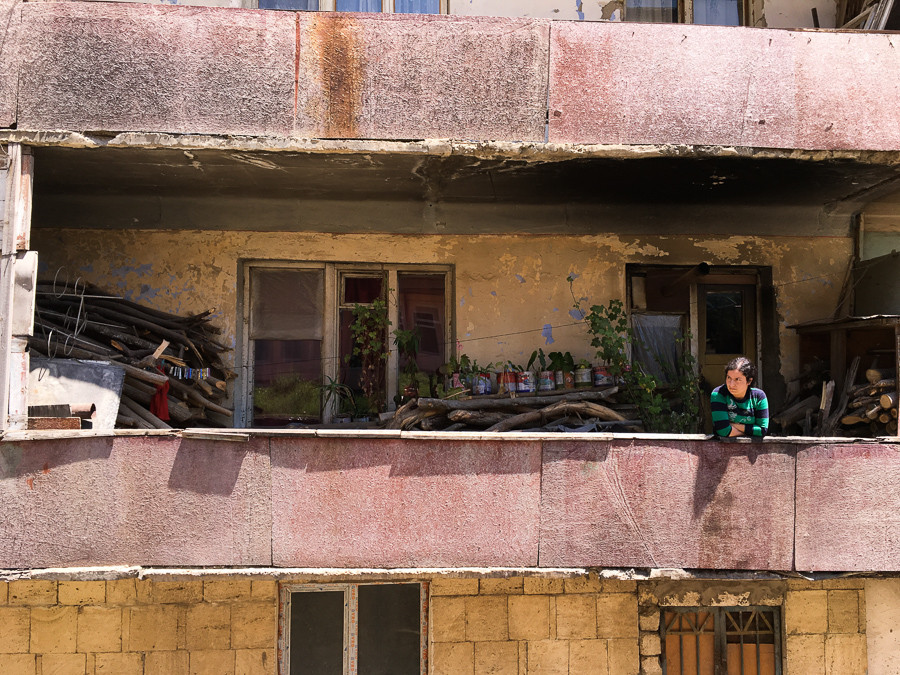 Watchful eyes overlooking from a balcony. (Photo: Souren Papazian)

While Souren admits that his photography is mostly for himself—that it is a way for him to capture something and to reflect upon it later—he also confesses his photographs are a way to share those moments with others as well. "My memory is not that great, so I can just scroll through all my photographs in Artsakh, for example, and remember and relive all the meaningful moments and evoke those emotions. It's a really nice feeling," he explains. "But also, when I tell others about a trip or a moment, it's always better to accompany the memory with a photograph. Words just don't go as far for me," he adds.
And even though he has since transitioned to mostly film photography, Souren shares digital copies on his Instagram page (@youngtableau)—a beautifully presented portfolio, which reminds us that the social media platform can be more than just a place for selfies and food porn—as well as his website.
Souren hasn't shot Artsakh on a film camera, but he says it is something he would definitely do in the near future. "I'd love to spend a whole year in Armenia, going around and taking photographs, if I get the chance. It's not a priority right now, but that would be nice," he explains.
We at h-pem hope he checks all the boxes taking precedence in his life quickly so that we can all enjoy another submission from the talented photographer…

Check out the rest of the photographs in Souren's Artsakh series in our photo section below...
Are you an aspiring writer, poet, or artist? Show the world what you've got!