Creative writing | 'Tales of a volunteer firefighter' by Ani Arzoumanian (Chapters II & III)
March 10, 2020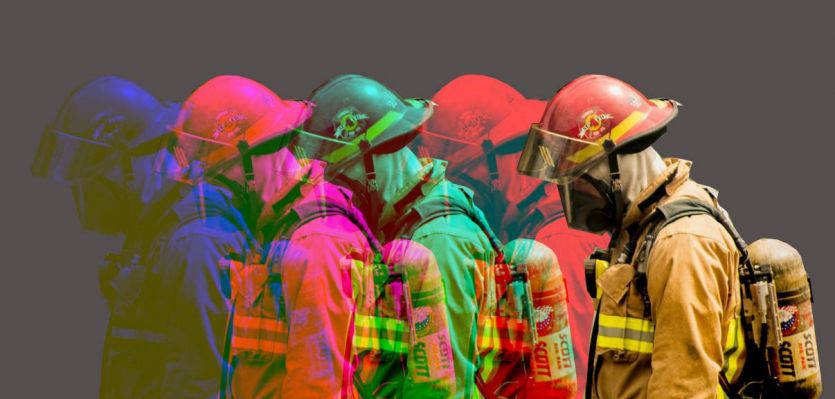 In the United States, just four percent of firefighters are women, but that has not stopped Ani Arzoumanian. The 19-year-old pre-med student and volunteer firefighter gives us an insider's look at navigating this industry as a young female. Check out part two of her journey below!
Writer's name
Ani Arzoumanian
Occupation

Neuroscience and Creative writing student; Certified firefighter and EMT

City/Country
Hamilton, N.Y.
About the writer

Founder and president of the Colgate Armenian Students' Association
Reports for Colgate University's weekly paper, The Maroon News
Was a translator and medical assistant for a mission hosted by the AAHPO (Armenian American Health Professionals Organization)
After graduation, she plans to attend medical school and take her skills back to Armenia
Missed part one? Check it out here.
Chapter 2: Big, strong men

My Introduction to Volunteer Firefighting
Now, it's easy to look back and forget about how little I knew before I joined the fire service. I am from the dense suburbs of New York City, where people pay a "handyman" to do simple household chores. I came to Hamilton expecting to be a full-time student at Colgate University, and not much more. I'd never so much as operated a screwdriver before I threw myself into this occupation. Firefighting—and I'll say it louder for the people in the back—is a handyman's job. Good with tools? Try firefighting. Good with pipes? Try firefighting! Good at observing an issue and correcting it? I think YOU (*insert Uncle Sam picture*) have what it takes to be a volunteer firefighter.
My point here is that nothing in my average suburban life prepared me for this. On my first day as a firefighter trainee, I didn't know how to use a single tool on any of the fire trucks. Maybe the axe, maybe, since it's pretty self-explanatory (pretty sure you, like, swing it?), but I'd never even wielded one before, much less expected to do something helpful with it. Truth be told, I hadn't even realized that there were different types of fire trucks. One for water and one for...well, what else could they be for? I thought you could just spray water on the red stuff and that's all there was to it. I didn't realize I'd have to know the ins and outs of so many types of ladders and tools. More baffling was realizing that knowing your building construction is just as important as pulling and deploying hose at the scene of a fire.
In all honesty, when I saw the fire department at Colgate University's club fair in the beginning of my freshman year, I thought to myself: Who in their right mind is doing that? I laughed. Me? A firefighter? I would die. Big strong men do that kind of stuff. Not me; not a girl whose greatest physical achievement was playing JV softball in high school. I am incapable.
With all the words in the world I cannot explain why, but I signed up anyway.
I agree that becoming a firefighter was one of the strangest and most illogical decisions of my life. I also happen to know that it was the best thing I could have decided to do with my time. I am so lucky to have had this massive opportunity to learn a whole bunch of skills that I otherwise would never be able to learn, and to use them in a way that is actually beneficial to society.
What is, perhaps, the most interesting part of my story, is that, on top of it all, I am still a full-time student. This, especially in rural parts of America, is not uncommon.
I've run out of classes. I've run out of lectures. I've run out of my own bedroom at 3 o'clock in the morning, my pajamas doing nothing for me as I run down my campus hill in 10-degree weather, slipping and sliding on ice, compliments of the Upstate NY climate. I've run out in the snow wearing nothing but a T-shirt and shorts. In the warmer months, I've run out without shoes. I've left food at the dining hall. I've dropped my groceries at Price Chopper, a nearby grocery store. When we get dispatched, when that pager vibrates against my body, I get a surge of adrenaline that gets me to the fire station as quickly as possible, no matter the circumstances.
Where do I run to, exactly? You may be thinking I run to the station. You're not wrong, but you're not right. The fire station is located over a mile off campus. Perhaps I've convinced you that I am physically capable of the strenuous task of firefighting, but I will not attempt to convince you that I can run a two-minute mile. No. The whole point of emergency systems is to get trained personnel on scene, fast. In order to do that, I hitchhike.
I typically head for the first car I see. I've stopped students, professors, staff. I've hitched rides with visiting lecturers, parents, and alumni. Twice, I convinced a university cruiser driver to take me directly to the fire station. Once, I hitched a ride with Colgate's curling team. I didn't even know we had a curling team. By far, my favorite was pulling up to the station in a water van. A water van! Few people have been able to say no to a frantic girl with a pager blaring from her hip, saying "I'm a volunteer firefighter, can you take me to the fire station?"
Chapter III: Female firefighters

Yes, We Do Exist
Here, you're probably expecting some rant about how I was physically disadvantaged as a female in the fire service, that I persevered and did it anyway, and now I've blazed the way for more female involvement. I claim no such thing. Instead, let me show you a different perspective.
There was no gear that fit me at the Hamilton Fire Department when I first joined. Everything was too big. I took the smallest they had, and I still looked like a child playing in my father's clothes. There weren't any face pieces that were small enough to make a proper seal on my face. Every time I sucked in air, some of it leaked out. In training, I'd always run out of air faster than any of the guys in my company, since it was mostly blowing onto my face and not into my lungs.
When I first started, I wasn't strong enough to start the big chainsaws. "Just pull it," they said. "It's easy." I pulled. I yanked. I heaved, and tugged, and strained over this simple task. I couldn't do it. I immediately began to doubt my capabilities, whether I would be able to complete my training, or even if I wanted to. This isn't some sport that I can mess around with just for fun and even be bad at. Real people could very well be in my care, real people who could get injured or die as a direct result of my actions.
Allow me to spoil the ending: I did learn how to start chainsaws. I did complete my firefighter 1 training, which includes both exterior and interior firefighting. I was one of three girls countywide to complete the class, and I continue to volunteer as a firefighter at HFD. I did it. It took a lot—hundreds of hours, absolutely all of my physical and mental strength–but I came out stronger than ever, more confident in my abilities, and motivated to make a real impact in the community.
The real reasons I felt disadvantaged as a female were not physical.
I was told to expect offensive language and "locker room talk" from the people we interact with in other departments. After all, I was entering a majority male environment—statistically speaking, only four percent of firefighters are female. Despite the warning, I did not expect to hear NY State officials give lectures and say, for example, "Imagine a two-story structure with visible flames in the back. What should we be looking for?" A pause, to allow the audience some time to think before continuing with "well, we should probably notice the 18-year-old naked blond chick falling out of a window; right, guys?" He receives laughs and smiles across the room. A harmless joke.
What am I supposed to say when a captain from another department is mansplaining to me how to attach hose? "You take this end, the male end, and put it in the...you put it in...like this... into the female end. Make sense? Do you understand now? It's called the male end because it screws into the female end." Ok. Uh-huh. Yeah, that makes sense. Okay, I got it. Yeah, I'll do that. Mhm.
There's a reason why we roll hose with the "male end" on the inside and the "female end" on the outside—it's to protect the threads from getting dirty. No, Lieutenant, it's not because "males are more important than females". Why would you even bother saying that?
I had an instructor who called all of the female trainees his "girlfriends." This is the same instructor who never paired me with a female counterpart, thinking we would be physically disadvantaged as a pair. I call BS. My male partner doesn't pick up my slack, because there isn't any. The idea that two female trainees are incapable of completing a task is entirely in his head.
My response to this sort of stuff is to keep doing what I'm doing—keep showing people that I can do more than they expect, as a woman, as a student, and as an outsider to every aspect of the fire service. I don't expect I can change the mental stereotypes of some of the older guys in the service, but I do intend to influence my generation of firefighters so that, in the future, when they're in charge of teaching courses and leading departments, they wouldn't hesitate to send two females in a dangerous situation to do the job they were trained to do.
Are you an aspiring writer, poet, or artist? Show the world what you've got!