Gurumiran: Finding flavor and feeling through music
September 20, 2019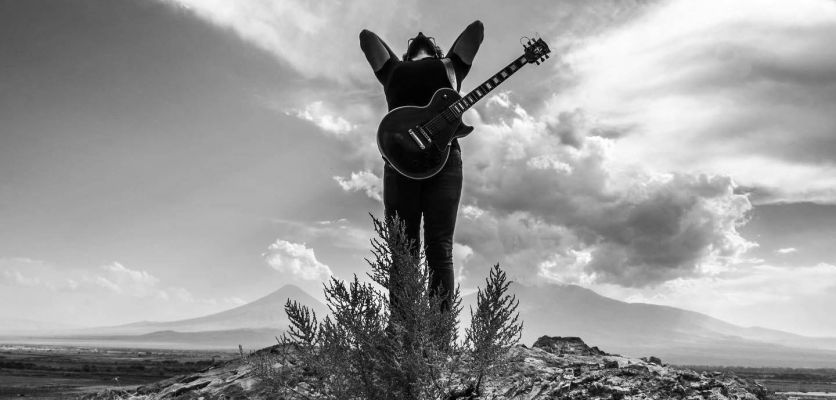 For over two decades, Lebanese-Armenian musician, Gurumiran, has been riding a sonic rollercoaster. From his early days as a guitarist for one of the Middle East's hottest underground bands, to his reincarnation as an electro-rock, Arabesque-smooth solo artist, this cross-genre singer-songwriter, guitarist, audio engineer, and all-around music lover has changed the landscape around him. With several world tours under his belt, this November, he will appear in NYC for the fourth time to perform two concerts, including a charity gig for wounded war children.
Gurumiran (Miran Gurunian) has been heating up Lebanon's music scene since the new millennium. At first glance, he looks like a British rock star, à la Radiohead. In some shots (like the one below), one cannot help but notice the uncanny resemblance to Coldplay's Chris Martin. But that's where looks can be deceiving, or, more precisely, an aberrance. Though he shares a name with Mihr, the ancient Armenian God of Sun and Heavenly Light, (Guru)Miran prefers his images in black and white, illuminated only by the clouds in his music videos and the puffy nightclub smoke of his concert venues.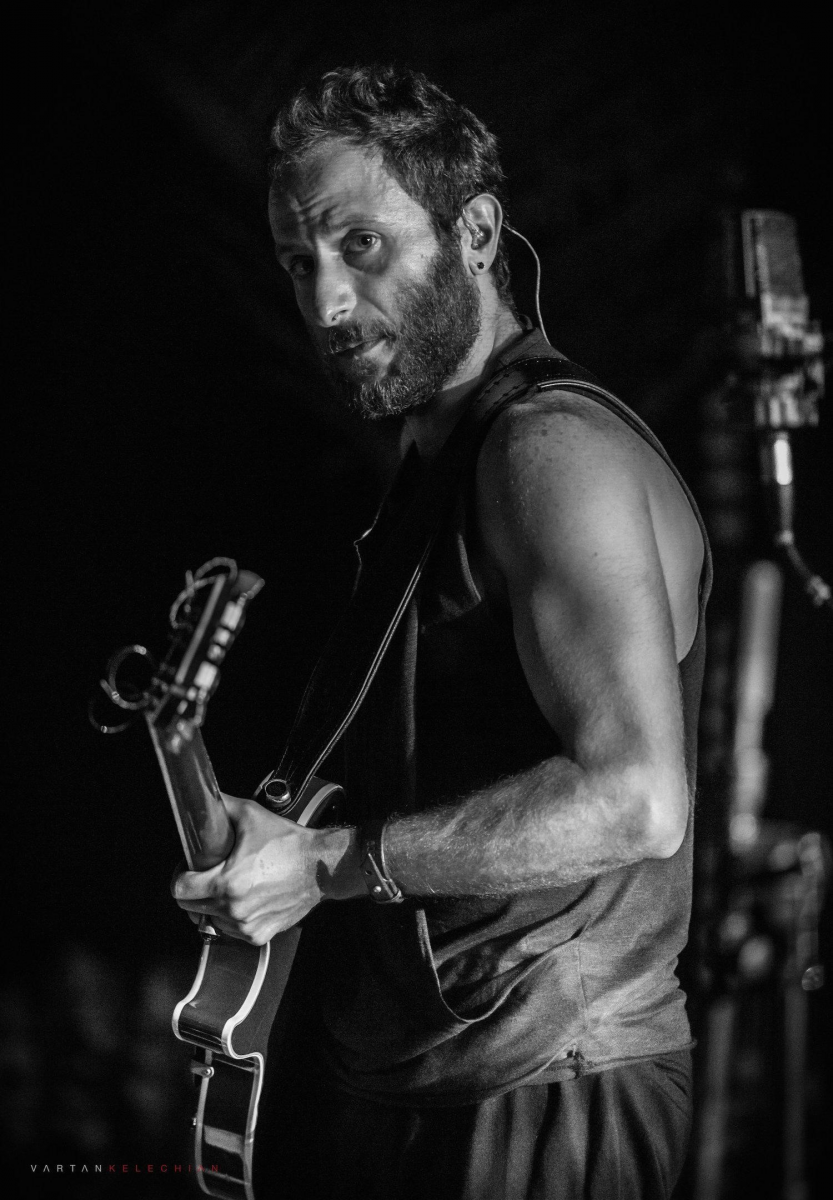 Miran Gurunian (Photo:Vartan Kelechian)
ELLE Arab World magazine has called his music "an intimate fusion of genres, a sonic exploration, located between jazz, rock 'n' roll, and electronic music." Though not quite a bullseye, the description isn't that far off. Indeed, his repertoire is a "blend" (you'll get the reference soon) of various genres, languages, strums, and beats, though it's safe to say that he brings his own unique flavor to every recording.
The music guru's style is firmly rooted in the electro-rock rhythms of his icons, like David Bowie (as evidenced in his Arabic language tribute to "The Man Who Sold the World") and Red Hot Chili Peppers (for whom he's opened); synthesized by the legends of his Middle Eastern environs (like Imane Homsy and Idris Muhammad); mixed with a healthy dash of the Armenian folk tunes of his childhood (his electro-rock cover of the beloved campfire song, "Hingala," became an unexpected sensation); and, of course, stewed with his musical contemporaries (like an award-winning collaboration with Eileen Khachadourian, and Tania Saleh), some of whom he calls friends.
But before he was "Gurumiran," in the noughties, Miran was a founding member of Blend, one of the first bands in the Middle East to be signed to a major record label for performing rock music in the English language, which helped pave the way for many of today's internationally-recognized Lebanese artists, such as Mashrou Leila and Who Killed Bruce Lee. Yet, despite this success, when he set out to pursue a solo career in 2015, many of his fans were scratching their heads. The reason? They had never heard him sing. As the guitarist, riffing took precedence over vocals. But not anymore. His debut solo album, "Aberrance," irrefutably catapulted the once-band member to frontman status.
Succinctly put, Gurumiran's musical journey is an exploration of sonic possibilities, through the use of wood, strings, and electricity (at least that is the formula listed in his Twitter bio). If you ask him directly, he might give a different answer. He tells us, "Life, love, the people I meet, and the experiences (sometimes tragic; other times, fortunate) shape the sounds I use to describe my feelings. The songs and the ideas they carry within require specific sounds that I try to respect and emulate." Interested in reading more? Watch out for our exclusive in-depth interview with the aberrant musician to follow! Gurumiran will be performing at Brooklyn's Rockwood Music Hall on Nov. 20 and the Chelsea Music Hall on Nov. 23. For more information, visit his website at gurumiran.com.
All photos are courtesy of Vartan Kelechian.
Video
"Man Who Sold Eldunya" by Gurumiran

(Video: Miran Gurunian YouTube page)

"Hingala" by Gurumiran

(Video: Miran Gurunian YouTube page)

"Aberrance" by Gurumiran (Live at Metro)

(Video: Miran Gurunian YouTube page)
?>

"Man Who Sold Eldunya" by Gurumiran

?>

"Hingala" by Gurumiran

?>

"Aberrance" by Gurumiran (Live at Metro)