Resurrecting the exiled: A conversation with John Hodian of the Naghash Ensemble
June 11, 2019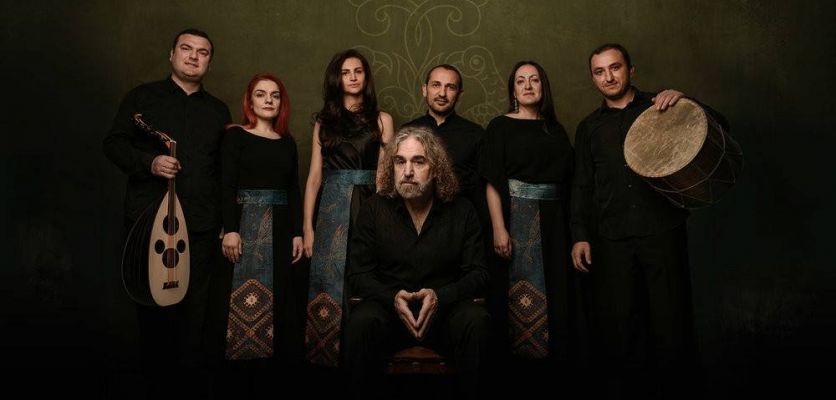 When Armenian-American composer John Hodian first heard Hasmik Baghdasaryan's striking timbre, ringing across the sacred columns of Armenia's Garni Temple, he was transfixed—he knew he had to work with her, but had no idea how. It took several years of ruminating and rummaging through some dusty manuscripts before he came across a fragment of a poem by Mkrtich Naghash, a long-forgotten 15th-century Armenian priest and poet from Dikranagerd (modern-day Diyarbakir). Hodian—at that point, a listless NYC composer who had just moved to Armenia—had finally found his inspiration: or in show tune-speak, the Hammerstein to his Rodgers.
We often talk about "resurrecting" the past as though we are doing it some sort of favor. But perhaps it is culture, art, music, and memory that it is resurrecting us—or at least, a part of us that we didn't even know was there. Composer John Hodian takes this philosophy and runs with it.
A decade ago, Hasmik Baghdasaryan's "haunting" voice inside Armenia's sole-standing pagan temple "awakened" something in him. After some soul searching in libraries across Armenia and the diaspora, Hodian finally came across the words of a medieval Armenian priest and mystic poet named Mkrtich Naghash, who "revived" his musical spirit. Hodian promptly set out to compose music to Naghash's poems—of which just 15 exist today—so that Baghdasaryan would breathe life into them.
Add in a few more vocalists and musicians, and the result of this journey became the Naghash Ensemble, which famed composer, Tigran Mansurian, has dubbed, "the sound of ancient Cilicia reinvented for the 21st century." Indeed, the music of the Naghash Ensemble harkens back to this storied kingdom, where Armenian kings and queens, princes and knights were still roaming our "homeland." But their songs are not about medieval royalty and conquests and glory; instead, they tell stories of lamentations, entwined with profound spirituality, love, and resilience in the depths of despair.
And their writer is none other than Mkrtich Naghash. But just who was this man who inspired a talented group of musicians, half a millennium later, from a different land?
In his heyday, Naghash had built up a celebrity status amongst fellow Armenians as a man of artistic, diplomatic, and theological prowess in the Ottoman Empire. Like other men of his time, his surname, Naghash (meaning "painter") was not his birth name, but a moniker to celebrate his artistic talent. His faith lived up in the Heavens, and he sought to create a place of worship that would inch closer there. He constructed a church whose steeple brushed higher than the city's minarets, and like the fabled tale of Babylon, his quest for height was met with his downfall.
Sentenced to a life of exile for his crime, Naghash spent his days writing about his predicament. "We are all exiles, brother. No one has a homeland. We are bound together; the afterlife is our homeland." These words, in particular, uttered centuries before we "lost" Western Armenia, our proverbial "homeland", left a profound impact on Hodian.
On the surface, one could say that the words of this exiled priest highlight Armenian exile and suffering through the ages, but what they really do is paint a sonic brush on the human experience. And this is where the ethereal beauty of the Naghash Ensemble lies.
Their latest album, "Songs of Exile: Volume III," is in production, and a fundraising campaign is underway to complete the project. We spoke with the creator himself, Hodian, about their style, inspirations, cross-cutting themes, and the stories they try to tell through their music, which melds the past with the present in a hypnotic elixir—a magic potion of song, prayer, and the tranquility of the human spirit.

All photos are courtesy of the Naghash Ensemble, unless otherwise noted.

The resurrector and resurrected
Composer and founder of the Naghash Ensemble, John Hodian. (Photo: David Galstyan)
Lilly Torosyan: The Naghash Ensemble has such a unique "voice" that it doesn't quite fit into any one genre. How would you describe your sound?
John Hodian: Wow, you start with the hardest question first! It's an interesting question, as well as a practical one, because we had to figure out how to present this music to an audience and, therefore, how to "market" it.
For practical reasons, it is challenging to categorize the Naghash Ensemble's music. Most of the venues we play in are considered "classical" music halls that are willing to take a broader view of "classical music." But we also play many "world music" and "sacred music" festivals. Lately, we have even been appearing at rock festivals.
There was a press quote one time, which described the Naghash Ensemble's music as "combining the earthy spirituality of Armenian folk song, new classical music, contemporary post-minimalism with the energy of jazz and rock," which, I guess, is fairly accurate. But our music is also a natural outgrowth of my musical upbringing.

I grew up in the United States, but everything I heard growing up was Armenian music, whether it was at home, in church, at parties, weddings, funerals—everywhere. But being in the U.S., you are constantly surrounded by popular music of all sorts—from singer-songwriters to Motown to funk. And as a student, I was all about classical music. I would go through phases of being obsessed with different composers or different genres of music. I was a huge Bach freak for a while (still am, actually) and later fell in love with Stravinsky. When I got older and moved to New York, I was very involved in the new music scene there, particularly the American minimalists, like Steve Reich and Philip Glass. The music I write for the Naghash Ensemble reflects all of those influences.
When I moved to Yerevan 15 years ago, I was able to deepen my knowledge of Armenian folk and spiritual music. You used to be able to buy the books of Komitas folk song transcriptions for $4 at Vernissage. I used to spend hours playing them, singing them, improvising around them, re-harmonizing them. I didn't realize it then, but I was completing my musical education.
- John Hodian
The women of the Naghash Ensemble. From left to right: soprano Hasmik Baghdasaryan, soprano Tatevik Movsesyan, and alto Arpine Ter-Petrosyan. (Photo: David Galstyan).
L.T.: The Naghash Ensemble features three female vocalists and four male musicians (including yourself) who play various traditional Armenian instruments, and you on the piano. The result is a very distinctive, meditative, and—at times—almost haunting sonic experience. I can only imagine what the full effect must be live, in concert. Is there a specific reason why there are only female vocals in the Naghash Ensemble?
J.H.: I have always been obsessed with great female singers, in all styles: everybody from Frederica Von Stade to Joni Mitchell. The original inspiration for creating the ensemble was hearing soprano Hasmik Baghdasaryan's voice, so when I was writing the music for the ensemble, that was the sound I was hearing in my head.
To truly experience the ensemble, you have to hear them live. I have been a performing musician all of my life, but there is nothing more transcendent than being on stage with the Naghash Ensemble!
L.T.: Finding roots and the quest for home are recurring themes in Armenian culture and history, and are part and parcel of the diasporan experience. On your website, you say the following: "With our musical and geographical schizophrenia, it sometimes feels as if I don't have any roots. But on my good days, I feel like I do have roots—they are just all over the world!" Is that what draws you to a project—the pull of roots? Is the Naghash Ensemble a manifestation (or outpouring) of your Armenian roots?
J.H.: I came to a deeper and more direct experience of traditional Armenian music later in life. Growing up in Philadelphia and New York, I never went to a duduk concert or heard a kamanche being played live. When I moved to Armenia, I went to three different duduk recitals in my first week there! Of course, I am always careful to make clear that the music I create is not any kind of traditional Armenian music. It is "new" music, but because of my experiences growing up, the music does have a distinct Armenian quality.
The question of identity looms large for Armenians and, in my case, the question of cultural identity and, specifically, musical identity is huge. Early on in creating this music, I gave a rough recording of what I was doing to Tigran Mansurian, who is undeniably Armenia's most noted living composer of "classical" music. He scored many of the Sergei Parajanov films and there is no more highly regarded figure in the world of Armenian music.
Several days later, I heard from his assistant that he wanted to talk to me. I thought, "Uh oh! I must be in some kind of trouble."
I felt like I had gotten a call from my school principal and I was going to be reprimanded for mutilating our Armenian heritage and wasting the time of the wonderful musicians I was working with. Instead, he put his hand on my shoulder, looked me in the eye and said: 'It is the sound of ancient Cilicia reinvented for the 21st century.'
I was really touched! Between his thoughts and the support and encouragement of my ensemble, who are some of the finest and most knowledgeable musicians in Armenia today, it confirmed that I was on a good path.
Musicians Aram Nikoghosyan on the oud, Emmanuel Hovhannisyan on the duduk, and Tigran Hovhannisyan on the dhol. (Photo: David Galstyan)
L.T.: At first glance, an album titled "Songs of Exile" from an Armenian musical group seems like it would be about the Armenian Genocide and its aftermath. But, in fact, the music is based on the poetry of a little-known 15th-century Armenian priest named Mkrtich Naghash, hence the name of your ensemble. In a poetic way, you have resurrected a man from the abyss—or more fittingly, the exile—of time and lost memory. Was it your intention to retrieve the exile(d) through music?
J.H.: No, in many ways it was Naghash who revived me. I had been a composer for all of my life, but to survive in New York, I spent years scoring many films and television shows. I was very successful, but I didn't feel attached to any of it. I finally just stopped all of the commercial work I was doing and decided that I would only write for myself. But I was lost for many years and not writing anything. It wasn't until I heard Hasmik's voice and later discovered the poems of Naghash that a fire was ignited and the vision for what would become the Naghash Ensemble came into shape.
L.T.: You are a self-professed voracious reader, which led to your discovery of Mkrtich Naghash. You have also studied the works of American Beat poets, even meeting icons of the literary movement, such as Allen Ginsberg and William Burroughs. What is it that drew you to both the works of 1950s anti-war, counter-revolutionary writers in New York and San Francisco and the mystical poetry of a 15th century persecuted Armenian monk in Diyarbakir? Do you see any similarities or parallels between the two groups, their experiences, and their art?
J.H.: I never thought about that connection before, but in many ways, they (Allen Ginsberg and Mkrtich Naghash) were both "preaching" a similar message of love, respect, and acceptance. I have no doubt that they might have had different moral views on certain social issues, but at the heart of it, they both offered a similar message of universal love for all mankind—regardless of race or religion. By the way, that must be the first time that Allen Ginsberg and Mkrtich Naghash were used in the same sentence!
L.T.: I often think about what Komitas would think of the many modern renditions, remakes, and remixes of his songs. If he were alive today, how do you think Mkrtich Naghash would receive your music?
J.H.: You have to remember these great figures in our Armenian cultural tradition often became "great" because they were such innovators! Komitas is a good example. He is viewed as the upholder of tradition in Armenian music through his transcriptions of Armenian folk songs, but his true genius was in fusing together his profound knowledge of Armenian folk songs with what were "new technologies" of the time—the new technologies being Western European instruments and Western tuning systems. Of course, all of this was filtered through his particular genius.
But we see it time and time again, that the things we uphold as our traditions are brought into focus because they were highly unique and innovative at the time. Culture must be a living, breathing thing, or else it dies.
As for what Naghash would think of my work, I wouldn't dare to say. But he was working in an oral tradition. These poems were recited and often sung, instead of being written down. We have no way of knowing what that music sounded like, but I would imagine if he heard what I did with it, he would react the same way any composer would and say: "Hey, wait a minute… That's not how it goes!"
All recordings on the CD, "Songs of Exile—Volume III: Lamentations and Benedictions", come designed with a color book of poems, essays, and linear notes translated into English, German, French, and Armenian. Pledge at least $35 to the Kickstarter campaign and receive a copy with your CD! (Photo courtesy of the Naghash Ensemble).
L.T.: You currently have a Kickstarter campaign to raise funds for the third volume of "Songs of Exile." Among the "rewards" is a beautiful color book to accompany the recordings. What a fitting way to honor a medieval Armenian priest! Tell us about the fundraiser and how people can contribute.
J.H.: Kickstarter is a wonderful platform that allows people to directly support artistic work that would be impossible to come to fruition otherwise. Our music is too esoteric to get serious mainstream recognition and not really suitable for the type of grants and government funding that is available in either the U.S. or Armenia. Anyone can go to our Kickstarter site, watch, and listen to the ensemble, and if they like it, make a contribution for any amount and know that they are directly responsible for helping this project come to life.
And yes, we do have some really wonderful and unique gifts designed by Varant Kandilian, who I think is the greatest designer in Armenia. Who wouldn't want one of those the Naghash Ensemble t-shirts or coffee mugs?!

The Naghash Ensemble Kickstarter campaign is running until Sunday, June 23, 2019, at 11:59 PM EDT. To contribute, visit http://kck.st/2wfAT2V.
For more information on the Naghash Ensemble, visit their website at naghashensemble.com.