Martiros Sarian: 'The Matisse of the East,' in pure colors
May 19, 2021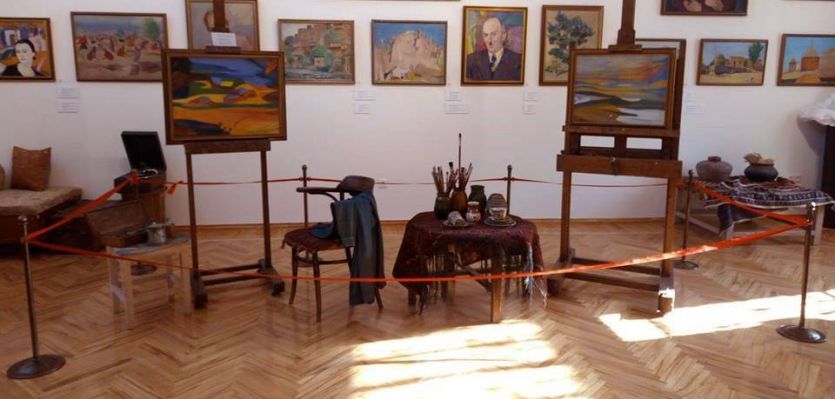 One of the smallest, yet most valuable house-museums in Yerevan is dedicated to Martiros Sarian, the founder of the national school of modern Armenian painting. A visit to the museum in the center of the city reveals the rich legacy of one of the greatest painters of the 20th century, whose paintings are characterized by simplicity and ubiquitous light.


It was Varduhi Adamian, art critic and research fellow at Martiros Sarian House-Museum, who guided us through the renovated museum. Our first stop was the artist's studio, which has been largely preserved in its original state, as the artist left it on his death in 1972. There is Sarian's robe on the chair, his paints and brushes on the table. However, what draws attention are the two paintings still on the easel—"Earth" and "Fairy-Tale." Even near the end of his life, when the shadow of death was closer than ever, Sarian saw the world in bright and happy colors, as Adamian remarked. He believed in the immortality of the human soul and becoming one with the universe.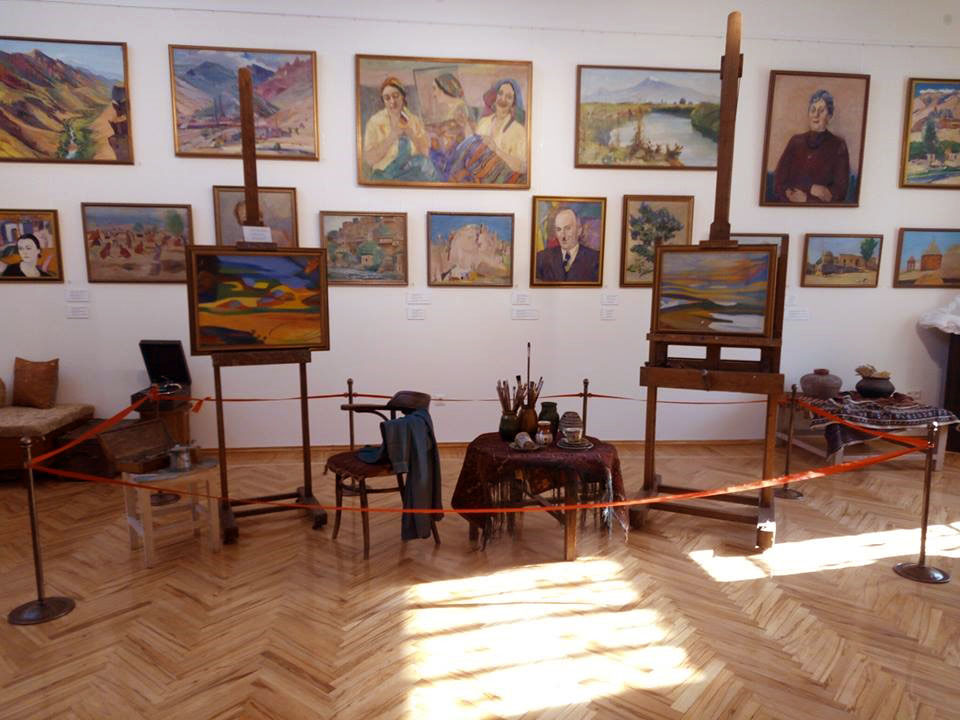 What draws attention are the two paintings still on the easel—"Earth" and "Fairy-Tale."
Sarian's house and studio, where the artist painted many of his masterpieces, were designed by Alexander Tamanian. The painter himself chose the location of his house because of its proximity to the Holy Mother of God Zoravor Church, which is still visible from the window of his small studio, and the view of Mount Ararat in the distance. The museum was designed much later by architect Mark Grigorian. It was founded on the basis of fifty works donated by Sarian for this purpose. The collection expanded over the years thanks to acquisitions and donations, now reaching more than two hundred and fifty pieces.
When the museum was opened in 1967, Sarian was still alive to witness it. He had been living in the house adjacent to it since 1932. After the artist's death at the age of ninty-two, the residential part of the building remained occupied and inaccessible to the general public. The death of its last occupant in 2013 coincided with the renovation works in the museum. When the venue was reopened in November 2016, the residential part was also made accessible to visitors.
In the memorial room on the ground floor, the story of the painter's life unfolds through his photographs, personal items, medals, and different documents.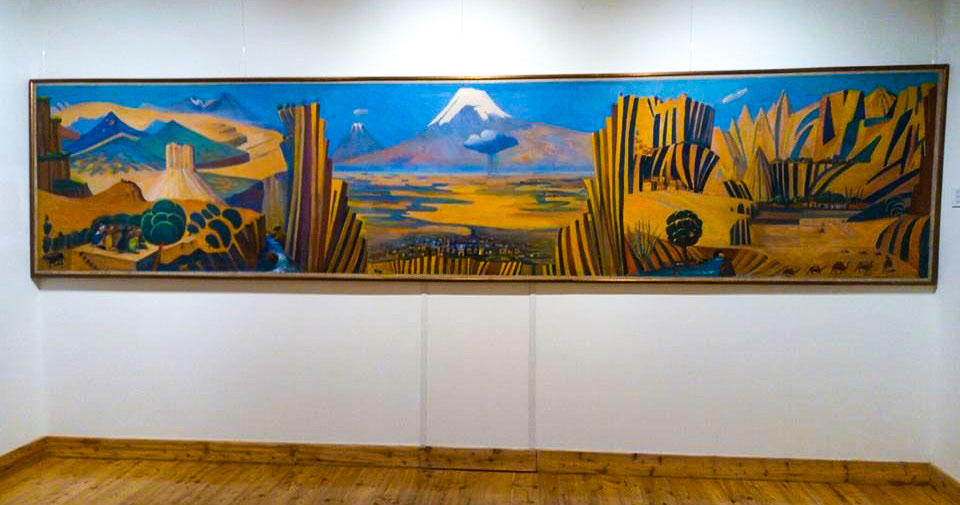 "Armenia"
A fate intertwined with Armenia
The seventh in a family of nine children, Sarian was born in 1880, in the now-Russian city of Nakhichevan-on-Don, where he grew up in close contact with his Armenian roots and culture. He had exposure to Armenian miniature painting and carpet designs at an early age. At the age of sixteen, he went to study in Moscow with renowned Russian painters such as Konstantin Korovin and Valentin Serov. After graduating, Sarian remained in Moscow and was part of an active cultural life. He participated in a number of exhibitions, the most notable of which were those of Blue Rose group of artists in the context of Russian symbolism.
It was in 1901 that Sarian travelled to Armenia for the first time, and spent time in Yerevan, Etchmiadzin, and Sevan. He visited Ani the next year, eventually fulfilling his mother's wish to see his ancestral homeland. Shortly afterwards, his visits to Armenia became more frequent. Twenty years after his first visit, Sarian was able to fulfill his mother's wish for him to settle down in Armenia.
When the artist heard about the Armenian Genocide, he left Moscow for Etchmiadzin to provide relief aid for the refugees. The heart-wrenching scenes of famine and death he witnessed there drove him to such despair, that Hovhannes Tumanian and other prominent Armenians sent him to Tbilisi. While in Tbilisi, Sarian was able to recover, and met his future wife Lusik, the daughter of the Armenian writer Ghazaros Aghayan.
Although what happened in 1915 heavily weighed the painter down, with the exception of a small pencil drawing of refugees, he never made any genocide-themed works. "He could not depict death or tragedy because his art was about the eternity of life," said Adamian, recalling Sarian's words.
When Sarian moved to Armenia in 1921, he was commissioned to design Armenia's coat of arms. A few years later, after achieving great success at the Venice Biennale of 1924, he temporarily moved to Paris, where he took part in a number of exhibitions between 1926 and 1928. However, tragedy struck, when the artist's works made during his Parisian sojourn were destroyed in a fire on their way to Armenia, near the coast of Istanbul. Adamian quoted Sarian as saying that it was easy for him to overcome a personal grief because he had witnessed a national tragedy.
Sarian was a true patriot who worked for the preservation of the Armenian cultural heritage. The nature of Armenia, Mount Ararat, and other symbols are ubiquitous in Sarian's art. The museum displays his largest painting, titled "Armenia," which represents Sarian's vision of Armenia with no specific geographical location.
"Still Life with Masks," 1915.
The essence of the exotic East
As much as Armenian themes and symbols are abundant in Sarian's paintings, Eastern cultural motifs are equally identifiable.
Sarian believed that traveling was a vital part of an artist's creative journey. Between 1910 and 1913, he traveled to Egypt, Persia, and Constantinople, collecting cultural objects, some of which he depicted in his art. "Sarian painted masks in a way that they appear alive, as if they are watching us," said Adamian, while standing in front of a large canvas of five Egyptian masks. Unfortunately, the composition was highly criticized for containing elements of a foreign culture. In desperation, the painter tore the painting apart. A fellow artist brought the torn pieces together, saving it from the brink of destruction.
Art of ancient Egypt was based on the concept of eternal life, and Sarian delved into its hidden meanings in his own art. Like many of his European and Russian contemporaries, he was fascinated by the East. However, he was not merely interested in portraying exotic places, but also in discovering their essence. The poet Maximilian Voloshin famously noted that where other artists viewed the East from the perspective of a tourist, Sarian captured its spirit.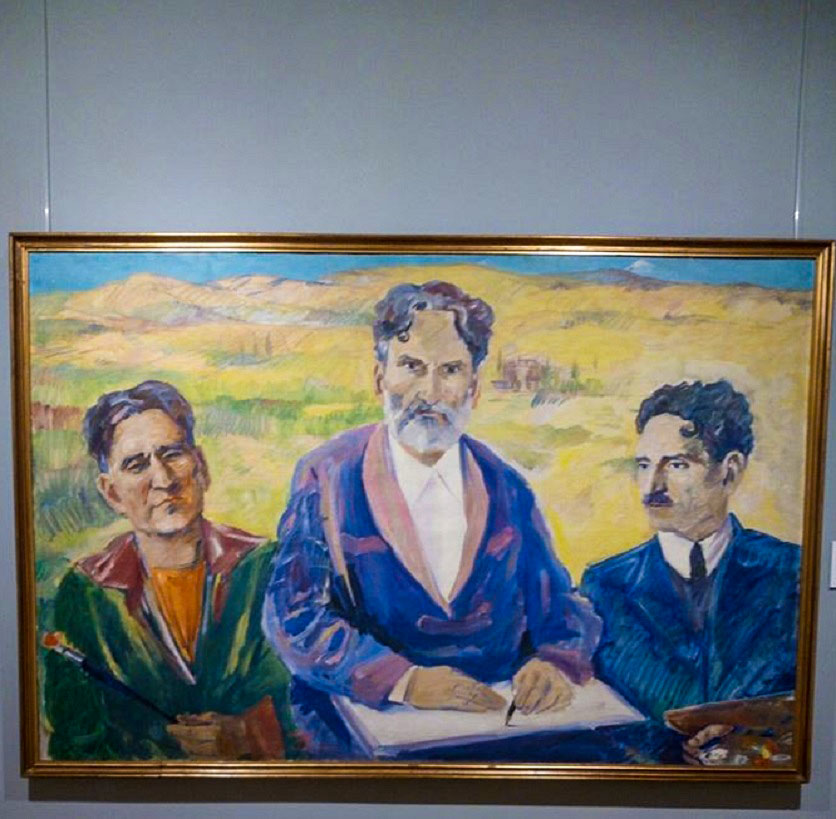 "Self-Portrait"
A master of all genres
Colorful, creative, and simple are three definitive hallmarks, which, together distinguish Sarian's art. The painter believed that greatness lies in simplicity. Thus, many of his masterpieces are very simple in form and structure.
"Sarian sees colors as a way of expressing pure sensations and emotions," explained Adamian. It is hard to imagine that for a brief period of time he worked with darker shades. But soon gray tones gave way to a bright palette, as he realized that he wanted to portray nature in vivid colors. All of Sarian's paintings, even those depicting a night scene, are full of light. He knew how to work with colors and make them stand out.
According to Adamian, Sarian's artistic language is conditional and mysterious. Besides having an impeccable sense of color, Sarian had a rich inner world and a vast imagination. His inspiration came from an infinite love for nature, which he embraced as his ultimate mentor. "He looked at nature with the eyes of a child," Adamian noted. Indeed, in "Fairy-Tales and Dreams," a series of fantasy paintings, we come across mystical creatures and human-like figures in magical settings.
Sarian was a true master of the landscape, portrait, and still life genres—he preferred to go to the market to pick up the fruits and vegetables that he wanted to incorporate into his paintings. He painted many famous figures such as Dmitri Shostakovich, John Steinbeck, Avetik Isahakyan, and William Saroyan. Of the many self-portraits he made, the most iconic is the one that shows him at three different ages against the backdrop of a field, in the middle of which one can discern his house.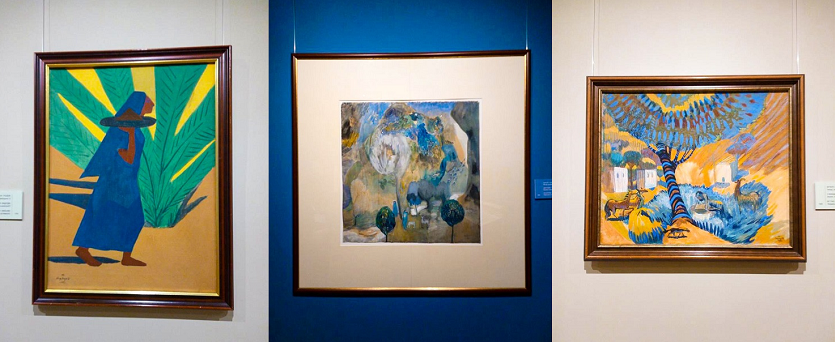 "From my life," 1970; "Blossoming Mountains,"1905; "At the Well," 1908.
An everlasting legacy
During the Soviet times, Sarian was accused of formalism and was heavily criticized for his innovative style. Despite the demand for realistic or representational art, he remained faithful to his unique artistic vision and fairy-tale like elements.
Over the years, as censorship eased, everyone started to appreciate Sarian, who used color as a predominant element in his work. "He opened people's eyes to the beauty of pure colors, and created a "portrait" of Armenia that many were unaware of," as Adamian pointed out.
Perhaps the isolation of the Soviet Union in the international arena didn't help him achieve greater fame, however, Sarian is rightfully considered the founder of modern Armenian painting. While the likes of Picasso and Matisse looked to the East for aesthetic inspiration, the combination of innate and exotic elements came natural to him. It is a testament to his genius that the colors of medieval Armenian miniature painting made their triumphal entry into modern Armenian art and melded harmoniously with new aesthetic standards.
All photos are courtesy of Gohar Topchyan.