Easter in retrospect: The 7 stories you missed in Armenian illuminated manuscripts
April 08, 2021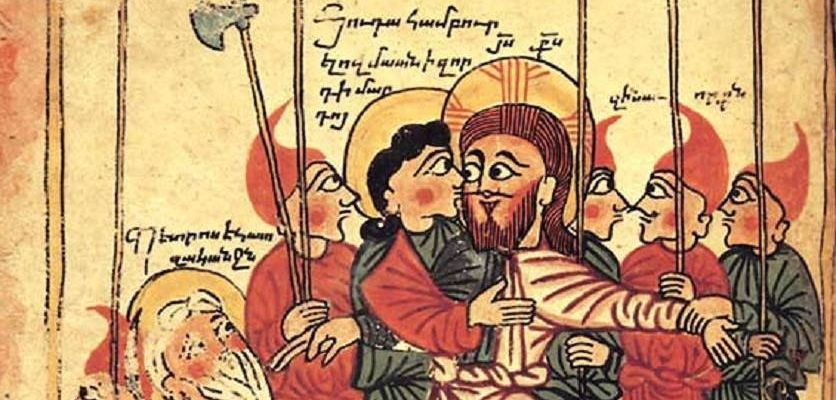 Has it not occurred to you that the Last Supper conjures up one specific Da Vinci image in Western culture? That a medieval Armenian counterpart may look quirky in an endearing way? Here we have put together a selection of Armenian miniature depictions of The Passion of the Christ. You may be surprised to find out how their fate has been intertwined with the glorious and tragic fortunes of our nation!
Arshile Gorky, a forerunner of American abstract-expressionism, venerated the thirteenth century Armenian miniaturist Toros Roslin, who has often been viewed as a precursor of Giotto for his portrayals of the human condition.
Van, where Gorky was born, and Cilicia, where Roslin served at the courts of Armenian kings and princes, were vibrant centers of manuscript production in historic Armenia.
From the tenth century onwards, Armenian miniaturists left behind a trail of extraordinary artistic achievements. They perfected the art of composition, and explored an infinite range of color harmonies and proportional relationships. Making and owning an illuminated manuscript was such an honor, that both artists and owners added their names to the colophons.
While a diversity of traditions and styles were practiced in the medieval scriptoriums of the Armenian world, the schematic portrayal of biblical scenes, as well as the relationship between characters were passed down faithfully from one generation to the next.
The artistic imagination of Armenian miniaturists continues to fascinate us even today. Many of their works are recognized as universal masterpieces. Two years ago, a number of inspirational examples were showcased at the MET exhibition dedicated to the artistic legacy of Armenia.
About thirty thousand Armenian manuscripts have survived continuous invasions throughout the centuries. When fallen into foreign hands, they were referred to as "captives." There are tales of monks who carried stacks of these sacred books to safety, and of deportees who risked their lives to salvage what they could.
They have always been among the most vulnerable items of our cultural heritage. Lately, during the 2020 Artsakh war, precious manuscripts were transferred from the Gandzasar Monastery to the Matenadaran in Armenia. Only a decade ago, the Armenian church sued the prestigious J. Paul Getty Museum for the return of eight illuminated pages from the Zeytun Gospels.
Scattered all over the world, from world class museums to provincial libraries, exquisite pages of illuminated manuscripts span the history of Armenian Christian art. Despite being desecrated, looted, destroyed, cut out and sold for centuries, they have become highly charged symbols of the creative Armenian spirit, and the survival of a nation caught in the crossfire of warring empires.
Sources:
Դուռնովօ Լ․ Ա․ , Հայկական մանրանկարչութիւն, Երեւան, 1969։
Դրամբեան Իրինա, «Թորոս Ռոսլին․կեանքն ու արուեստը»․ http://hpj.asj-oa.am/5639/1/13._I._Drambyan.pdf
Ճանաշեան Մեսրոպ . Հայկական մանրանկարչութիւն, Հ․ 2, Վենետիկ, 2001։
Ղազարեան Վիգէն, «Մանրանկարչութիւն», Քրիստոնեայ Հայաստան Հանրագիտարան. https://hycatholic.ru/
Mathews Thomas F., & Taylor Alice(2001)․ The Armenian Gospels of Gladzor: The Life of Christ Illuminated. Getty Publications Virtual Library. from http://www.getty.edu/publications/virtuallibrary/0892366273.html
Չուգասզեան Լեւոն, ««Խաչելութեան» թեման Թորոս Ռոսլինի Արուեստում», Հանդէս Ամսօրեայ, Վիեննա, 1988, Յունուար-Դեկտեմբեր, էջ 191-218։
Չուգասզեան Լ․, «Էջքը Դժոխք» մանրանկարը Թարգմանչաց Աւետարանում», Երեւանի պետական համալսարան. http://www.ysu.am/files/16L_Chugaszyan.pdf
Տէր Ներսէսեան Սիրարփի, Հայկական մանրանկարչութիւն, Հ․ 1, Վենետիկ, 1966։
Rand Harry (1991). Arshile Gorky: The Implications of Symbols. University of California Press.
Քոլանջեան Ս․, «Մեր ձեռագրական կորուստները»․ http://echmiadzin.asj-oa.am/5266/1/27.pdf
Join our community and receive regular updates!
Join now!