Review | 'Armenia!' at the Met
December 01, 2018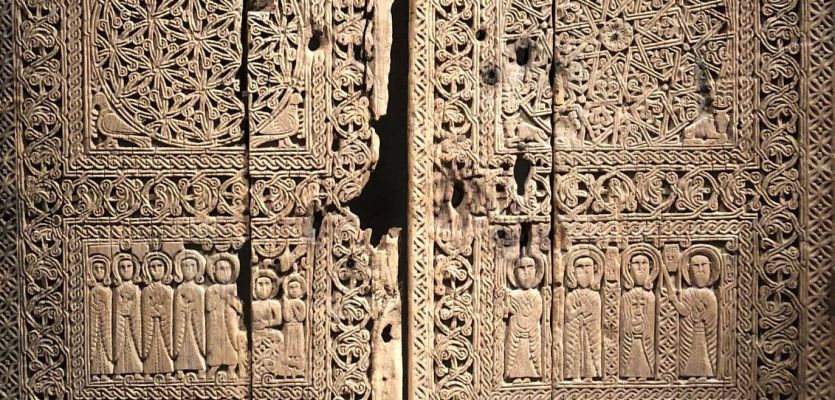 Imagine showcasing 1,300 years of Christian Armenian history in one exhibit. Now imagine that exhibit in one of the world's most prestigious art museums. Exciting, right? 2018 has definitely been an exciting year to be Armenian. The latest string of exciting developments for our community is the "Armenia!" exhibition at the Metropolitan Museum of Art, which highlights the intersection of art, religion, and trade. Read our honest thoughts on this exhibit, then check it out for yourself before it closes next month!
'Armenia!' In NYC!
After weeks of planning and replanning, my sister and I finally arrived at the giant steps of the Metropolitan Museum of Art in NYC to see the long-awaited "Armenia!" exhibition—one of the museum's main features this fall. The energy and enthusiasm from the queued up masses seemed more fitting for a pop concert at Madison Square Garden than at America's most formidable art museum.
Stepping inside, we all cranked our necks up to gaze at the artworks on the ceiling, whose regal beaux art design sharply contrasted with the "concrete jungle" that defines the rest of the city. Simply put, the museum itself was a statement piece. I grew increasingly excited at the prospect of what this exhibition was going to look like.
Indeed, the media frenzy has attracted fanfare in the Armenian community. Everyone from Armenia's newly-elected prime minister, Nikol Pashinyan, to Reddit co-founder (and husband of tennis superstar, Serena Williams), Alexis Ohanian, swung by Gallery 199 to throw their support behind this once-in-a-lifetime highlight of Armenian art in the West.
Campaigns have been organized—from churches and youth groups to political advocacy organizations—to attend and bring your otar (non-Armenian; foreigner) friends. Hundreds of Armenians from across the diaspora have flown, bussed, and trained in to NYC to support the exhibition, with the long-term goal of opening up additional opportunities to highlight Armenia(n) art and culture in the diaspora.
As we made our way to "Armenia!," I ran through my list of expectations, assembled from the various promotional articles I read, interviews I watched, and commentary I received from friends and colleagues who had visited in prior weeks. Our community has been running on a high in 2018, from the Smithsonian's Armenian Village this summer and Armenia's peaceful Velvet Revolution in the spring; this was supposed to be the big fireworks culmination to a fantastic year for our people. I did my best to drown out the hysteria to experience "Armenia!" as objectively as possible.
Holy Moly Gilded Doors
Entering the exhibit, we were greeted by a room full of bibles. Then another, and then another. Every display was beautifully designed and laid out, and the inclusion of so many precious pieces from all across the world was no easy feat, I am sure. But after the upteeneth religious text, manuscript, cross, and khachkar (cross-stone), and other emblems of our Christian heritage, I began to lose interest. I recalled the moment I first heard about the exhibition. The title, "Armenia!," seemed much too short—reductionist, even—and a bit silly with the exclamation point—like someone was going to pop out from behind the entrance doors and wave jazz hands in my face before breaking into a cancan—the Broadway-version of a shurjpar (traditional circle-dance), of course.
The curator of the exhibit, Dr. Helen Evans, explained in an interview that her intention was to use a very simple name, since most Americans don't quite know what Armenia or Armenians are in the first place. While I understand the sentiment, calling an exhibit that selectively highlights our Christian aspects simply "Armenia!," effectively (whether intended or not) elevates Christianity to the most defining element of one's Armenian identity. At h-pem, we have written extensively about what being Armenian means and how that is a deeply subjective, often fickle, matter of personal interpretation.
After some meandering, I noticed a small group crowded around one artifact. When I made my way over, I became overwhelmed with the kind of emotion that I had expected to feel throughout this exhibit. Perched on to a dim-lit wall for all to admire were the big, beautiful entrance doors of the St. Karapet Monastery in Mush (Western Armenia).
Last year, I visited the ruins of this once-majestic church, which was destroyed during the Armenian Genocide. I told my sister that I had been inside its walls; she said the doors were pretty. I overheard one woman admiring the detailing of the woodwork. I asked my sister to snap a photo—the only one we would take throughout the entire exhibit.
While initially I was relieved that the exhibit would not include the genocide, I now felt enraged at its omission. How could one honestly cover our gilded "Christian" past without acknowledging the very point of its fracture? The exhibition is meant to begin with Armenia's conversion to Christianity in the early fourth century and culminate with Armenia's first use of the printing press in the 17th century, with emphasis on our people's vital role in the international trade routes throughout this time period. The Armenian Genocide did not occur until the beginning of the 20th century, so the timeline prevents its inclusion.
But upon seeing these doors, my mind became fixated not on our steadfast piety or shrewd business prowess, but on the destruction of the genocide. Much has been said about the jaw-dropping 16th century manuscript of the life of Alexander the Great and the gem-studded reliquary that is believed to contain the remains of St. Gregory's last male descendant, but in my humble opinion, these holy doors were the standout piece of "Armenia!" at the Met. Including this artifact without its true context, however, was a lost opportunity.
Déjà vu
Many publications tout "Armenia!" as an exciting opportunity to place Christian Armenian art on the big-leagues stage for the first time. Yet, in 2007, a similar exhibit took place in the Louvre, the world's largest museum. But outside of perhaps the most dogged Armenian art fanatics, who really remembers it? I never had the chance to visit the French exhibit—in fact, I didn't even know about its existence until after visiting the Met. I worry that a decade down the line, "Armenia!" may also fade into obscurity. Yet, one of the principal intentions of this exhibit was to generate more interest in Armenian art from Western institutions. In this respect, I think that "Armenia!" is—and will continue to be—a smashing success.
Regardless of my criticisms, I am deeply thankful and appreciative of the sheer magnitude of the materials gathered and all of the hard work and dedication that went into pulling off this exhibit, and I strongly welcome more showcases to come on various aspects of Armenian art, culture, and identity in museums and galleries across the globe.
Go see "Armenia!". Take your mom and dad and your otar friends, then let us know your thoughts, even if you disagree with us—especially if you disagree. We may even publish it on our site.
The "Armenia!" exhibition at the Metropolitan Museum of Art opened on Sept. 21, Armenian Re-independence Day, and will run through Jan.12. For more information on the exhibit, visit its official website.
Join our community and receive regular updates!
Join now!