ANCA x h-pem | ArmAs: Celebrating 'something old, something new, something inspiring'
September 03, 2018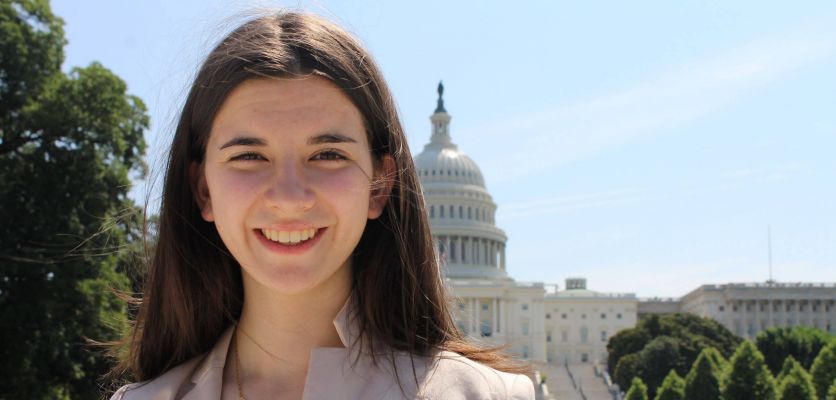 Ancient Armenians were known to like a good drink. Today, several Armenian companies are trying to bring back this ancient winemaking tradition. ArmAs Winery is one such example. Armenian National Committee of America (ANCA) intern, Megan Vandre, spoke with their CEO, Victoria Aslanian, at the Smithsonian Folklife Festival about Armenia's recent "wine renaissance" and what ArmAs is doing to propel Armenian winemaking into the 21st century.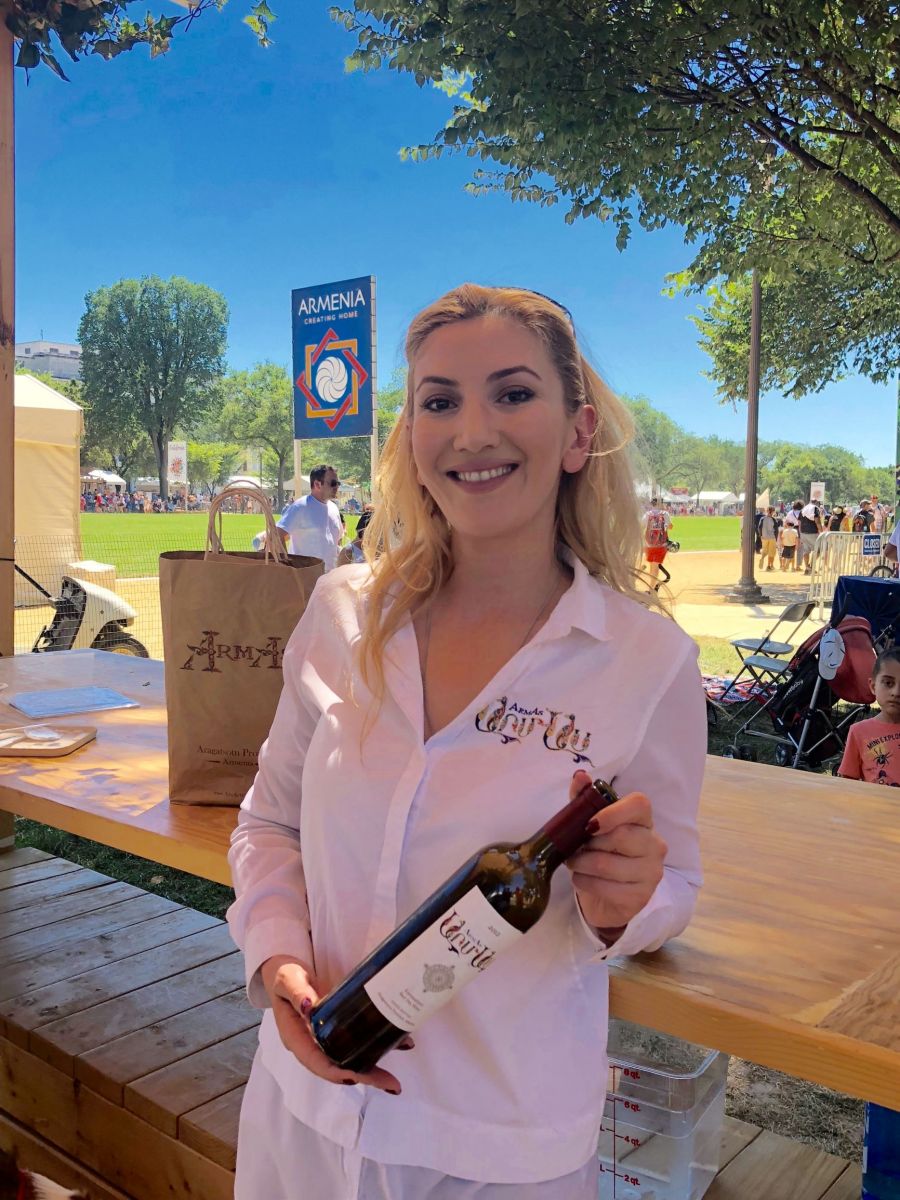 The CEO of ArmAs Winery, Victoria Aslanian, poses in full ArmAs gear at the Smithsonian Folklife Festival.
Wine renaissance
Forged against the backdrop of the mountain of Ararat in Armenia's province of Aragatsotn lies the ArmAs Winery. The winery serves as a testament to the perseverance of Armenian culture, which is rich with allusions to wine and the rebirth of innovation in post-Soviet Armenia.
Victoria Aslanian, the CEO of ArmAs, was featured at this year's Smithsonian Folklife Festival. An Armenian immigrant residing in California, Aslanian returned to her ancestral home to aid her father's aspiration to build a wine empire. Aslannian's decision to return to Armenia to make wine is not only personally symbolic but also historically, as evident by the recent rediscovery of the ruins of a 6,000-year-old winery in the Areni-1 cave, marking Armenia as the origin of winemaking. The historical presence of wine in Armenia is apparent, even by the ArmAs Winery itself, built upon a foundation of traces of cultivated vines dating back 2,000 years.
"We make wine in the traditional sense," explains Aslanian. Describing the unchanging process of fermentation and aging, she states, "you take the best of nature, you mix it with the best of men, and you create a work of art." It's a formula that has proved favorable, demonstrated through numerous accolades awarded to the winery.
Despite Armenia's illustrious history in winemaking, Armenian winemaking suffered under the Soviet rule, where grapes were designated primarily for brandy production. The emergence of the ArmAs Winery and other wineries after a period of adversity represents Armenian winemakers' commitment to preserve their artistry and simultaneously evolve Armenian culture. While still encompassing history and tradition in every bottle of Armenian wine, Armenia's winemakers have been able to modernize to serve a new chapter in Armenia's history.
"What's important is this revival—this renaissance we're having in wine today," she says, referring to the phenomenon that began a little over a decade ago, of reviving Armenia's wine market after it faded into non-existence during Soviet Armenia. "It involves agricultural development, production, jobs for people in the rural areas, tourism, cultural standards held high, and a lovely way to tell our story, our history, our heritage, and share something with the world."
The feats made by Aslanian and her family to build the ArmAs Winery have been monumental — transforming a barren 450 acres into a cultural oasis where fantastic wine and Armenian traditional ceremonies, like the Blessing of the Grapes, are celebrated.
The extent of the winery stretches far beyond the walls of their estate and into the U.S., Europe, and Japan, where ArmAs Wines are distributed, allowing many parts of the world to grasp a part of the rich culture Armenia has to offer.
"Unfortunately, a lot of people still don't know where Armenia is, who we are, what we do, and what we've done. Events like this must happen so that people know that we are Armenians," Aslanian explains. Referring to the Smithsonian Folklife Festival, the winemaker explains, "we are here, and we make some amazing things we can share with the world."

"People want something new, something old, and something inspiring, and Armenian wine has all of them."

Any additional references or recommendations? We would love to hear your suggestions!