C-rouge taps into Armenian folk treasures to make epic music
May 04, 2020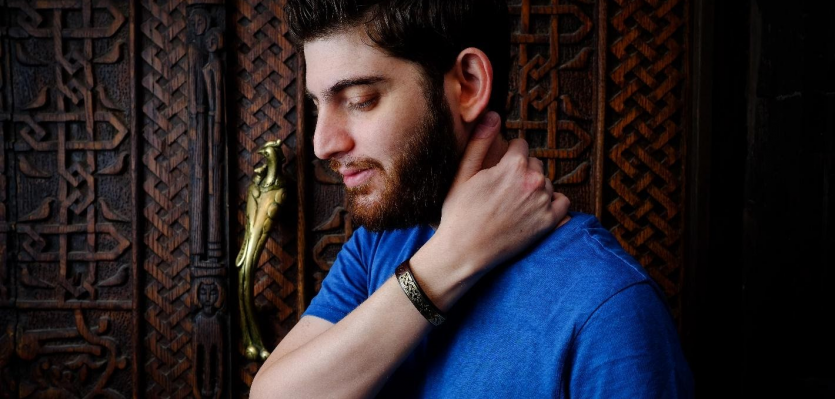 C-rouge was one of the first musicians who ventured into the unchartered territory of integrating electronic sounds with Armenian traditional melodies in the early 2000s. Over the years, he has traversed his way through trance and house music, aiming high for a wide range of epic orchestral scales. In this exclusive interview with h-pem, he reveals how, deep in his heart, he has always longed for a special "something" that would make a difference for the music he grew up with and adored.
Amid the chaos and uncertainty of the COVID-19 crisis, his loyal fans have been unwinding to the sounds of his chill-out playlists—C-rouge has the ability to bring about a metamorphosis of sorts.
Each of his tracks has that hypnotic vibe that allows for the listener to connect with themselves and to others. Like maps, his remixes lead to different roads, with stomping rhythms echoing age-old Armenian tunes and powerful electronic melodies that bear an inexplicably authentic feel.
Much like his idol Hans Zimmer, C-rouge has adopted electronic music as an "abstract way of storytelling," allowing the listener to anticipate "the possibility of feeling something," as the German icon has asserted.
It's not unusual for C-rouge to dig into Armenian history to come up with musical statements that spin out narrative strands. Even his remixes of Armenian folk love songs have that undefinable quality of creating an epic progression akin to cinematic reverie.
C-rouge released his new orchestral version of "Dle Yaman" (Valiant of the heart) in late April, as an homage to the victims of the Armenian Genocide—"to the 1.5 million unheard voices," as his liner notes read.
It's not hard to tell how this tragic love song has come to embody the woes of an entire nation and the loss of its ancestral lands: "Dle Yaman" has become synonymous with the fate of Komitas Vardapet, who picked the song up from the Armenians of Vaspurakan during his ethno-musical research. Komitas would succumb to the horrors that his nation endured, carrying memories that would haunt him for the rest of his life.
C-rouge (real name Serouj Baghdassarian), the ever-cheerful guy with ginger hair, relishes in rejuvenating Armenian folk music and taking it to extraordinary dimensions.
"The structure of the orchestral remix of 'Dle Yaman' consists of three sections," he explains to h-pem. "The prelude is dark, crammed with vague sounds. The grim mood evokes the fateful days of the massacres. The duduk, which follows, weaves a tale of survival, giving way to heavy drums leading towards a triumphant awakening."
"Groong," another nostalgic song by Komitas was the song that inspired C-rouge to become an electronic music composer in the first place. Ever since, he hasn't squandered an iota of inspiration when listening to Armenian folk music. "Here's something made with love," he often declares on his social media pages, upon releasing a new single.
From his award-winning trance remix of "Groong" to the orchestral "Heroes of Musa Dagh" (inspired by the traditional Musa Dagh war dance music "Chalme Dange" or "The Dance of Blades") and the "Dardevils of Sassoun" (inspired by the "Yarkhushta"), all of C-rouge's compositions are shaped by larger-than-life stories and sounds.
In our recent sit down interview, the Lebanese-Armenian sensation, did not ponder much about the "how"s and "why"s of his music-making. His straight-forward answers point to just one direction: being Armenian and making the most of Armenian musical traditions by reflecting their universal appeal.
Check out our video section below to see C-rouge in action and let us know what you think. To hear more of his music, visit C-rouge's website and YouTube channel.
"My interests have moved farther away from DJ-ing as a hobby. However, it has helped me learn how to gauge the mood of the audience, analyze their feedback, explore new possibilities, and provide alternate choices." (Photo: crouge.com; Armenian DJ's Association)

Loucig Guloyan-Srabian: A decade ago, you featured "Dle Yaman" on your second album, "Eternity." What was the idea behind arranging a second version? How is the recent April 24 release of this song any different?

C-rouge: Every year I try to pay homage to the victims of the Armenian Genocide; to commemorate and to express myself in my own way, through my music. Eleven years ago, I had remixed a techno-trance version of "Dle Yaman," featuring vocals by my mother, Shake Baghdassarian. Over the years my musical approach evolved into a more epic, cinematic style. I realized that "Dle Yaman" had never been arranged in this orchestral style without lyrics. The music of "Dle Yaman" has usually been slow in tempo, with a classical feel. I believe it's very important to remove the language barrier in order to make Armenian songs accessible to non-Armenians. That's what I have been trying to achieve and the feedback has been very positive. The new single features Levon Tevanyan (duduk and shvi) and Morgane Matteuzzi (vocals), a German vocalist, who has never been in contact with Armenians before. She was thrilled to discover the beauty of our songs. I have another single in my own style, "Arakel Mushegh," coming up on May 28th, on the occasion of the first independence of Armenia.


L.G.S.: That sounds awesome. Why does Armenian music inspire you? What drives you to remix more Armenian songs?

C-rouge: [I work with Armenian music] Because I am Armenian and because someone has to do it. We have a trove of Armenian songs and melodies that are pretty familiar to the ears of our people. It would be a pity not to reproduce these melodies with new sounds and vibes—not only for Armenians, but especially for international audiences. In this regard, songs with Armenian lyrics may not fare quite as well as vocalized tunes without words. I try to make the songs appealing by replacing words with sounds and removing any barriers that hold people back from enjoying our wonderful songs; even songs from Hamshen— they have beautiful songs!


L.G.S.: No doubt new versions can rejuvenate traditional music pieces and evoke different emotions. What got you into music and what was the track that got you into electronic music?

C-rouge: It runs in the family! My parents and my siblings also make music and I guess we inspire each other. I learned a lot as a member of the Hamazkayin "Gargatch" Children's Choir of Lebanon. And after entering a Radio One music contest in 2004, I really immersed myself into electronic music. Winning the contest was a big push for me. An interview followed and my winning track, a remix of Komitas' "Groong," was played regularly on the radio. I instantly got great feedback, especially because Armenian trance music featuring the duduk was pretty much nonexistent back then. Back in my DJ days, I used to play the "Groong" remix in clubs throughout the Middle East, and non-Armenian fans would attend [the parties] just to listen to that particular track! In the following years I was very active in making Armenian trance music and producing new tracks by incorporating other styles and elements of electronic music.

It's very important to remove the language barrier and make Armenian songs accessible to non-Armenians.
L.G.S.: Infusing techno, trance, and house into Armenian music—especially back when you first began doing so—requires challenging certain traditional approaches to Armenian music…

C-rouge: I got into trance music after listening to DJ Tiesto's songs and attending his concerts in Lebanon. He was very famous and he's definitely one of my great influences. His music made me think about my approach to Armenian music and putting it into a trance-electronic context. When I released the remix to "Groong," trance was a new genre of electronic music and Armenian trance musicians were few and far between. It was quite difficult to promote your work at the time. Facebook was in its infancy, YouTube did not exist yet, people played Mp3 music files on their mobile phones or shared CDs.

C-rouge on "GenoTrancide": "My first album, was an electronic blend of trance and Armenian themes with minimal use of vocals and live instruments. The experience was new to me. I didn't have the necessary skills to work on live recordings and had to work with the limited techniques." (Album art courtesy of C-rouge)

L.G.S.: In what ways do electroacoustic composition and digital processing extend the possibilities of traditional instruments in terms of expression?

C-rouge: I am not a professional pianist, but I have played every single recording that I have worked on and have made edits on my computer later. I constantly strive to bring together unique instruments and musicians from all across the world. The duduk, zurna, and blul in "Heroes of Musa Dagh" were played and recorded by folk musicians in Armenia. I have also incorporated other instruments like the guitar and bagpipe into my music. My third album has an edit of vocals, as well as oud, duduk, and zurna sections recorded at my father's studio.
I make use of online platforms to connect with international vocalists and musicians. I love working with non-Armenian musicians and it fills my heart with joy when someone who has never heard Armenian music before becomes a fan of our people's songs.


L.G.S.: Do you have a feeling that you have made a difference in the way people appreciate Armenian music?

C-rouge: When I posted my mix of "Yarkhushta" on YouTube, I was humbled by the overwhelmingly positive feedback. An Armenian mother thanked me for making new versions of Armenian songs that capture the Armenian spirit; according to her, her children would not listen to Armenian music but would play my CDs on repeat in the car. Another listener was happy to notice that my versions of Armenian songs didn't sound "commercial." It's been rewarding for me to know that I have made a difference in people's life. My first albums were popular also among non-Armenians; they would enjoy an album or a track and leave their feedback on social media and that meant the world to me. In a way, I have achieved one of my dreams of introducing Armenian music to non-Armenian audiences.
It fills my heart with joy when someone who has never heard Armenian music before becomes a fan of our people's songs.

C-rouge defines his musical language: "My music is a synthesis of Armenian, electronic, and orchestral music. You might define it as Armenian epic electronic and orchestral music. I wouldn't consider myself an avid admirer of classical orchestral music but have always been in love with modern cinematic epic music. Many of my fans thought the remix of 'Yarkhoushta' reminded them of the 'Pirates of the Caribbean' soundtrack. Melodically speaking, the film's soundtrack has nothing to do with the remix. Even so, it sounds cinematic, so people made the connection." (Photo: crouge.com)

L.G.S.: How would you describe your own development as a musician and your quest to find your own sound?

C-rouge: The core of my work is remixing Armenian music with different genres. Initially, about 80 percent of my musical arrangements comprised of electronic trance or progressive house music with just 20 percent of Armenian melodies and duduk incorporated into each song. However, trance appeals to a very small audience. I wanted to make songlike musical arrangements that people hold close to their heart. Gradually I tried to strike a balance between the two styles by cutting back on electronic sounds in favor of more melodies for a songlike effect. People loved what I was doing, since it was based on Armenian melodies and harmonies.
In the past few years, I have shifted my focus to electronic-orchestral music. Even though it is the most complicated and difficult genre of electronic music, it's also the most "musically perfect" in my opinion. In other words, my musical journey started with the simplest electronic sounds and programs. Now, I have reached a point where I can make Armenian musical arrangements for a 100-strong orchestra. One of the main reasons I quit DJ-ing was because I could not play this new style of music as a DJ—I need a full orchestra to perform it! Of course, I still have a lot to learn, since I haven't studied music and have no formal orchestral knowledge. I have already made plans with the Armenian State Symphony Orchestra and hope that within two years I will be able to raise enough capital to fund a concert in Armenia for my next album.

L.G.S.: Does the source material significantly affect the way you view and approach the music itself?

C-rouge: Sometimes I indulge myself in remixing songs that have no Armenian themes and melodies. But these are exceptions; nothing more than a pastime where I am not emotionally involved. It's different when I work on an Armenian song. I dig into its roots, trying to understand the story behind the content, and I use my imagination to reveal its true image. In the process of shaping a new creative identity, I may incorporate subtle melodies from folk songs or borrow musical ideas from Komitas, making minor changes to the original structure, and focusing on ways to add my own touch and my own sounds.


L.G.S.: What about the creative process? When does inspiration strike?

C-rouge: I can't plan or predict when it comes. Instead, I stumble upon ideas by sheer chance. Sometimes I find myself messing around with playlists and if I come across something I like, I'll jot down a quick note. The most important element for me is the melody. I either like it right away or I don't. I have to like it, otherwise I cannot work on it.
Being a fan of Hans Zimmer and Two Steps from Hell, I enjoy listening to epic and cinematic music. Sometimes the mood of a track, a few consecutive notes, or a melodic element reminds me of an Armenian song and I put the idea into action. Nowadays, I am in the process of finalizing a compilation of 14 such remixes.
My music is a synthesis of Armenian, electronic, and orchestral music. You might define it as Armenian epic electronic and orchestral music.
L.G.S.: You use various types of equipment in making your music. How has the technology evolved since you first started making music?

C-rouge: There have been tremendous changes since I first started to make remixes. In the beginning, I used a program that yielded melodies. All I had to do was to fit them together like a puzzle to come up with a new song. The technology would provide ready-made instrumental sounds, even samples of songs. While I could not use the program for recordings, it did help me learn how to structure a song. Then a new program allowed me to play music and record it while offering the ready-made sounds of the first program. The combination made it possible for me to develop my knowledge further. Finally, I started using subsequent versions of a professional program which, over the years, has provided a vast array of tools, has reduced various processes, and has given me endless possibilities to add my creative input. Also, there is a huge difference in the quality of sounds: they felt kind of "fake" in the past. These days, the sounds are indiscernible from real ones, since they are samplings or recordings played on real instruments. Even so, you must play and program these samplings in a way that feels authentic. And that's where your musical talent comes in.


L.G.S.: What makes a great remix?

C-rouge: Sampled instruments should sound real. Quality is the key to great electronic music: exceptional quality that translates into unique melodies, distinctive arrangements, and inventive renditions. However, quality alone is not enough. Innovative ideas push the limits of the electronic musical experience.
Quality alone is not enough. Innovative ideas push the limits of the electronic musical experience.


L.G.S.: What were some of your main goals when making the transition from techno music to electronic orchestral music?

C-rouge: My music has always had an orchestral touch to it. However, I needed powerful equipment and a high-performance computer to meet the complex demands of electronic orchestral music. So, my first step was to upgrade my computer. After watching lots of tutorials, I realized that each instrument has its own defining tonal qualities. For example, you can't play a cello like a violin. I realized that sometimes, I shouldn't play those really low and really high notes on the keyboard. This was not an issue when I was making techno electronic music. On the contrary, it was fun to come up with a new sound and embellish it with different effects.

C-rouge on "Eternity," the winner of "Best Electronic Album" at the 2009 Armenian Music Awards (U.S.): "With the stylized floral motif on its cover, "Eternity" consists of 90 percent electronic music, but features more live music and reflects more developed skills when compared to my first album." (Album art courtesy of C-rouge)

L.G.S.: You have also worked on some other musical projects, like scoring a video game. What was the most challenging project you had to tackle?

C-rouge: A few years ago, I was interviewed by Cedar Games and was commissioned to create the soundtrack for a video game. It was a big challenge for me because I used to listen to video game music all the time but had never taken a stab at actually making it. The plot revolved around Lebanese history going back to the times of the Phoenicians. I did a lot of research to create different tracks for the game's 15 levels. This was truly a special experience for me, since I had to draw the music from the visual narration and the mood in the images. After six months of hard work, the music was well received by the creators, even though the game has not been released yet.
After watching Bared Maronian's "Orphans of the Genocide" I gave him a copy of one of my albums. A year later, he asked me to compose the soundtrack of his next documentary "Women of 1915." This project was even more challenging than scoring the video game, as there were no visuals and I had to rely on the script and references provided by the filmmaker. The soundtrack included Komitas and folk melodies, as well as a piano version of "Groong."
Recently Maronian and I worked together on the soundtrack of his upcoming documentary "Bloodless," which is about Armenia's Velvet Revolution of 2018. It was a new dimension for me, as I learned to curb my tendency of creating opulent mixes. Considering the fact that I was working on a documentary, I had to combine dramatic and intense fragments with light and ethereal melodies.


L.G.S.: Is there a difference between a commissioned work and one that you independently conceive and execute—not just from the creative point of view, but also in terms of limitations and outcomes?

C-rouge: The biggest difference between commissioned work and personal projects is that I have complete creative freedom when it's my own work—and the possibilities are endless. While working on commissioned projects, I must focus on the requirements and needs of the producers. [Commissioned work] is quite new for me and even though it does not happen often, I try not to take it personally when the customer dislikes something; I know that I am in the process of learning something. I like what I do. I'm no Hans Zimmer, but even at his level of professionalism, one must conform to certain expectations.


L.G.S.: You also happen to be a website designer. Is being computer savvy an advantage or disadvantage when it comes to creating music?

C-rouge: There are some advantages and disadvantages to working as a web designer while pursuing a creative musical path—it can have both positive and negative impacts on my creative output. The positive side is that my computer skills and techniques help me explore programs and configurations without seeking any help. This speeds up the creative process considerably. The negative side is that I struggle to find the time to create music after a long day of working in front of a computer. It wears me down and stresses me out. This is a huge drawback, since I create and record my music on computer. You need to be in the right state of mind and mood to focus on making music. Once I get into the swing of things and the mood is right, nothing else matters; I step into a whole new world, with its own time and rules. The required social isolation during COVID-19 has definitely made it easier to concentrate on my music.

C-rouge on his third album "Guardian Angel": "It explores the development of various genres. It marks a significant change from the previous two albums—it has live instrumental music and collaborations with musicians from Armenia and vocalists from Lebanon. It also features much less electronic music compared to the previous albums. The tracks offer a taste of electronic orchestral music." (Album art courtesy of C-rouge)

L.G.S.: Your last album, "Guardian Angel", was released in 2013. Since then you have released multiple singles. Is this indicative of a broader approach in the music industry ?

C-rouge: The sponsors of the Kohar Symphony Orchestra and Choir appreciate what I do and have always supported my work. Thanks to their generosity, I was able to release my first three albums and music videos. From 2013 onwards, I have released singles and worked on different tracks, striving to perfect my craft. The internet has changed the way music is consumed. You don't have to make an album to promote your music. Of course, it's great to have an album, but a single song can attract thousands of listeners online, while a great album might get unnoticed. A combination of favorite singles and a few new tracks can ensure the success of a new album, unless you are a superstar and people will follow you no matter what you offer them.


L.G.S.: What does your dream project look and sound like?

C-rouge: I would dream of a high-profile release of an album in Armenia—not in a concert hall, but in a historical setting like the Zvartnots Cathedral or the Temple of Garni. I'd love to feature an Armenian orchestra playing music from the album, as well as duduk and zurna players; a full-scale live event with visual effects, great sound, and collaborations with talented artists.


L.G.S.: Have you ever thought about what it would take to make your dream happen?

C-rouge: My dream event not only requires a considerable budget, but also patience and time. Trying to rewrite the music for an orchestral performance and the individual parts for the musicians is a long process.


L.G.S.: What advice would you give to aspiring musicians?

C-rouge: That's a difficult question. It's important to be patient. What I have achieved thus far is a result of 15 years of work. Starting small and taking the time to hone your skills can put you on the path to becoming a household name. You may encounter failures. Sometimes your music is not appreciated beyond the circle of your immediate friends. It's not easy to get your music played on the radio or in a film and to receive the feedback that you desire. But you should not lose hope.
You must work hard and keep going until you arrive at your destined place. There is no point in blaming your failures on subpar equipment or on not having access to a professional studio. These must not be perceived as barriers. You can make good electronic music even with minimal equipment. I made music on laptops for many years and only recently did I get an upper level computer with a dedicated set up. But at the end of the day, patience is the most important ingredient to success.
Video
"Dle Yaman" [Epic Orchestral] by C-rouge

(Video: Serouj Baghdassarian YouTube page)

"Black Garden" by C-rouge (Official Video)

(Video: Serouj Baghdassarian YouTube page)

"Makhmour Aghchig" by Carmen Balian & C-rouge

(Video: Serouj Baghdassarian YouTube page)

"Nightingale's Lullaby" by C-rouge

(Video: Serouj Baghdassarian YouTube page)

"Daredevils of Sassoun" by C-rouge

(Video: Serouj Baghdassarian YouTube page)

"Heroes of Musa Dagh" by C-rouge

(Video: Serouj Baghdassarian YouTube page)
?>

"Dle Yaman" [Epic Orchestral] by C-rouge

?>

"Black Garden" by C-rouge (Official Video)

?>

"Makhmour Aghchig" by Carmen Balian & C-rouge

?>

"Nightingale's Lullaby" by C-rouge

?>

"Daredevils of Sassoun" by C-rouge

?>

"Heroes of Musa Dagh" by C-rouge