Paintings/Digital art | Humor with a touch of surrealism
April 09, 2018
The well-trodden argument that art has lost its ability to communicate is easily dispensed with when it comes to the experimental works of Aram Papazian
Artist's name
Aram Papazian
Occupation

Graphic designer; Painter; Visual artist; Percussionist; Drummer

City/Country
Lives in Beirut, Lebanon. Studied in Florence, Italy
About the artist

A graduate of Lebanese American University; holds a master's degree in graphic design from the Florence Design Academy
Interested in experimenting with visual arts and music; exploring a range of different genres
Better known as the energetic percussionist and drummer of Garabala, an acoustic band reviving Armenian folk music in its own unique way
His works have been displayed at a group exhibition in Berlin, at the Lemo Art Gallery
He attracted attention in 2017 with his debut solo exhibition entitled "Departure" in Beirut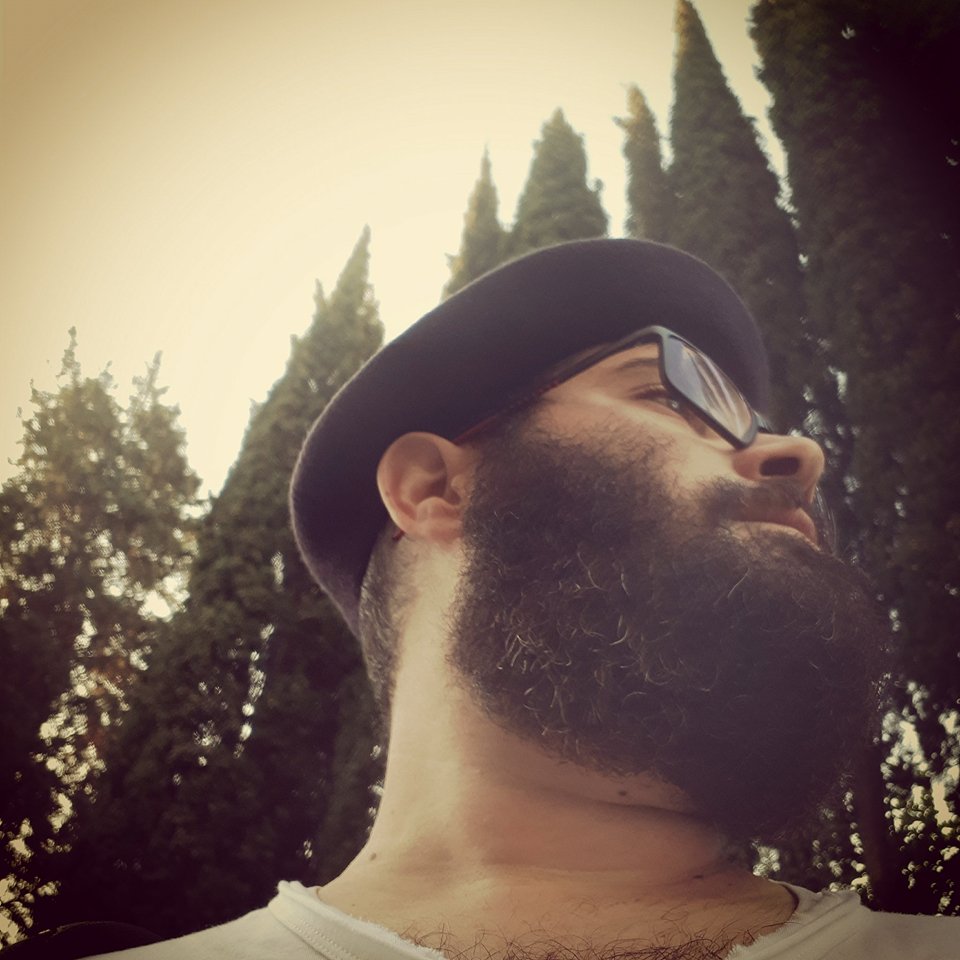 His sources of inspiration stem from music, philosophy, poetry, and street art. Among his favorite artists are Jackson Pollock, Paul Klee, and Salvador Dali.
Young music fans in Lebanon are familiar with this intuitive guy who goes on stage in a beret and rolled-up sleeves, playing the drums and percussion to the upbeat tunes of Armenian folk, jazz, and tzigane music. So, it was quite a revelation, when in the summer of 2017, the "Garabala drummer" (as he is known since 2011) held an exhibition in his hometown Beirut, to mark the beginning of his career as a painter.
What struck me first was the aloof charm of his on-screen "Monsters"—3D sculptures, that cast an ironic look from the far end of the Vasbouragan Hall. The clever interplay of color and form in his abstract paintings hanging on black walls was so lyrical that one would assume he was a violinist at heart. Then there were his comically named titles that often tilted towards whimsical combinations of words or amusing puns.
All this for "Departure." Aram was on his way to Florence to study for his master's degree. Dabbling with abstract expressionism, surrealism, and conceptual art, he had acquired enough scope to expand and develop his artistic skills.
It's always refreshing to see an artist in the making; to come across one, who can also entertain and strike a poetic cord makes the experience all the more rewarding. Venturing beyond the ubiquitous "Untitled," which makes one think artists have no idea what they mean, Aram is in tune with the philosophical quest of contemporary art. Titles like "Redmir," "Squarectan," "Yegreresaurus," "Aged Piece of a Thing," "Candle Trouble," "Dusty News," and "Salty Malty" create an atmosphere of suspense worth enjoying.
Find out yourself! Click on Aram's submissions to h-pem below and meet his witty characters before immersing yourself in his abstract paintings.
Are you an aspiring writer, poet, or artist? Show the world what you've got!
Video
Aram Papazian at the Garabala Album Release Concert in Beirut
?>