Needlelace | Talin's Crafts: Armenian lace meets modern fashion with a quirky charm
August 02, 2019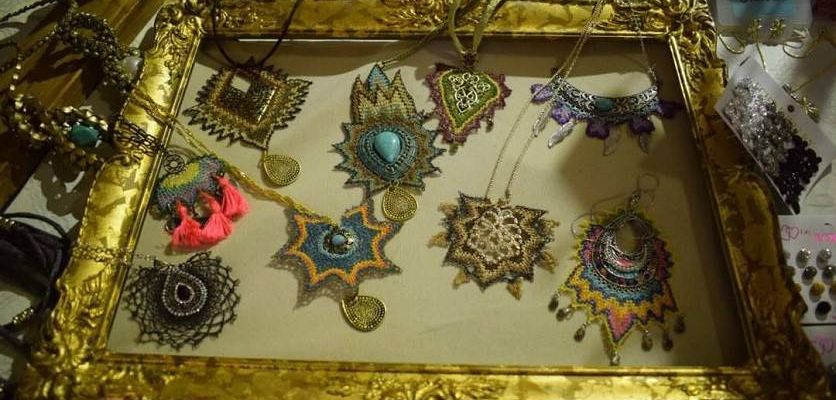 Talin's handmade accessories have found their ways on folks who aren't necessarily naturally inclined to appreciate the source of her inspiration: age-old patterns reminiscent of "grandma's" designs.
Artist's name
Talin Migroyan-Alexanian
Occupation

Armenian needlelace and embroidery

City/Country
Aleppo, Syria; Yerevan, Armenia
About the artist

A graduate of the University of Aleppo; holds a degree in rural economy
A member of the Armenian Relief Cross of Syria
Studies at the Hamazkayin Armenological Institute of Aleppo
Interested in reviving the traditional art of needlework and making it accessible
Has taken part in various exhibitions in Syria, Lebanon, and Armenia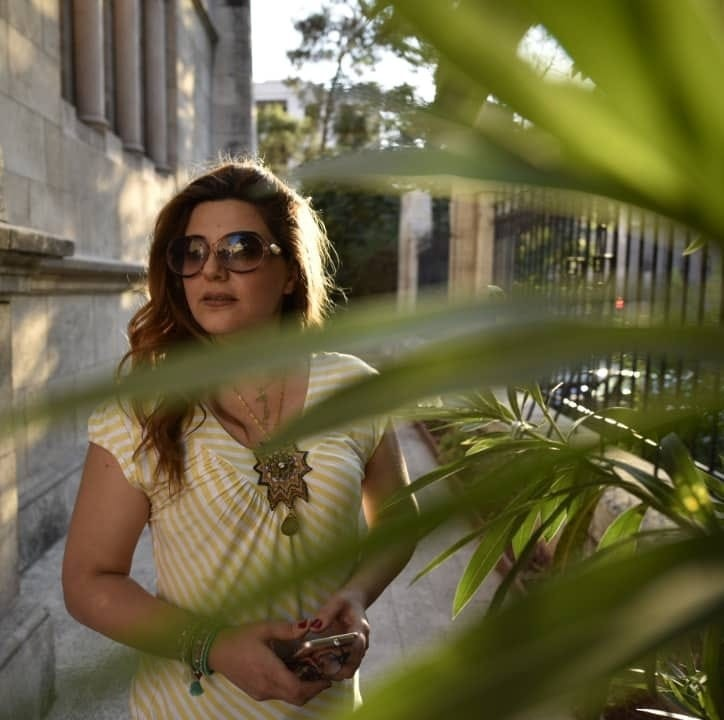 Talin credits part of her success to courses in drawing, beading, and needlelace, as well as to her experience as a young apprentice at her brother's jewelry workshop.
Armenians are notorious for holding endless meetings where opinionated voices clash, often leaving little room for refreshing results—especially when they discuss how to make Armenian experiences resonate with young diasporans. Recently, I was witness to a debate on this hot issue between a few pundits. Of course, the discussion wasn't really getting anywhere…
I wondered if, perhaps, a short recess would promise any hope for insights.
"You're from h-pem. Do you think you would be interested in what I do?"
I turned around to meet a young woman addressing me in a shy tone. All she needed was a reassuring smile to dig into her handbag and draw out bits and pieces of metal and wire work, patches of needlelace, colorful beads, precious and semi-precious stones, and assorted shapes carefully constructed of resin.
I was confused as she suddenly took action by assembling a necklace on the spot. To my amusement, she shuffled the pieces to produce several variants with the dexterity of a magician, only taking a breath to gauge my reaction.
"So, you make use of different materials to style neckpieces," I inquired. "Do you have a collection? Do you sell them? Is this what you do for a living?"
"I do sell them, I also take part in exhibitions, but that's not the point," she said, dismissing the questions.
She then went on to explain that Armenian needlelace traditions and techniques are becoming obsolete and that fewer people are practicing them. "I would consider myself fortunate if the accessories I make by incorporating various stitches will help young people appreciate, enjoy, and learn about this beautiful cultural heritage," she said.
The lure was a patch in shades of earthen colors and I took it in my hand, trying to trace a pattern. It was an incomplete frame for a pendant and the needle dangled loose.
"That is, if I can play a role, however small, in changing perceptions," she added, taking back the piece and tucking it away with the rest in one sweeping move.
Feast your eyes on some samples of Talin's handicraft below.
I wasn't sure where the meeting's next session was heading, but my mind was trailing off into tales of Armenian deportees packing embroidery and needlework along with the few possessions they carried on their long journey to exile; exquisite pieces of patterned designs from ancestral lands in Van, Sivaz, Urfa, and Marash, cherished by refugees as badges of memory and identity.
Most of the surviving pieces had ended up in drawers stuffed with family heirlooms or were displayed in albums and museums dedicated to the traditional arts and crafts of an uprooted nation. Falling out of fashion, they had gradually become relics of an art that only a handful few in the world could boast of mastering or appreciating. An equally small number of women's associations were keen to hand down the knowledge along with a good sense of contemporary tastes.
"Talin's Crafts": the logo printed on her visiting card was beaming. It's no secret that millennials gravitate toward authentic styles. What could be more appealing than accessories that revive ancient patterns of needlelace in fashion design? By stripping Armenian needlelace out of conventional white-threading practices, Talin offers them a kaleidoscope of colors and choices—a quirky addition to their outfits of choice.
Talin credits part of her success to courses in drawing, beading, and needlelace, as well as to her experience as a young apprentice at her brother's jewelry workshop. Taking part in the European Bank of Reconstruction and Development (EBRD) Women in Business program at AUA has helped to start her own small business. She integrates lace designs not only into necklaces and pendants, but also into tablecloths, collars, bridal headpieces, brooches, scarfs, hats, and even Christmas ornaments.
"Please submit your work to h-pem," I said, before leaving the hall. And now, her work is here for all of us to enjoy...
Are you an aspiring writer, poet, or artist? Show the world what you've got!