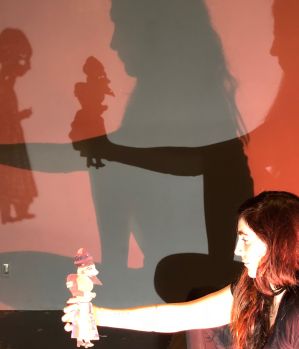 Profile | Sona Tatoyan
December 8, 1978
Profile
Multiplatform artist Sona Tatoyan wears many hats, from starring in award-winning plays and writing scripts for feature films, to penning op-eds about turning pain to art. Yet it is in her last role, as co-founder of a socially-conscious film/TV production company, where she finds most of her inspiration these days. Through this last endeavor, Tatoyan hopes to bring to light stories of survival, resilience, and truth, uplifting the narrative of human suffering and injustice through a holistic, non-violent approach
Disrupting apathy through empowered action
Life at a Glance
Growing up in a small Midwestern town with proud Middle Eastern immigrant parents in the 1980s and 90s may not have been the most typical American experience, but nothing about artist Sona Tatoyan's journey or experience has been "ordinary." Feeling like an outsider in her hometown, the childhood summers spent in her parents' native Aleppo were not much different. Too Armenian for America, and too American for Syria. Her first trip to Armenia as an adult was an even more out-of-body experience. Yet this feeling of being "different" is a running theme with many artists, and here, Tatoyan fits the mold perfectly.

In all of the projects that she has pursued in her varied career, her ancestral roots—the legacy that chases a community who survived against all odds like a black shadow—have shaped her views as a person and the kind of art she puts out into the world. This philosophy has driven her passion project for the last decade and a half: to create a cinematic adaptation of the book, Three Apples Fell From Heaven, which weaves together several stories that take place during the Armenian Genocide. This is the first project that her production company, Disruptive Narratives, will take on. Tatoyan hopes to go beyond the "dominant narrative," to create a space for neglected voices to speak up on the social injustices they endured.
How do we move to the center of this collective pain, not with anger, but with vulnerability? Not with pushing and resistance, but with allowing and softening?
-Sona Tatoyan to h-pem
Character, spirit and style
Tatoyan is very much an illustration of the compassionate artist, who tries to bring to the forefront untold stories—or, perhaps more accurately—stories that have been hijacked by jarring voices for far too long. She hopes that by highlighting these experiences, the unaware viewer will become motivated enough to take social action, thus beginning the process of healing and catharsis.
Influences and contributions
While many individuals throughout Tatoyan's global travels have left a lasting impression, the soul she attributes to setting off a "wake-up bell" in her life was one of her college professors—and one of the greatest poets in American history—Maya Angelou. Tatoyan cites this mentorship by the famous African American civil rights activist as "the turning point in her life." She also credits professor Cindy Gendrich for inspiring her acting career.
Achievements
Tatoyan's feature film debut as the lead in "The Journey" (2002) was the first American independent film ever shot in Armenia.
Her writing/directing debut, a short film called "Toujours," was selected to screen at the 2012 Arpa International Film Festival.
Tatoyan made her screenwriter debut with a film that mirrored her own life. "The First Full Moon" tells the story of a young Armenian American woman who journeys to Aleppo to "break a curse." It was selected for the 2011 Rawi/Sundance Institute Screenwriters' Lab and the 2012 Dubai Film Connection.
In 2016, she served on the World Cinema Jury of the Duhok International Film Festival in Kurdistan.
She participated in a panel at the 2016 FiSahara Film Festival, located in the Dakhla refugee camp of Algeria.
Interesting facts
Tatoyan holds a second-degree black belt in Tae Kwon Do.
She trained as a pole dancer in Los Angeles and NYC.
Along with her Disruptive Narrative partner, human rights lawyer Jennifer Robinson, Tatoyan also co-founded Hakawati, a nonprofit project to provide storytelling workshops to frontline communities, including refugee youth.
Awards and recognition
Her first film project, "The Journey," won the Audience Award at the Milan International Film Festival in 2002.
She featured in the world premiere of José Rivera's play, "Boleros" for the Disenchanted, which won Outstanding Ensemble at the 2008 Connecticut Critics Circle Awards at the Yale Repertory Theater.
Related Profiles
Like this profile? Any favorite works? Additional references?
Send a message
Join our community and receive regular updates!
Join now!