On this day - Sep. 8, 1717: Mekhitar of Sebastia founded the Monastery of San Lazzaro in Venice
September 08, 2020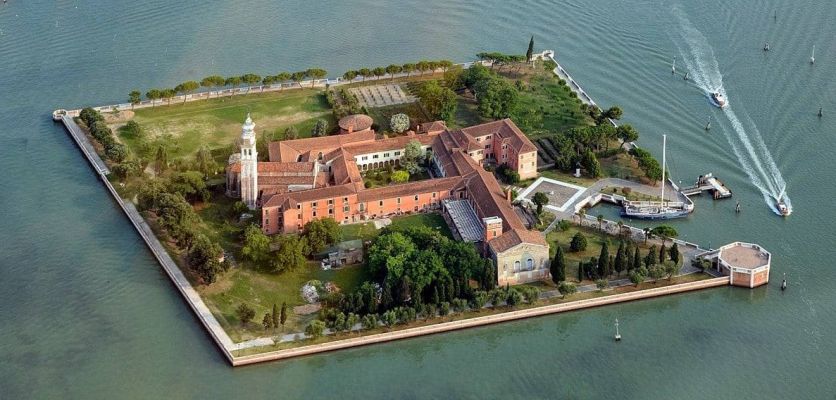 Ever wondered where the vibrant heart of the Armenian world was in the mid-18th century?
On this day in 1717, at a time when culture and education in Armenia were suppressed by foreign powers, Mekhitar of Sebastia founded the Benedictine Armenian Catholic Monastery on the island of San Lazzaro in Venice, thus laying the foundation for an intellectual movement that led to the modern Armenian literary and national "Awakening" (Զարթօնք | Zartonk).
There have been no more than 150 Mekhitarists at one time; however, their schools and Armenological studies were on par with European standards. It was no whim that Napoleon I Bonaparte recognized the monastery as an academic institution, while Lord Byron learned Armenian there.
Visitors marvel at the island's manuscript repository and museum today. Attending the Armenian Apostolic mass in its neo-Gothic church is to witness a tradition unchanged for centuries. Yet, it is the residential quarters that speak volumes: there, from his tiny cell overlooking the Adriatic, Father Ghevont Alishan meticulously mapped the Armenia he had never seen and wrote the first Armenian patriotic songs—his "Pamp Vorodan" (Բամբ որոտան | Heavy Thunder) became an inspiring march for freedom fighters back home.
As the Mekhitarists honor Alishan's 200th birthday, we celebrate both anniversaries with a quote from the Western Armenian poet Daniel Varoujan, a martyr of the Armenian Genocide, who had studied at the Mekhitarist Mourad-Rapaelian College in Venice:
"Be careful when you set foot on the sacred island of the Mekhitarist fathers, for every step you take may lead you to the remains of a genius; and I beg you, please kiss the tombstone of Alishan for me one more time, and be sure that the purity of the marble under your lips will flare up like my heart."