The Komitas Museum-Institute: A shrine worthy of a joyful spirit
October 27, 2021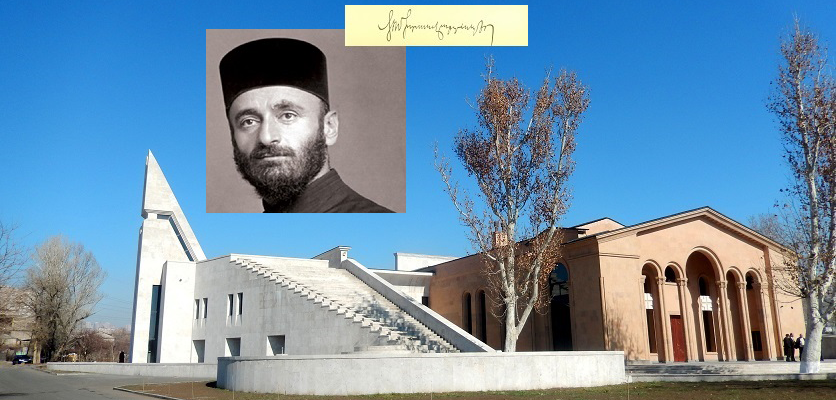 Every year thousands of people step into the Komitas Museum-Institute in Armenia to learn about the creative world of Komitas Vardapet, his extraordinary gift as a composer, his noble mission as a collector of Armenian folk songs, his captivating spiritual music, and his inspiring, yet tragic life. On a visit to the museum, we talked with a couple of experts about the challenges of showcasing an icon who is revered as the founder of the Armenian national school of music.
Standing proudly not far from the Komitas Park and Pantheon in Yerevan, the Komitas Museum-Institute opened its doors to visitors in Jan 2015. A decades-old plan to dedicate a museum to Komitas Vardapet was fulfilled. As the renowned composer Tigran Mansurian tells us, "We finally have a center which is worthy of the name and legacy of Komitas. It truly is a house."
Born Soghomon Soghomonian, Komitas received his iconic name at the age of twenty-five when he was ordained a vardapet (վարդապետ | priest) in Etchmiadzin. Both a composer and a performer, he played a pivotal role not only in preserving an important part of Armenian culture, but also in establishing a well-defined national musical style. Komitas rejuvenated Armenia's musical traditions by collecting and rearranging monophonic songs into polyphonic masterpieces. His meticulous research of Armenian folk songs opened the door to a world that could have been lost forever.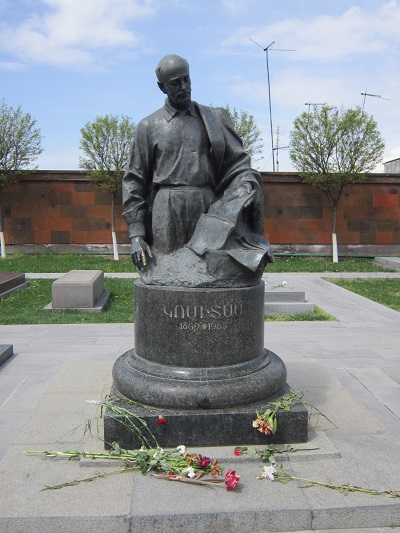 Many famous Armenians are buried in Yerevan's Komitas Pantheon, including Komitas, the founder of Armenian national school of music (Photo: Wikimedia Commons)
Komitas lived and studied in different parts of the world. Yet he spent the last twenty years of his life in a mental institution in Paris, where he passed away. His ashes were brought back to the motherland he held so dear to his heart.
The choice of the museum location is not random. There is something inherently powerful and haunting about its proximity to the final resting place of Komitas and other prominent figures such as the painter Martiros Sarian and the poet Avetik Isahakian.
As a cultural institution, it is well worth a visit for those who want to learn more about one of the most influential Armenians of all times. Each display has a story to tell which will leave one spellbound!
Moreover, within a few years of its opening, the museum has managed to host numerous musical, cultural, and educational events, and has become a member of ICOM (International Council of Museums.)
A liberating environment
The Komitas Museum-Institute, with its temple-like exterior, is quite impressive. Arthur Meschian, the chief architect of the building, associates a number of architectural elements with Komitas. Through interconnected spaces, glass walls and windows, he has created a liberating environment that reflects Komitas' joyful spirit. The main entrance is designed in such a way as to provide visual access to the concert hall—complete with church acoustics—the courtyard, and the first floor of the exhibition.
Komitas is often seen as a tragic figure because of the suffering he endured witnessing the Armenian Genocide. However, according to Marine Musheghyan, senior researcher of the Music Collection at the Charents Museum of Literature and Arts, many overlook the fact that long before the massacres, Komitas loved and enjoyed life. This is precisely why the museum tries to present him as lively as possible. As the late conductor of the Yerevan Chamber Choir, Harutyun Topikyan once observed in an interview with h-pem, "His music brought with it the promise of the sun and the hope for tomorrow."
Despite the museum's decision not to focus on the tragic aspect of the composer's life, it is well-known that the devastating experience of witnessing the Armenian Genocide drove Komitas to madness and silenced him forever. His world collapsed due to the mental and psychological trauma he went through. This trauma was part of his life and became synonymous with his people's history.
Exhibits highlighting a pioneering career
The voice of Komitas reverberates off the walls of the exhibition halls in folk tunes piercing with their sincerity. Set against a specially designed environment that evokes the lost lands in Western Armenia, the exhibits at the Komitas Museum-Institute are of tremendous value because they are closely associated with Komitas. Most of the items are carefully selected from the archive of the Charents Museum of Literature and Arts, and draw special attention to the lively image of the composer.
Komitas' autobiography, photographs, musical instruments, handwritten notes, letters, publications, and portraits are displayed in eight thematic exhibition halls, each portraying a different aspect of the composer's life; with titles like "The music of Komitas," "Komitas and sacred music," "Komitas and his contemporaries."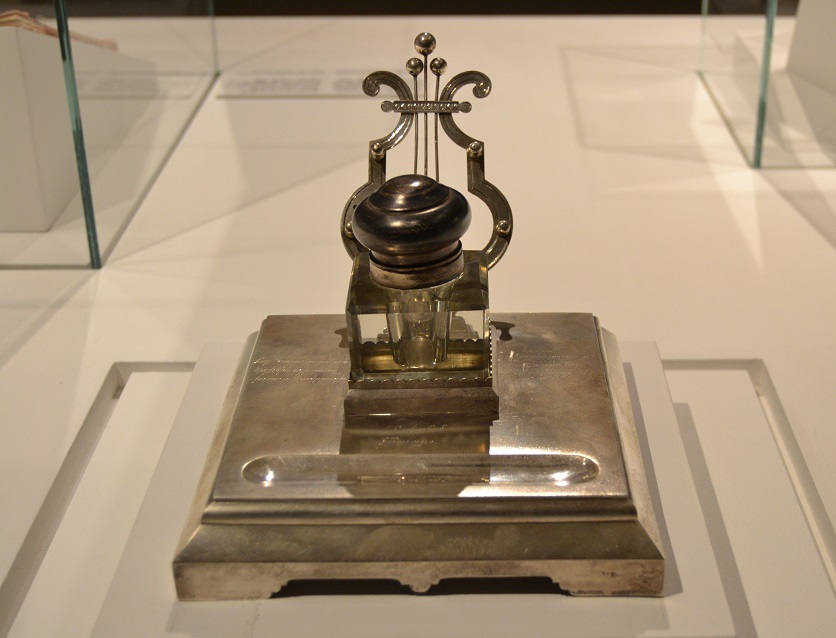 An inkstand donated by Karekin II, Catholicos of All Armenians to the Komitas Museum-Institute was a gift from fans (Photo: Wikimedia Commons)
Among the artifacts on display are a number of personal items that once belonged to Komitas: an inkstand reminds the visitor of the enormous work accomplished by the composer with just a pen and paper; his modest collection of flutes offers a curious contrast to his grand piano—one of the central pieces of the exhibition. Komitas did not own a piano for a considerably long time. Alexander Mantashian, a philanthropist, who also financed the composer's studies in Germany, gave Komitas his own Schröder. Komitas took the gesture as recognition of his talent and a sign of respect, expressing his joy and gratitude in a letter addressed to his dear friend, singer and pianist Margarit Babayan.
Mansurian defines Komitas as "a child of the universe," a well-known and esteemed musicologist whose lectures and performances were welcome all around the world. Komitas was not only an expert on Armenian music, but he was also very knowledgeable about the music of other cultures. He published the first collection of Kurdish folk songs, a copy of which is on display at the museum, along one of his songs written in the Ottoman language.
Komitas further developed his understanding of Western music in Europe. Among the museum's collection are his diplomas, one of which is from the prestigious Frederick William University of Berlin. There are also original copies of the composer's articles written in German about Armenian sacred music and Armenian folk music, attesting to his commitment to introducing international audiences to the wonderful culture of his homeland.
The Komitas Museum-Institute is now at the forefront of carrying forward the composer's legacy, but how good is good enough?
"You can never do enough with Komitas! It's this feeling that fuels us to keep doing more. It's an endless discovery process," says Musheghyan.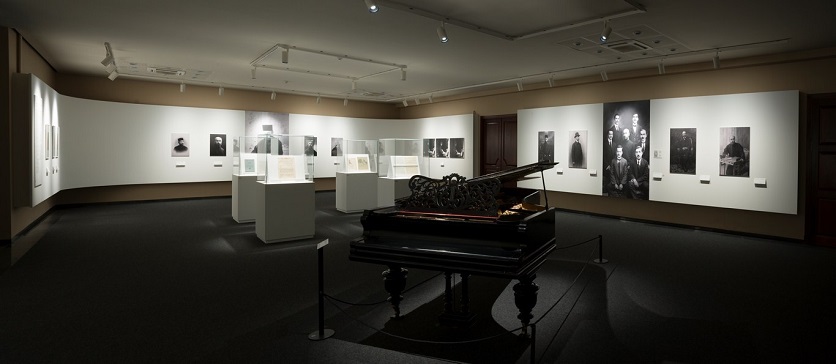 One of the central pieces of the exhibition is Komitas' grand piano (Photo: Komitas Museum-Institute)
An infinite source of inspiration
Once you step into the museum, you instantly become aware of the many photographs of Komitas. He can be seen alone or with other outstanding intellectuals. A closer look at his photographs reveals a gaze as pure, dedicated, and intelligent as his heart.
Komitas has been a source of inspiration for many artists. One of the pleasures of being at the museum is having the opportunity of seeing some truly remarkable paintings and sculptures of the composer by Panos Terlemezian, Eghishe Tadevosian, and Arto Tchakmaktchian, among others.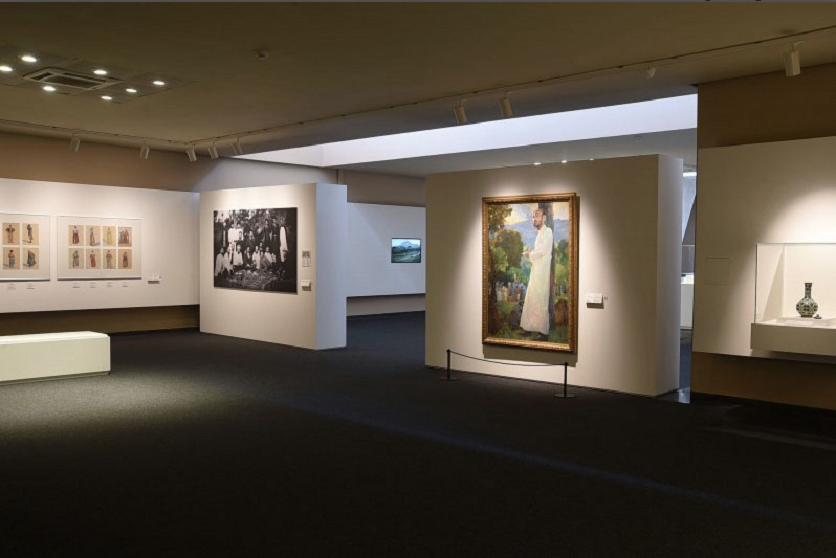 A jug that once belonged to Komitas is a rare example of the ceramic art of Kutahya, the city where he was born (Photo: Komitas Museum-Institute)
Terlemezian depicts Komitas sitting on his carpet under a tree next to his beautifully ornamented jug. What may come as a pleasant surprise is that a carpet and a jug that belonged to Komitas are exhibited alongside the painting. Musheghyan points out that the jug is of great value not only because it belonged to the composer, but also because it is a rare example of the ceramic art of Kutahya, the city where he was born. His depiction in an idyllic natural setting is also symbolic because he was a spiritual man who adored nature and felt part of it.
Mansurian, who has been fascinated by the symbiotic relationship between nature, folktale, and musical texture in Komitas' compositions, believes that "musical texture in the works of Komitas mirrors the density found in the nature that surrounds us." "This symbiotic relationship is an obvious characteristic in Komitas' music. The question is: How can we meet his standards?" he says.
Komitas has been a source of inspiration for writers as well. Paruyr Sevak's "The Unsilenceable Belfry" is a long poem focusing on the composer's tragic demise. Grigor Khanjyan's haunting illustrations to this masterpiece cover one of the walls of the museum. They lead the visitor towards the symbolic bell which echoes through the museum three times a year: on April 24, on Komitas' birthday and on the day of his death.
Installed at the museum's exit, the imposing image of the legendary Soviet-era composer Aram Khachaturian bending over the grave of Komitas to lay flowers, is a fitting farewell to his shrine.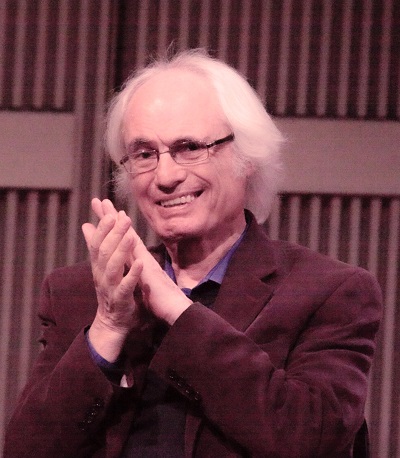 "It's very important to keep up with folk music research and create the right environment for international experts to study Armenian folk music and the music of Komitas," says Tigran Mansurian (Photo: Wikimedia Commons)
What Komitas was able to accomplish and leave behind is truly astonishing. In the words of Mansurian, "It may sound strange today if we try to explain what it means to be a Tibetan composer. Interpreting the notion of national and compositional music together as one whole has been out of the question in the East. There has been no expertise in this particular field of study: how can you determine whether or not compositional music has national characteristics when it is based on Western concepts? And then there is ancient music which is a totally different story. What's amazing about Komitas is that he processed them as a whole and gave context to Armenian compositional music."
When asked about his vision for the museum's future, Mansurian ponders: "A huge amount of material is stored in the institute—some of the best material related to Komitas. However, it's time to make new discoveries and enrich the institute's library with ethnographic publications in different languages. It's very important to keep up with folk music research and create the right environment for international experts to study Armenian folk music and the music of Komitas. It's been a century since Komitas turned his interests to the wider world, attempting to better understand the foundations of Eastern and Western musical traditions. As the true successors of Komitas, we must learn about the developments and influencing factors in his field."
Eager to hear Komitas sing Armenian folk songs in his own voice? Click here.