Reckoning quarter tones and beating the odds: Barkev Taslakian reaches polyphonic peaks
December 23, 2019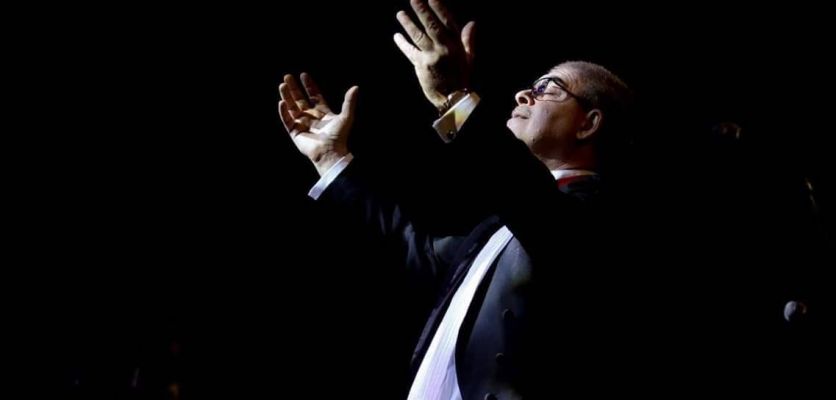 Looking up to his "great teacher" Komitas, Maestro Barkev Taslakian relishes in breaking the mold and making history. His Fayha Choir is all about presenting unprecedented a capella renditions of Arabic songs, which have resonated with and captured the hearts of international audiences. Taslakian takes this vision even further to topple negative stereotypes and to promote unity and cultural diversity in an ever-divided world...
Multilingual combinations of "Holy God," "Sanctus," "Qadishath Aloho," "Surb Astvatz," in whose name much of Christian art and music is created, refined to perfection, and debated over, soar in polyphonic harmony to greet the Only God of Islam, Allāh.
It's that time of year. Centuries-old churches in downtown Beirut come alive with Western and Eastern tunes to celebrate Christmas. And once again, the Fayha Choir, an annual guest at the Beirut Chants Festival, teeters on the line between the exotic and the native. With its trademark song "Allah Al-Kouddous," Fayha brings a new understanding to Arabic music through a communal experience of transcendence, as the Sanctus of Bach's mass dissolves into the salient textures of this unique musical arrangement of Christian and Islamic prayers to deliver a message of peace and coexistence.
Much has been said about the unifying power of music, but Maestro Barkev Taslakian brings a refreshing twist to the famous adage. According to him, "no two sounds are the same; you should be proud of who you are by acknowledging the other..."
The founder and conductor of Fayha, the first a capella choir trained to sing polyphonic songs in Arabic, is not short of words when he discusses the idea of coexistence with h-pem. While his Lebanon-based multi-religious choir usually sings songs of love and peace from different Arab cultures, it also boasts of being the first Arab choir to mesmerize international audiences with its own renditions of Armenian songs.
There are few conductors who exude depth of knowledge, talent, spirit, and passion both on stage and off. Growing up in the Armenian village of Ainjar, Taslakian—a computer programmer by day and conductor by night—has moved from one musical group to another, only to hone his skills and pursue his vision of steering Arabic choral singing to a whole new dimension. So much so, that on a recent visit to Lebanon, Yo Yo Ma chose Fayha for one of his unrehearsed musical performances aimed at revealing what people share in common.
It's performance day and outside the chapel where the medley of "Sanctus" leads up to another crescendo by praising the 99 names of God through Asmaa Allah Al-Housna, crowds protesting against government corruption keep hammering a different tune: They are chanting "Revolution!"
The 100-member strong Fayha is no stranger to the plight of people in distress. Having received the IMC Music Rights Award 2016 for its outstanding social service in bringing people together, the choir has led multiple collective singing projects for NGOs across Lebanon, leading its own revolution to make the world a better place in which to live. Tonight's concert is no different: In tune with the mood of the audience, Fayha promises a break from the turmoil in the country by lulling listeners into a euphoric sense of security with Kanatchian's "Khaghagh Gisher Eh" («Խաղաղ գիշեր է» | "It's a Silent Night").
It also isn't new for Taslakian to win standing ovations from jam-packed halls. As the applause dies down and the choir sings its way out, the man who single-handedly has taken his flock from the Arab world to several cities in Europe, Armenia, and China, picking up prestigious awards on his way, takes a deep breath and admits that the concert was actually the "first joint rehearsal of the three Fayha branches in Tripoli, Beirut, and Baakleen." It takes more than two hours for Taslakian to explain how this miracle was achieved in this exclusive interview with h-pem.
Check out our video section to see the Fayha Choir in action and share your impressions with us. To hear more of their songs, visit Fayha's website.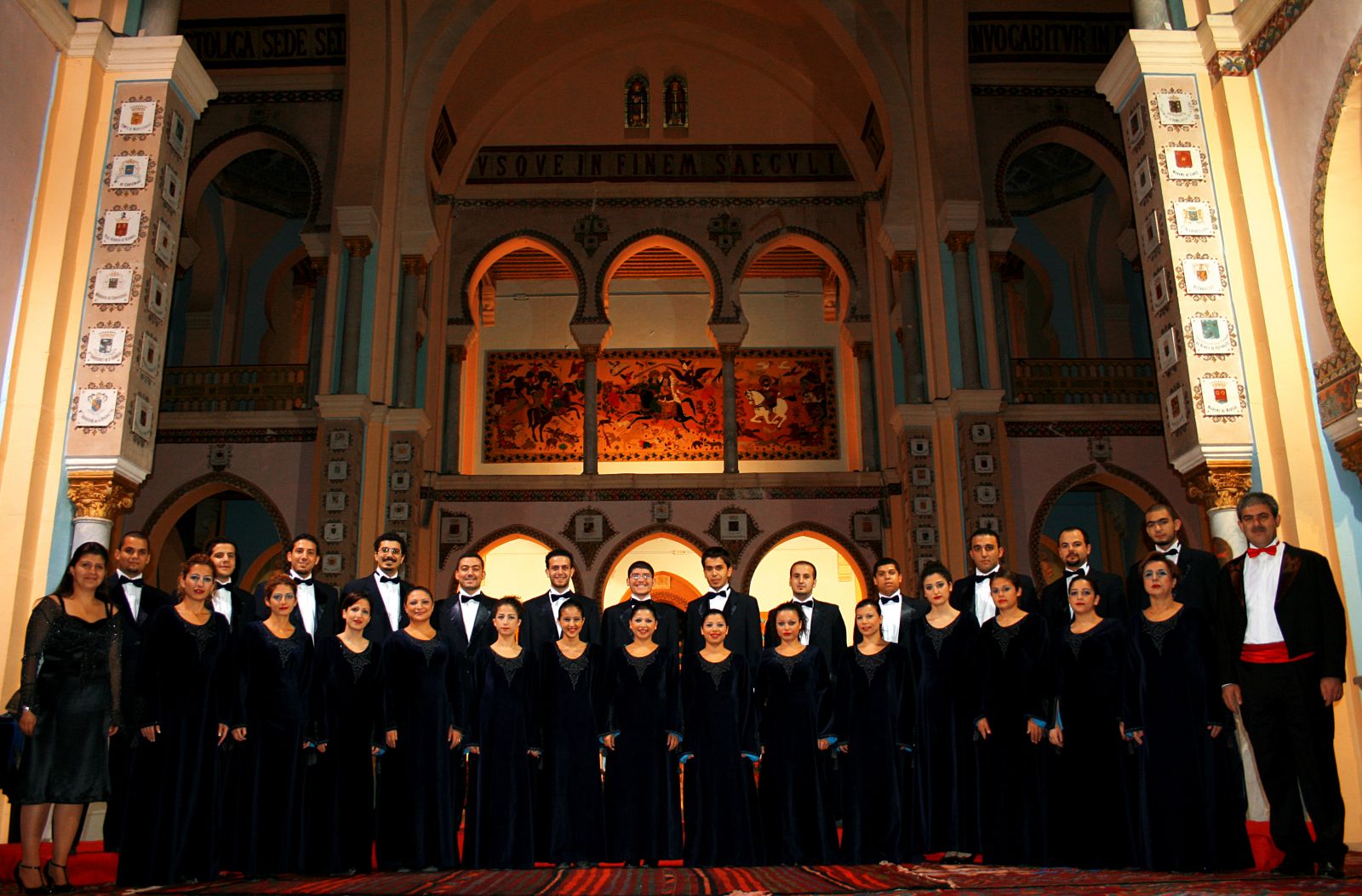 "Fayha", Arabic for "fragrant," celebrates the world's diverse musical heritage through a rich repertoire spanning several eras and traditions, including Lebanese, Syrian, Egyptian, Palestinian, Iraqi, Bedouin, and Andalusian. They also perform songs in French, English, Latin, Armenian, and other languages. (Photo:fayhachoir.org)
Loucig Guloyan-Srabian: What makes Fayha different at the much-anticipated Beirut Chants festival every December?
Barkev Taslakian: It's an honor to participate in this prestigious festival. All the more so, because we stand out from other choirs that perform. While the choirs of the Orthodox, Catholic, and Maronite Churches are made up of singers from respective Christian denominations, Fayha does not belong to any one religion. Our singers come from different religious and political backgrounds. It's true that on such occasions, we also perform Christmas songs, but we usually sing songs of peace from different Arab cultures, including Syrian, Iraqi, Kuwaiti, Lebanese, and Andalusian cultures. Songs coming from Christian or Islamic religious backgrounds are just a small part of our repertoire.
Two years ago we performed "Asmaa Allah Al-Housna" ("The Holy Names of God") as part of the Beirut Chants Festival at the St. Maroun Church, many watched it live on Facebook. Believe it or not, this Islamic prayer about the 99 names of God was arranged by an Armenian musician, Edward Torikian, whose idea was to show the world that Islam was not a religion of evil as sometimes portrayed in the media, but a centuries-old culture. This was an unprecedented touchstone.
L.G.S.: The choir passed another milestone at the 2017 Beirut Chants Festival by glorifying God through "Zahrat Al Madaen" ("Flower of Cities"). What was the idea behind performing a medley of prayers from different monotheistic religions for Christmas?
B.T.: "Zahrat Al-Madaen" was arranged by Edward Torikian upon the request of Fayha, following Israel's attacks on Lebanon in 2006. Composed by the Rahbani Brothers, the song is a tour around the holy shrines of Jerusalem and tells about the three monotheistic religions born in the city. We have added other prayers to the original version as well.
Our song begins with a prayer at the Assyrian Church of Jerusalem and continues with the Armenian "Hayr Mer" («Հայր մեր» | "Our Lord"); Assyrian verses mingle with chants rising from the Maronite church; prayers echoing from these churches reach the Armenian Church while we sing the "Ter Voghormia" («Տէր ողորմիա» | "Miserere"); when we pray at the Islamic mosque, the "Ave Maria" rises from the Catholic Church and is greeted by Orthodox chants. If we transcend the petty confines of this world and take a bird's eye view of Jerusalem, we realize that all of these different prayers come together and reach God. We were not able to include a Hebrew prayer for obvious reasons [following the attacks]; however, the idea was to show the world the beauty of our coexistence.
L.G.S.: Would you call this polyphonic medley of monotheistic prayers a bold statement of intent or a reflection of cultural values and public sentiment in Lebanon?
B.T.: Some see it as a bold attempt to sing Islamic prayers in concert, but we pursue a different aim. Many criticize Islam for setting conditions for the interpretation of prayers. Musical instruments are banned. As an a capella choir, we have surmounted this obstacle. However, since there are many different religious leaders, there are also many different viewpoints. An Islamic cleric once told me that I would always be confronted about what we do. I've even been threatened. But this was nothing new to me. As an Armenian, I was aware that when Komitas introduced polyphony into Armenian sacred music or started singing love songs, he was persecuted by religious authorities. Armenians have experienced these "problems" and have overcome them, and I believe Islam will do the same.
I was brave enough to assert that Arabic music should not necessarily be monophonic.
L.G.S.: In Arab culture where the tradition of polyphony is practically non-existent, what were the main arguments against rearranging songs into polyphonic compositions? How did you overcome the challenges you encountered?
B.T.: The roots of polyphony go back to ancient Byzantium. The Europeans adopted and developed the tradition. If you incorporate elements from other cultures into your own on the condition that you do not change it, your culture is enriched. I was brave enough to assert that Arabic music should not necessarily be monophonic; that we should not perceive this as a negative. I believe that the problem wasn't necessarily a lack of willingness to broaden out into polyphony, but that decrees issued by the Ottoman state—like the one banning the establishment of Arabic printing presses—hindered progress. Eventually, Arab musicians sought my assistance. I started attending the mosque, heard the prayers, and helped establish a capella choirs in Islamic institutions, in countries like Jordan, Egypt, Qatar, and Australia. I even sent Fayha's assistant conductors to train them to sing polyphonic songs. It's hard work, but we offer this service free of charge and are always ready to offer our expertise.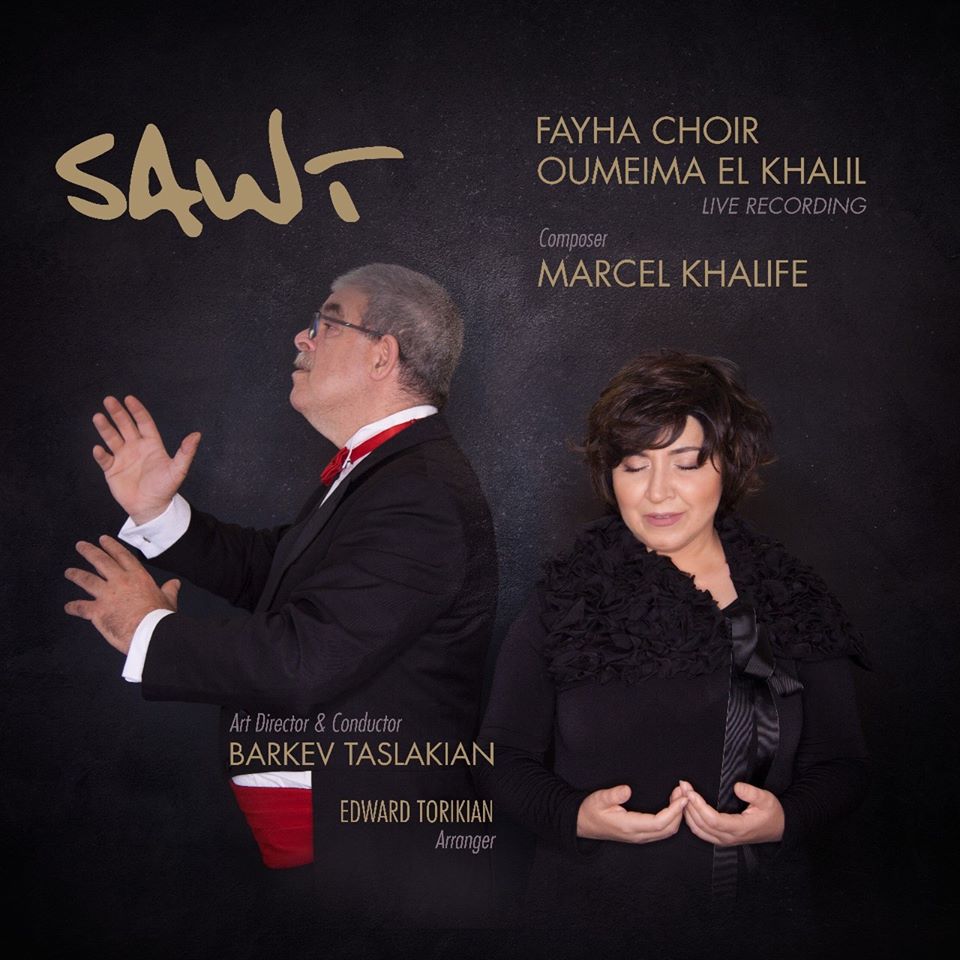 "Sawt" or "Voice," the latest album released by Fayha in Jan. 2019, is a live recording of 11 songs where Arabic poetry, the beauty of the human voice, and exquisite musical composition come together to create a timeless piece of art. "The album is historical, in that it is the first a capella rendition of purely Arabic songs by renowned Arab poets and an Old Testament piece composed by Marcel Khalife, an icon for Arabic music who composes for his own concerts only. Oumeima El-Khalil, who is famous as the most celebrated soloist of classical Arabic music, brings a rare elegance to this highly valuable series of songs arranged by Edward Torikian for polyphonic singing," explains Maestro Barkev Taslakian. (Photo: fayhachoir.org )
L.G.S.: Obviously, eliminating instruments from the choral fabric of Arabic songs and becoming a leading authority in a capella singing has not been an easy task for you. Can you tell us about some of the difficulties you anticipated and had to surmount?
B.T.: Unlike some other languages, it is very difficult to adapt Arabic to European singing traditions. There are strict rules for singing Arabic songs. Firstly, you must sing each letter as it is pronounced, which means your mouth should open more vertically. Here arises the difficulty of creating harmony. Secondly, certain guttural letters are not musical at all. It is far easier to mask this difficulty by singing to the accompaniment of musical instruments than by singing in a capella. We had to work hard to create harmony in sound. Thirdly, you must wrap-up every letter that you pronounce and never leave it open. We created a new system, where the letters wrap-up in space and the notes combine harmoniously. The ultimate challenge was to solve the problem of quarter tones in Arabic singing. In Western classical music, intervals are either major or minor. They can never be equal, since dissonance can result. Edward Torikian, who arranges most of the choir's songs, would attend our rehearsals to study the issues. Together, we were able to make history by creating polyphonic Arabic singing based on quarter tones, without Europeanizing the music. Many Arab musicians had struggled with this issue, deeming it impossible to solve. But I believe that there is nothing impossible in this world. There are several issues that can hinder your work. However, when you put your heart into it, a disadvantage can turn into an advantage. Fayha is a very distinct and unique choir because of this.
L.G.S.: Fayha's growing influence in the Arab world promises a new musical experience for composers and audiences alike. Why do you think they are ready to embrace the choir's innovative approach to traditional choral singing?
B.T.: Ever since Eddie [Edward Torikian] and I were able to break down the barriers, Fayha has hosted several musicians, critics, conductors, and composers from all over the world; they have come from as far as the United States, China, and Indonesia to study the choir's polyphonic Arabic singing. They strongly agree that Fayha has created a unique niche in the music world and that we should continue the tradition that we have started. This harks back to the early days of the choir, when Jacques Vanherle, founder and artistic director of Polyfollia, one of the world's most prestigious choir festivals, asked me why I was tearing myself to pieces. He noted that Japanese polyphonic choirs have been struggling to come up with their own technique for over 25 years now, and still sound European! I told him to be patient [laughs].
We will not Europeanize Arabic music.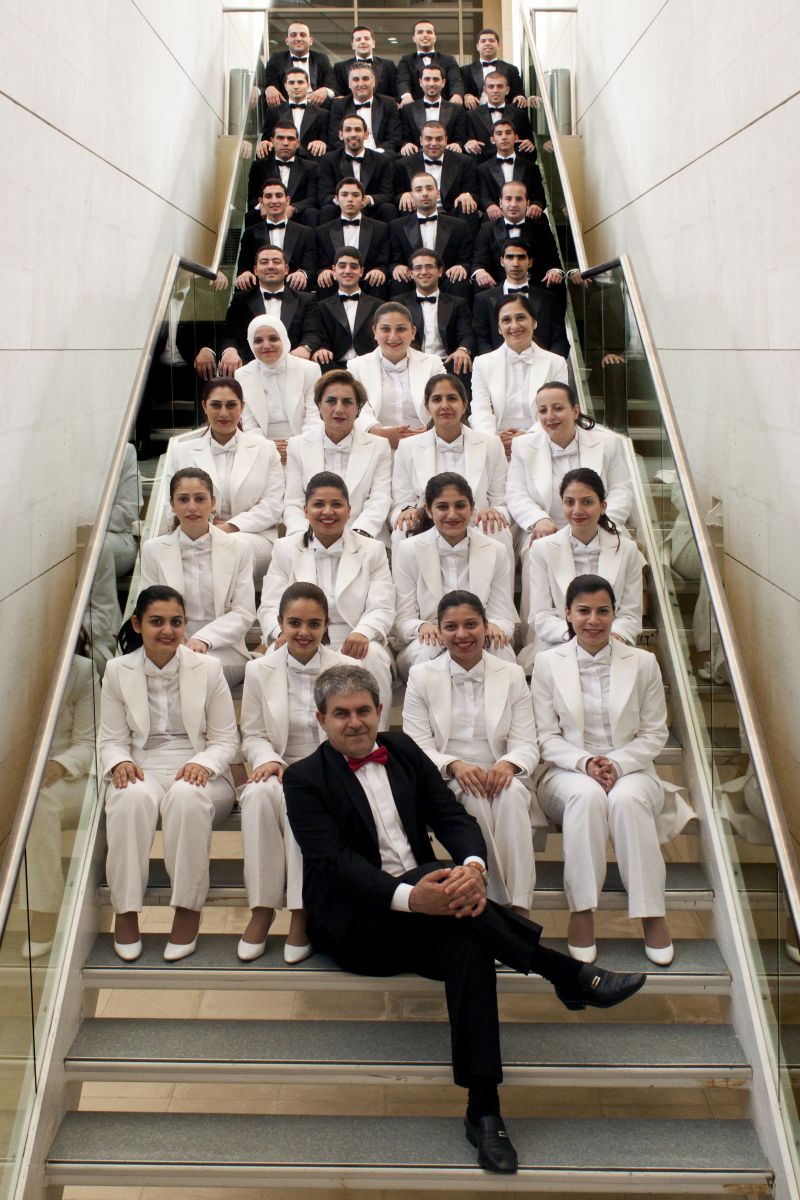 "We have overhauled how concerts are planned: We never organize concerts but get invited to perform. Fayha has managed to receive financial support from municipalities, donors, cultural institutions, friends, and international organizations. Our social engagements through music generate another source of income. However, we are totally independent and are not accountable to anyone," explains Maestro Taslakian. (Photo: fayhachoir.org )
Eddie and I agree: We will not Europeanize Arabic music. Many Arab composers have sent me their own musical arrangements—often for free—but I have turned them down either because they have been Westernized or lack the spirit of Arabic music. Eddie seems to have found the right formula based on the Armenian model of polyphonic music. He attends the choir's rehearsals to make the necessary changes to the chords. We are always in search of the optimum alternative and have been working hand-in-hand for over 15 years now. There is more power in unity and I believe that one man alone cannot make history. In time, more people will try to capture what escapes us and add their own suggestions. I hope they do not make too many changes, though [laughs]!
L.G.S.: What made you so sure that you would be able to develop a polyphonic technique that could be integrated into the vocal style of Arabic music?
B.T.: Coming from an Armenian background, the experience of developing a unique polyphonic technique was not new to me. More than a century ago, Komitas—as well as others before him—took on the enormous task of purging Armenian music from foreign elements and took great care not to Westernize it. The Armenians have been able to create internationally acclaimed classical music that does not sound European. It took time to develop the music we [Armenians] now have. I have always stressed that we do not have to spend as much time looking for ways to create purely Arabic polyphonic singing. Smart people learn from their own experiences; those who learn from the experiences of others are even smarter!
L.G.S.: You mentioned Komitas. What impact has he, who is considered the founder of the Armenian national school of music, made on your understanding of Arabic music?
B.T.: Komitas was my greatest teacher. He delved into the Georgian, Kurdish, Turkish, Arabic, and Persian musical traditions to expunge those foreign influences from Armenian music. After studying Western classical music in Germany and adapting the slow-moving lower vocal parts used in Byzantine chants to Armenian sacred music, he came up with unparalleled Armenian a capella choral arrangements, composed only of pure Armenian tones. They were full of color, yet equally authentic and true. Komitas rescored Armenian music into polyphonic form, but he did not Westernize it. I am keen to follow in his footsteps.
The medleys of Islamic and Christian prayers aimed at revealing the nature of the choir, using music as a weapon for social change.
L.G.S.: Most Fayha members are non-professional singers who sing as a hobby. Does this require a special approach to selecting songs, conducting rehearsals, and satisfying the audience? What are the themes that define the nature of the choir?
B.T.: Classical music is something you learn in the classroom—something genuine. That's what Fayha is all about. During the first five years, my goal was to raise the quality standard of the choir rather than to amuse the audience. The repertoire and song arrangement choices were designed accordingly. The main purpose was to develop an Arabic choir tradition and to spread songs taken from Arab culture to the general public, while the medleys of Islamic and Christian prayers were aimed at revealing the nature of the choir: using music as a weapon for social change. Today, the choir is capable of singing any song and I have assistants who conduct rehearsals at each of the three branches of the choir.
L.G.S.: What about the multi-ethnic makeup of the choir? What makes it appealing for members and audiences?
B.T.: People are used to living together in Lebanon and the choir's multi-ethnic and multi-religious makeup is a powerful testament to this. Fayha is a microcosm of Lebanon, where people from 18 religious denominations are geographically spread across different towns and villages. A 10-minute drive will bring you from one culture to another, so you grow up learning that you must take each into account. Coming from all walks of life and from different social, political, and economic backgrounds, our choristers feel at home with one another while sharing common interests. Music binds them together to the extent that it can also rip them apart from their communities and friends.
L.G.S.: Fayha also boasts of being the first Arab choir to perform Komitas. Apart from the fact that Arabic and Armenian are totally different languages and perhaps equally difficult to learn, how has the choir mastered singing Komitas? How does delivering the heart and soul of Armenian songs reflect on the choir?
As a Lebanese conductor, it is my duty to spread Arabic music by preserving its integrity; as an Armenian I have a similar obligation towards Armenian music. We perform at least one Armenian song at every concert or international festival.
B.T.: The music of Komitas stirs something deep in your soul. Not only for us as Armenians, but for non-Armenians as well. As a Lebanese conductor, it is my duty to spread Arabic music by preserving its integrity; as an Armenian I have a similar obligation towards Armenian music. We perform at least one Armenian song at every concert or international festival.
The Fayha choristers love singing Komitas. Armenian music, with its Eastern melodic lines and Western sophistication, has captivated their hearts. Could Kanatchian have imagined that an Arab choir would sing his "Oror" («Օրօր» | "Lullaby") for non-Armenian audiences who would capture the moment on film 700 meters deep under a church in Krakov? Fayha has introduced the music of Komitas to international audiences in more than 40 cities! We sang his "Tzirani tzar" («Ծիրանի ծառ» | "Apricot Tree") and "Varderi het" («Վարդերի հետ» | "With the Roses") at a competition in Warsaw. Following a series of concerts organized by the cultural ministries of Armenia and Artsakh, the choir members have now fallen in love with the country and chosen to return year after year.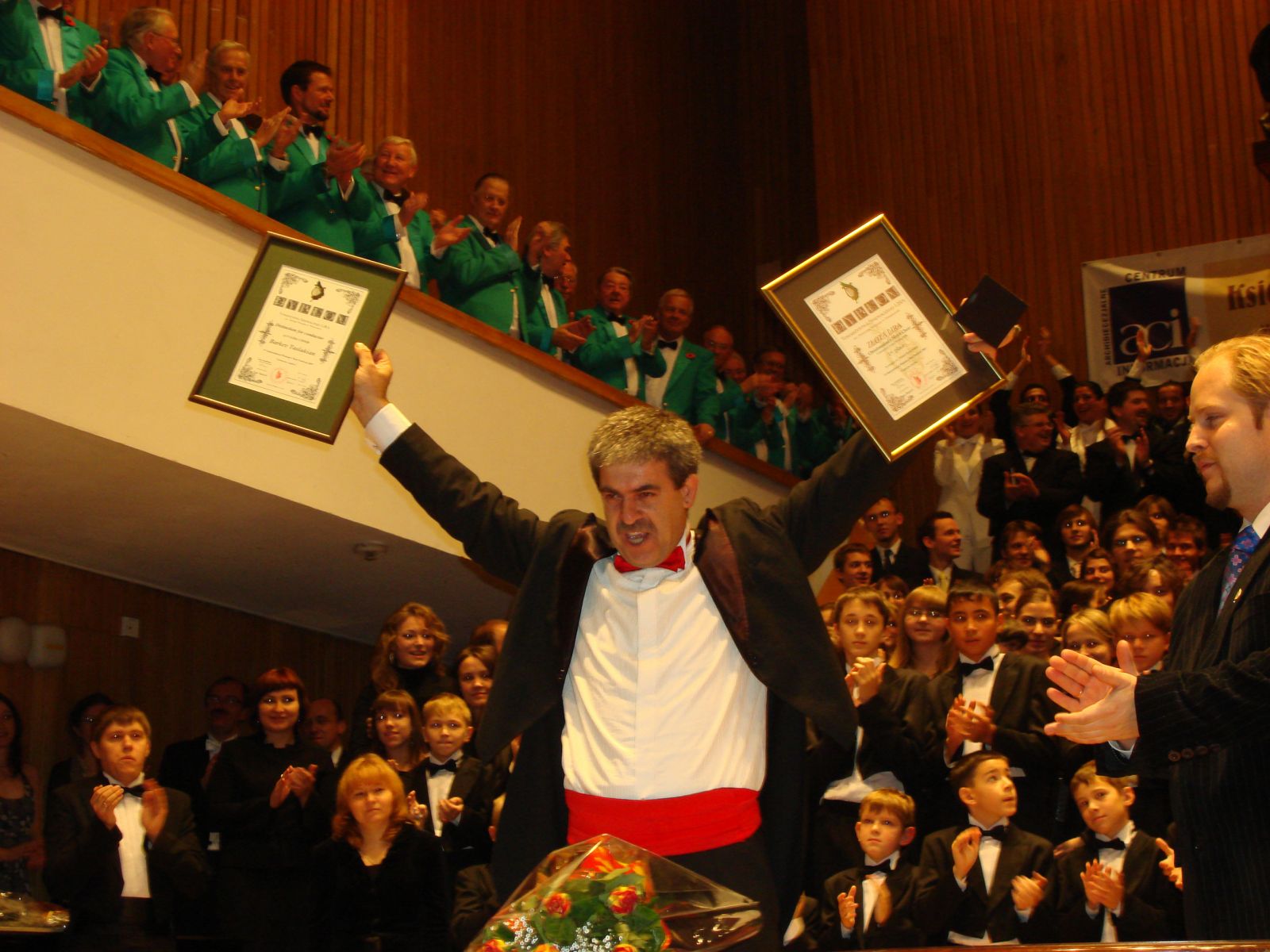 The Fayha Choir was just two years old when it won the second prize at the "International Warsaw Choir Festival-2005." Only two years later, the choir won first prize for both Best Choir and Best Conductor at the same festival. (Photo: fayhachoir.org)
L.G.S.: How does Fayha's rendition of Armenian songs resonate with Armenian and non-Armenian audiences?
B.T.: Fayha has always received accolades from fellow Armenians for its flawless pronunciation of Armenian words, even though this is the easiest part to master. What's more important is the choir's ability to understand the spirit and musical structure of Armenian songs. Armenian polyphony is different from Arabic polyphony; both are, however, based on melody, which makes it easier to create balance. The listener is immediately transported into another world and often even brought to tears. The West is increasingly looking to the East for inspiration. The secret lies in the melody we sing, and of course, the quality of the musical performance.
L.G.S: What is the most important thing to you about your Armenian heritage?
B.T.: When I was young, I was a member of the Hamazkayin Kousan Choir, where a fellow chorister would constantly suggest Armenian alternatives to foreign words in my daily speech. I adopted the same approach in my family first, and later in my own choir: I insisted on the use of not only Arabic words, but also of the distinctive elements of Arabic music. Language is the basis of all art, and music is a powerful art form that wins the hearts of young people. If you forget your language, you also forget your culture.
L.G.S.: Can we trace the origins of Fayha further back, to your conducting experiences with Armenian choirs in Lebanon?
B.T.: The origins of Fayha were, curiously, Armenian. In the 1990s, I reorganized the Hamazkayin Komitas Choir of Ainjar and tried to apply what I had learned from leading conductors like Harutyun Topikian and Yervand Yerkanian—focusing on creating quality music.
The more your choir performs on stage, the more likely you are to raise the quality of the performance. We needed a stage and the choir's quality blossomed as we started to take part in village festivals across the Bekaa Valley. At the end of a concert in the Armenian church of Tripoli, two local Arabs invited us to take part in the Tripoli National Choir Festival (2001) in North Lebanon. We were the only choir to perform a capella at the contest. "The decision was not hard to make," announced the jury. Even though we performed in Armenian and our repertoire included just one Arabic song, we won. Eddie had arranged "Helem Al-Arab" ("Arabian Dream"), I had added the Hallelujah chorus and the [Islamic] "Allah Ul-Akbar" ("God is Great") prayer to it, and it became a hit as a medley of Christian and Islamic prayers. As the winner of the contest, we represented Lebanon in the 2002 Arab Music Festival. By then, there was growing enthusiasm for starting a choir in Tripoli. I gladly accepted the invitation to establish and conduct Fayha in 2003.
L.G.S.: The village of Ainjar is practically a little Armenia with its own Armenian traditions and sense of identity. How connected you are with your Ainjartsi side? And how do you explain the fact that many Ainjartsis have a knack for art, music, and inspiration?
B.T.: Yes! Ainjar is a tight community where people make personal concessions and unanimous decisions for the sake of the greater good; where leaders are wise to develop cordial relations with neighboring non-Armenian villages; where you have no distractions like shop windows and the smell of falafel on your way to a choir rehearsal; where you don't have much to do or worry about, so you can dabble in culture naturally. I have learned much from village life, from my years at Armenian youth centers, sports clubs, and cultural associations in Ainjar. I apply them to my work as a conductor. The only downside of living there is that you may end up giving just one concert after an entire year of rehearsals.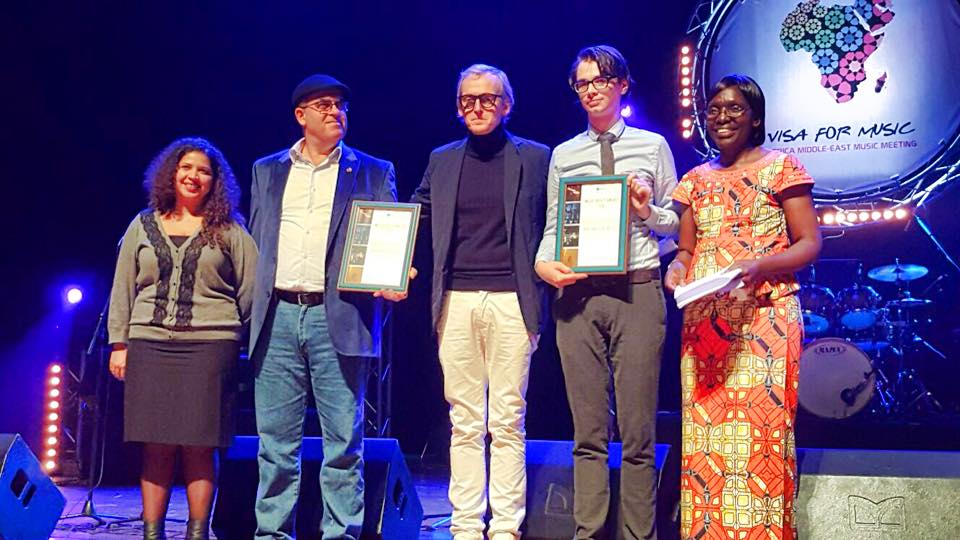 International Music Council honors the social inclusion projects of the Fayha Choir with its Five Music Rights Award-2016. (Photo: www.imc-cim.org/)
L.G.S.: Let's talk about Fayha's socio-cultural projects. You also conduct music groups for children, refugees, and migrants in cooperation with local and international organizations. How did this come about?
B.T.: We were quite surprised when Fayha received the IMC Music Rights Award-2016. The choir was nominated by the European Choral Association. This award usually goes to a project dedicated to bringing together people of different social backgrounds. Before receiving it, we were invited to take part in panel discussions on inclusiveness and coexistence. Our advice was not to waste time on looking for ways of bringing people together, but rather to see how people can build something together. We were asked to come up with a project related to the Palestinian camps in Lebanon and we proposed establishing a network of choirs.
Coming from humble beginnings, I could easily relate to the underprivileged. The project was such a success that we now have 10 children's and youth choirs—not only in refugee camps, but also in various Lebanese villages. Our model worked and I frequently get invited by the European Choral Association to train conductors for similar projects. We have been working on the Association's Sing Me In project, which looks for ways to use collective singing as a tool for the integration of migrants across Europe. We are the only non-European partners in this project and have been drafting handbooks together, aimed at providing conductors and music teachers with pedagogical tools.
Your identity can help you find your voice and share it— even with your enemy!
L.G.S.: What would be your advice to young musicians who aspire to become musicians and conductors?
B.T.: There are no big things in this universe; everything is as small as a grain of sand. This helps contain the accumulation of errors—you need to be alert to the signals in order to prevent them from growing. The contrary is true as well: You need to look for tiny advantages and combine them in creative ways in order to achieve success.
It is not language that is unique to humans; it is art that sets us apart from all other creatures, and music is the most universal of all art forms. Music is everywhere in our lives—from the womb to the tomb and everywhere in between. It is the only art form that touches the human spirit through the dynamics of sound. While the human voice is a perfect sound tool, we cannot make full use of its vast possibilities. It does, however, motivate us to do our best and earn respect. We all want to be respected, otherwise, life gets very difficult.
I have been getting more respect as an Armenian conductor associated with Arabic music. In order to gain respect, you first need to have an identity. No two sounds are the same; you should be proud of who you are by acknowledging the other. If you speak Armenian, try to teach it to a fellow Armenian. If you do not speak Armenian, try to find out more about Armenian culture. Your identity can help you find your voice and share it—even with your enemy! Otherwise, you will be easily swayed, for nothing is permanent. No two waves are the same, everything is on the move, and you cannot stay in one place; you have to move forward, you need to widen your palette.
To achieve real success, you need to take the perspective of the other into account. Change your opinion only if you're truly convinced or if it is for a greater cause. But always stay true to your core principles—just like Komitas [smiles]!
Video
"Aasfour, Fayha Choir, Yo-Yo Ma, Kinan Azmeh"

(Video: Fayha Choir YouTube page)

"Aravod Lousaper - Hayrig Hayrig" by the Fayha Choir

(Video: Fayha Choir YouTube page)
?>

"Aasfour, Fayha Choir, Yo-Yo Ma, Kinan Azmeh"

?>

"Aravod Lousaper - Hayrig Hayrig" by the Fayha Choir