'Leylum': Try not to dance when you hear this
Collectif Medz Bazar
June 14, 2018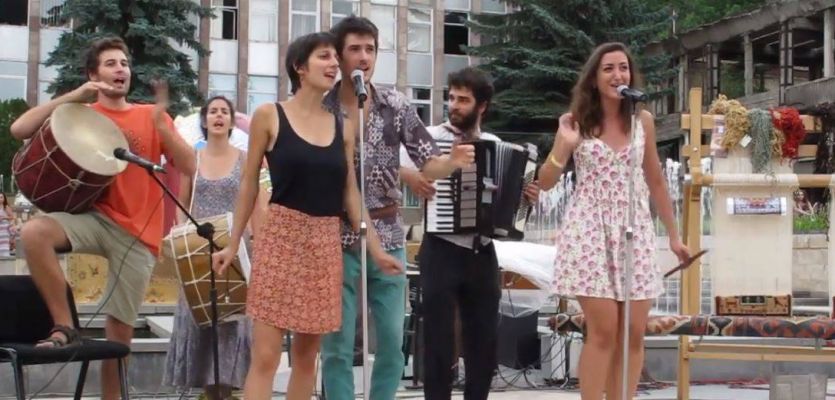 French ethno folk band, Collectif Medz Bazar, is comprised of young Armenian, Kurdish, Turkish, French, and American members from Paris. One of their most renowned songs, "Leylum," is based on the popular Sasuntsi wedding dance song, "Mayroke," about a beautiful, black-haired girl named Mariam—"Mayro" in the Sasuntsi dialect.
| | |
| --- | --- |
| Genre | Ethno folk; Armenian; Turkish; Kurdish; French |
| Released | 2014 |
| Location | Sasun |
| Duration | 4:29 |
| Link | |
This version introduced the song to a wider audience, with non-Armenians joining in on the fun. Listen below to the album version, with a dual Armenian-Kurdish refrain.
Check out Collectif Medz Bazar's fun live version, performed at the annual Carpet Festival in the spa town of Dilijan, Armenia.
Liked this? Listen to another version
If you're looking for an edgier rendition, check out Garik and Sona's pop rock live concert cover below.
Join our quest to keep up with the trends!
Video
"Leylum" by Collectif Medz Bazar (live)

Video: Rodin Baran YouTube page

"Xorotik Mayro" by Garik & Sona (live)

Video: Garik Papoyan YouTube page
?>

"Leylum" by Collectif Medz Bazar (live)

?>

"Xorotik Mayro" by Garik & Sona (live)