An all-female Armenian folk band takes on the world
May 13, 2018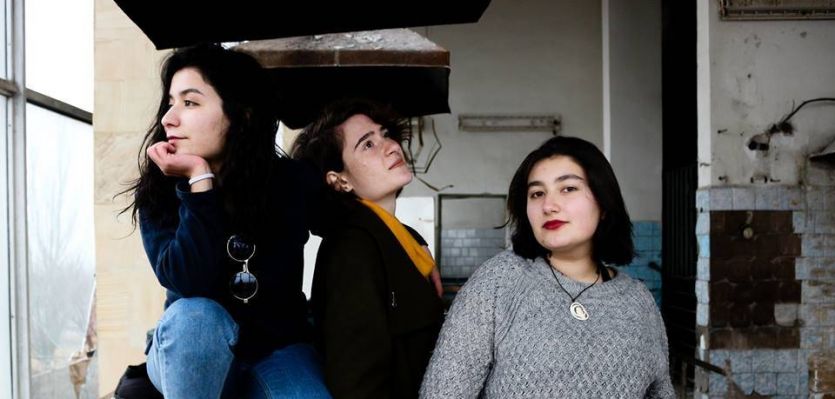 Tiezerk Band is a musical group from Yerevan, creating modern Armenian folk music beloved by Armenians and non-Armenians alike. Comprised of three young passionate women, Tiezerk Band is finding themselves through their voices and music.
Armo folk—with a twist
It's a chilly Friday night in Yerevan and small groups of friends and family are entering a cozy hybrid cafe-bookstore, claiming their tables for the upcoming performance. There's a sense of familiarity in the air—a mix of people who have seen this group before and those who have been anxiously awaiting the chance to make it. The room is joyous and energetic, and one might see a few giggling heads poking out from the front of the room, as if to get a sense of the crowd. Finally, three bright-eyed and fashionably dressed young ladies step into the front of the room, one with a violin, one with a guitar, and one with a flute. The band's frontman makes a warm and witty greeting to the crowd before introducing their set with an upbeat Armenian folk song.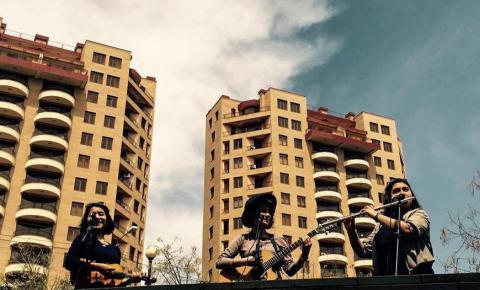 The crowd is silent as they listen and experience this group of girls express themselves and their feelings for their country through song and music in a way that is so intimate and honest, one can clearly picture the Armenia described through their voices. This is Tiezerk Band.
What happens next and throughout the whole performance is nothing short of captivating.
Tiezerk Band is a musical group comprised of three animated and passionate Armenian women, Astghik Mamikonyan (18, violin, piano, vocals), Eliza Baghdiyan (19, guitar and vocals), and Lusine Mlke-Galstyan (18, flute, pipe, piano, vocals). While the band describes themselves enthusiastically as, "Honest! Full of energy! Natural! And a little bit crazy!" Tiezerk's sound seems wiser and beyond the years of what one might assume of three young women all under the age of 20. "They're so young, but they blend old Armenian folk songs with their own unique style... It kind of transports you; takes you on a journey," says Alina Gotcherian, a Communication Specialist from Canada currently living in Yerevan. Tiezerk Band blends traditional Armenian folk songs and modern authorial songs written by themselves so seamlessly, you might not even realize which ones are covers and which ones are unique creations of the band.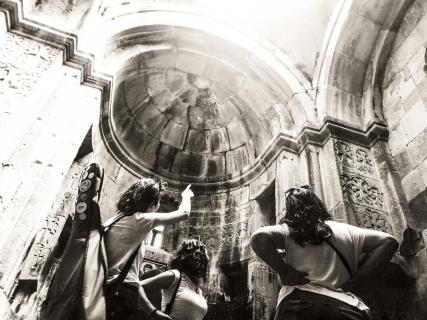 Meaning "universe" in Armenian, the name Tiezerk is an homage to the band members' own names which ironically all have celestial meanings: Astghik, "star"; Lusine, "moon"; and Eliza who, naturally, acquired the nickname "sun" by her friends in school.
A love for music brought them all to the music laboratory of the Mkhitar Sebastatsi Educational Complex about three years ago where they met. Claiming they never meant to formally start a band, the girls say, "It started naturally—we simply started to sing together." Eventually, their talent and ambition took a life of its own. Starting off with covering songs of Komitas, their mutual love for the famous Armenian poet Yeghishe Charents inspired them to create music for some of his famous poems, explains Eliza in an interview with Habrban Music. Now, Tiezerk performs several times a month throughout Yerevan, with occasional tours around the country and internationally.
While the majority of their performance venues are in more intimate settings like cafés or bookstores, the group has no desire in creating boundaries for themselves when it comes to connecting with a new place or audience.
This seems true because their music is so relatable across all ages and backgrounds. "Our audience members can range anywhere between a three-year-old child and 60-year-old old man," says Lusine in a previous interview with Habrban Music. Additionally, their performance stages have ranged anywhere from the Kharberd Orphanage to the Aram Khachatryan Concert Hall, which is the main and largest concert hall in Yerevan.
The group expresses that one of their most memorable performances was their first international performance in Los Angeles for the Innovate Armenia Event in 2016. In LA, they participated in a regional tour of "We," an inclusive dance performance together with Mihr Theatre which is an experimental theatre group for movement, dance and drama. Check it out here.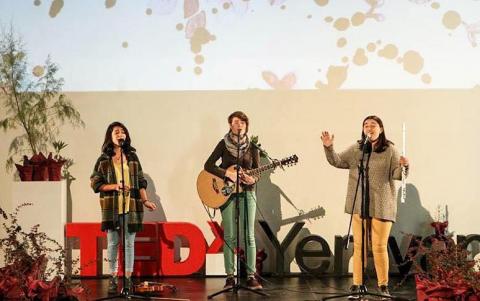 "The audience is the most important thing for us...our audience has no limits," they express.
Tiezerk performed the music they uniquely composed for the performance, which exemplifies not only their talent but also their emotional maturity and understanding of how to create an ambiance through soundtrack and collaboration. Their success and partnership with Mihr Theatre has also given them the opportunity to travel to countries like Poland and Israel to play Armenian national songs for other performances of Mihr's like "Lavash."
The band expressed that someone who might associate Armenian music with a performer like Armenchik might be surprised by the tone of their music. However, "people who don't understand our language hug us after our performances, and that gives us the impression we are doing something right," they say and attribute their success to their audience, acknowledging that their support has given them the confidence to do better.
'Music for the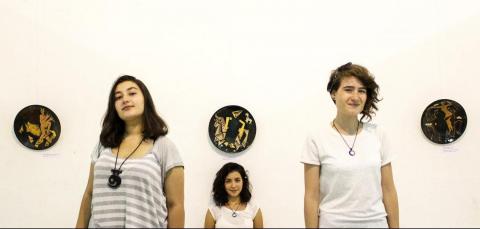 Having multiple international performances under their belt, it is clear, based on the reactions of their diverse audiences, that there is something about Tiezerk that people are drawn to, even those who are unfamiliar with Armenian language or culture.
soul'
It's safe to say that Tiezerk Band has gained some degree of celebrity status in Armenia. You seldom come by a person in Yerevan who hasn't heard of the band or who isn't aching to see their next performance. They have not only gained popularity among native Armenians, but among diasporan Armenians visiting the country, as well. They are acquainting diasporans with modern Armenian music and inspiring them to experience the music of their culture differently. After seeing them perform for the first time, Tara Baghdassarian, a former Birthright Armenia volunteer from the U.S. felt, "...it was truly music for the soul. I wanted to listen to it all day." Tsoler Terzian, another Birthright volunteer was inspired by the way, "they take old Armenian folk songs and give it a more 'pop' style for younger demographics." She expressed that watching Tiezerk perform made her "want to discover more Armenian music."
While many of Tiezerk's songs are traditional Armenian folk songs, the Tiezerk girls are also finding their own voices and new ways to express themselves through writing their own songs. "As a result of our daily challenges, the music is finding us," they explain. "[Our songs] are a reflection of the reality we live in." They claim the hardest part in creating their own songs is writing the lyrics, as they sometimes struggle with the vulnerability and honesty it can entail. However, one can't help but feel inspired when watching Tiezerk perform. They sing with such enthusiasm and a deep understanding of themselves and their culture. "Their music makes you feel inspired, not just for the music itself, but also because of the talented members of the band," says Alina Gotcherian, "it's so nice to see a young, all female band doing their own thing and killing it."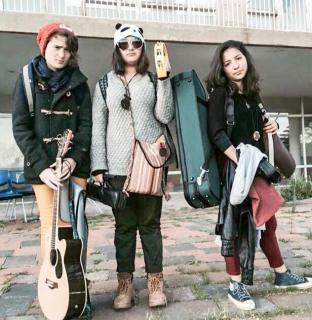 Perhaps one of the best qualities of Tiezerk Band is their deep friendship and love for each other – "A friendship of three very different people, who became a family," they express.
Even though they each have their own unique identities, the one thing they all have in common is a love for their Armenian culture and language, which is what brought them together in the first place. Their journey as a band has helped them not only strengthen their bond with each other but develop deeper understandings of their own selves as well. "Music takes you on a self-discovering journey which helps you to understand yourself and also gives you tools to communicate," they say. In a way, as audience members, we get to see this unravel before our eyes. Astghik adds, "We are very thankful to our audiences who have been hundred percent with us during our performances."
Currently, Tiezerk is planning a big charity concert to celebrate their three-year anniversary as a band. When asked about where they see Tiezerk Band in the next five years, they answered, "Performing all over the world!" And we are all so excited to see what they create and where they end up next.
Check out some of their folk covers and original songs below.
Video
Gisher

Meeting Point sessions vol.1 ep.1. Shot and recorded live at Meeting Point, Armenia. Produced by Wayji/Openthy, 2017.

Hov Areq

Meeting Point sessions vol.1 ep.2. Shot and recorded at Meeting Point, Armenia. Produced by Wayji/Openthy, 2017.

Meg (haze)

Music and lyrics by Tiezerk Band. Dilijan, Jukhtak monastery, 2017

Tiezerk band performs Armenian national and folk songs at this independently organized TEDx event in Gyumri, Armenia, in 2017.
?>

Gisher

?>

Hov Areq

?>

Meg (haze)

?>