What's in a language? A guide to moving beyond shame and finding love in our mother tongue
May 11, 2018
As diasporans, we all know the drill: Speak Armenian, cook Armenian, marry Armenian—be as Armenian as you can in an unArmenian nation, so that our culture will not "disappear off the map." Being Armenian can, oftentimes, feel like a burden—but it does not have to be. If you've ever been scolded or made uncomfortable for not speaking Armenian, this guide will speak to you—in a welcoming, possibly therapeutic, way
'The theater of life:' Act I, Scene I
«Հայերէն խօսի՛ր»: ("Hayeren khosir!" "Speak Armenian!")
«Ամօ՛թ»: ("Amot!" "Shame!")
«Հայ ըլլալը պարտականութիւն է»: ("Hai ullaluh partakanutiun eh." "Being Armenian is a responsibility.")
How many of us have heard a variation of these three "strategies" for inducing us into speaking Armenian? Nearly all first (and some second and even third) generation diasporans have been victim to these scare tactics, which consistently haunt us throughout our formative years. Every forum is a battleground with the same mission: the home, the church, day language schools, even strangers in the community who—with the fortitude and tenderness of a military general—feel the duty to shame us, the unwilling cadet, into speaking our language. As a result, many diasporans have grown scared—even loathsome—of our ancestral tongue. Subsequently, our relationship with the Armenian language has become a grudging, loveless arranged marriage—a union in name only.
Does any of this sound cringingly familiar?
Act I, Scene I (revised)
Imagine, if you will, a different act—or rather, the same act but a different version, one that will have you embracing your Hayutiun with a capital H (Armenianness), instead of repelling its very name. Imagine infusing the Armenian language into your diasporan life in a non-threatening—dare I say, enjoyable—way.
What if I told you that you could even fall in love with your ancestral tongue—the very one you have grown to resent?
To steal from the great bard, what's in a name? (In this case, the name being "language") What is its purpose, its functionality, its importance? Is it a powerful expression of culture or simply a utilitarian means of communication? Perhaps the answer is more intangible—poetic, even. Professor Shushan Karapetian describes it as children searching for love in the laps of their loved ones. The most primal feature of a language is its ability to convey this emotion: love.
So why, then, do we limit its functionality to a cold academic setting and a cumbersome obligation to some enigmatic historical legacy? How do we move a language out of the confines of an ancient chokehold on defiant Western millennials—and into our sphere of the modern domain? This is the question that a broad group of intellectuals—professors, teachers, artists, writers, and administrative leaders—are tackling, with regard to Western Armenian. Though it's no easy task, a few organizations and dedicated individuals are up for the challenge.
Setting the scene…
When UNESCO designated Western Armenian as an endangered language in 2010, it sent shock waves in the Armenian community. "All hell broke loose. It was as though we were waiting for an outside resource to tell us that this language is fighting for survival," says Vartan Matiossian, vice-president of the Society of Armenian Studies (SAS).
A few dozen academics and students have shuffled into a conference hall in the back of a D.C. hotel for the opening session of the SAS Annual Membership Meeting, where they listen, learn, and reflect on one of our people's most burning issues: the [re]invigoration of the Armenian language in the diaspora. It's one of the more contentious statements to have come out of an otherwise uplifting discussion.
The ruckus from the much-larger conference down the hall does not seem to faze the room. Everyone is fixated on the presenters, eager to lend their hand in building our collective voice for our ancestral tongue. Joining in on this meeting are a few curious interlopers (I fall in this latter category). Not knowing what to expect, we listen as each panelist—representatives from the Calouste Gulbenkian Foundation, the University of California, Los Angeles (UCLA), the Université de Moncton (in Canada), and SAS—present on their respective project, program, or endeavor; some didactic, some group-oriented, but all are refreshingly creative and collaborative. Though tactics differ, the driving force remains the same: show the new generation how to fall in love with the language, and everything else will fall into place.
A playground for all
But these are just a few of the players who are actively working towards the same end. Thankfully, this movement is much larger than what we witnessed in that hotel room; ultimately, every Armenian has a role to play in this game.
For the last 90 years, Hamazkayin, has sought to address the issues affecting our people, dispersed in every corner of the world, and language is a key component of this mission. Just as with h-pem—where we hope to tap into a wealth of youth knowledge, vigor, and curiosity for the Armenian arts, culture, language, and people—Hamazkayin's new mobile game, Lala and Ara, aims to transfer this love of the Armenian tongue to our youngest, from their laps to their hearts. Though Professor Karapetian was not involved with this application, her philosophy for transmitting language is not far off from Hamazkayin's.
Beyond the hoopla of the headlines, the actual prognosis for the Western Armenian language has been—for lack of a better term—lost in translation. If the current generation of speakers does not pass on the language to their children, only then do we run the risk of endangering this language, continues Matiossian. Translation: This downward trend is 100 percent reversible if we are up for the task. This language—our language—is like a garden. It needs seeds to sprout, water to grow, and sun to thrive. Without consistent nurture, love, and care, the flowers will wilt from external forces. So, do we cultivate this language that we love so dearly, or do we let it die? Ultimately, the choice is ours to make.
Read below for a synthesis of the SAS symposium from our modern philosophers and some of the ways in which YOU can join this movement!
*Note that all of the individuals below are diasporans themselves, leading this movement from within.

Act II, Scene I
Enter Istanbulite Ani Garmiryan of the Calouste Gulbenkian Foundation. Founded in Lisbon, Portugal in 1956 through the will of Calouste Gulbenkian, one of the richest men of his time, the Calouste Gulbenkian Foundation has a vibrant Armenian Communities Department. One of its pillars is the promotion and revitalization of the Western Armenian language, with initiatives ranging from providing millions in scholarships to university students in the global diaspora who pursue Armenian Studies, to creating educational videos, mobile applications, and a Western Armenian Resource Center web portal, which will go live later this year
But perhaps their most ambitious project is the
Zarmanazan
(which translates to "amazing") summer camp-like program for diasporan children aged 10-15. This "amazing" Western Armenian language immersion program creates a "village" in the breathtaking French Alps, where, for three weeks, Western Armenian becomes the
lingua franca
. The model follows Garmiryan's conviction that "it takes a village to raise a language."
The strategy is brilliantly simple. Garmiryan, the head of the program, says that students are never told to "speak Armenian" but rather, are unknowingly coaxed into speaking it amongst each other through joy and love. Using games, songs, and other non-formal activities, children experience the language in a fun, interactive way. Garmiryan explains that this shifts the perception of speaking Western Armenian from a weighty cultural obligation to a vibrant, fulfilling choice, making the language come alive in a personalized, modern context. The deconstruction of the military-like hierarchy in the classroom is crucial, says Garmiryan. "We want to cultivate a sense of community where each member has a crucial role to play."
Though the program was only launched last year, due to its massive success, the age range of participating students has been expanded to also include 16-24-year-olds. For more information on Zarmanazan, visit zarmanazan.com.
Act II, Scene II
Enter Shushan Karapetian, Armenian language professor at UCLA, whose Armenian Studies Program is arguably the foremost of all universities in the Western diaspora. Professor Karapetian argues for a more nuanced understanding of language through a more basic representation of its purpose.
"We send children to school to learn how to think, and the Armenian child must have the muscles to think in Armenian. Language is a window to see the world, and these children need to have access to the theater of life in Armenian," she states. Here, again, the strategy is clear: tailor the way we approach Armenian language instruction to fit the needs and desires of the learner.
Act II, Scene III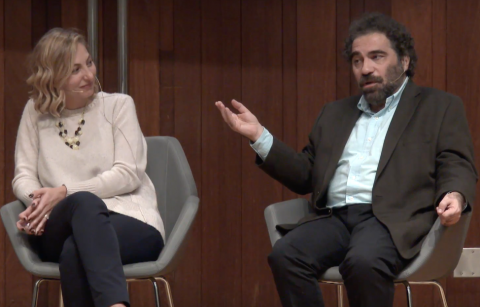 UCLA professors of Armenian language and literature, Shushan Karapetian (left) and Hagop Gulludjian (right), present their findings and expertise on teaching and revitalizing Western Armenian in the diaspora.
Enter Hagop Gulludjian, professor of Western Armenian language and literature at UCLA. Professor Gulludjian promotes creative literacy in the Armenian language in an innovative way that has inspired a small, but growing, movement amongst a new generation of college students.
The porteño's (Buenos Aires native) aim is to create a means of navigating the world with our multiple identities—beyond simply our "Armenianness"—for the "non-ghetto diasporan Armenian." First, we must move beyond the idea of "preserving Armenianness like it's a jar of pickle in brine." We must "deArmenianize our literature," moving beyond themes of just Mt. Ararat, the genocide, and Vardan Mamikonian. When only 5 percent of the Armenian student-aged population in California is learning to be literate in Armenian, this indicates a problem in our approach to teaching the language. For the remaining 95 percent, [Armenian literature] is "just a relic.
And finally, he argues, we must liberate ourselves from the "shrine" of identity—the "coming out" of shame. Only then can we actually have fun with the language—which is a necessary component in this learning process.

Act II, Scene IV
Enter Elizabeth Mkhitarian: California native, UCLA undergraduate student, and soon to be author of a book on Armenian poetry. Mkhitarian is a protégée of what she calls "the Hagop Gulludjian Method."
Echoing the sentiments of her professor, Mkhitarian maintains, "Armenian has to function as a choice." Her upcoming book uses a hybrid of Western and Eastern Armenian syntax and vocabulary. Picking and choosing which sounds and grammatical structures appeal to her more, the budding poet does not limit herself to just one dialect. "I've always loved English literature but never read Armenian literature." After taking Gulludjian's course, Mkhitarian discovered works that opened up a whole new world of depth, creativity, and excitement. "I fell in love" with the Armenian language and our writers, she says. The muses of yesteryear—through the guidance of Professors Gulludjian, Karapetian, and others in the Armenian Studies Department—have inspired this young diasporan to assert her creativity and fondness for literature in a new old language—her language.
Act III?
What awaits us in the next act of this "theater of life?" Like the star-crossed lovers in Shakespeare's play, is our language doomed to a tragic fate? Though it's too early to tell, these initiatives are quickly providing a positive blueprint for the vibrancy and potency of Western Armenian in the 21st century. As these brilliant individuals have shown us, it is up to us to ensure that this language grows and adapts and lives on with us. We can all make history by not letting Western Armenian become history.
What does language mean to you?
Join the conversation and be a part of this thrilling movement for invigorating Western Armenian. Tell us your story, suggestions, thoughts, and ideas in the comments section below.