Pimsleur - Armenian: Learn by listening
Pimsleur Language Programs
May 05, 2018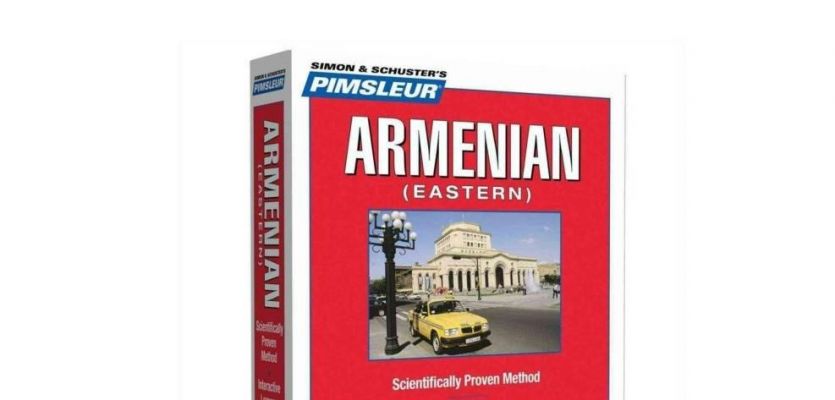 Based on the famous language acquisition method pioneered by linguist Dr. Paul Pimsleur, the Pimsleur Language Programs offer a wide array of languages, among them both Eastern and Western Armenian
It is a known fact that children acquire language much quicker and easier than adults. Many books, softwares, tapes, and programs abound have tried to replicate this method in adulthood, but few have come closer to the truth than the Pimsleur Method. Offered in just a few dozen languages, it is peculiarly remarkable that both Armenian dialects are included in the Pimsleur series. I have tried the Russian language version of this method, and can attest to its ease and seemingly effort-free method of teaching exclusively through audio.
With no accompanying textbook (just a small phrasebook/pronunciation guide about a few dozen pages long to read along as you listen to the audio CD), the method is simple: listen, repeat, and listen again. The Pimsleur Method attempts to recreate the way children acquire language naturally—without forced studying, memorization, or exertion—in adulthood. The idea is to alleviate the anxiety that comes with speaking in a foreign language by just diving right into it.
Why a B- grade?
Several of my linguist and linguaphile friends stand by the teaching methodology, but many will not synchronize with the audio-focused methodology. Once again, cost is a major factor to consider and Pimsleur is a bit on the higher end. We dropped this from a B+ to B-, though, mainly because Level 2 has not yet been released, so the opportunity to move on and become fluent through this software is (at the time of this writing) impossible—though we are optimistic that it will be released soon.
Cost
One can purchase the lessons (which come in the form of Mp3 download files) in bundles of either 5 lessons ($21.95 USD) or 10 lessons ($41.95). Alternatively, one can purchase a CD with all 10 lessons in Lesson 1 for $49.95 (so $8 more than the Mp3 downloads).
Reviews
One user gave the program 4 out of 5 stars: "My wife is Armenian, and I have tried several method to learn her mother language. I travel a lot for work, with changing working hours, making it difficult to attend a class on a regular basis. Pimsleur's method with audio embarked in app ready to be whenever I'm ready is perfect. Now, I just need level 2 to be produced to continue learning and be able to talk with her family without translation!"
How to purchase
For Western Armenian, visit http://www.pimsleur.com/learn-armenian-western. For Eastern Armenian. visit http://www.pimsleur.com/learn-armenian-eastern.
To try a free lesson, submit the form. You can purchase the program in either Mp3 or CD format (see Cost section listed above).
Join our quest to keep up with the trends!