AGBU Armenian Virtual College: The coolest online course you'll ever take
Armenian Virtual College (AVC)
May 05, 2018
The same year Mark Zuckerberg launched Facebook, the world's tech capital inspired another ingenious endeavor: AGBU's Silicon Valley chapter set out to create the world's first online Armenian language program. In true tech fashion, the result was a groundbreaking program, forever changing the game of Armenian language learning
| | |
| --- | --- |
| Rating | A |
| Genre | Online learning institution |
| Founded | 2004 |
| Language | Courses offered in Eastern Armenian, Western Armenian, English, French, Russian, Spanish and Turkish |
| Link | |
AGBU Armenian Virtual College (AVC) provides lessons tailored to each individual student in a wide range of topics, from Armenian language to music to art. All courses last a period of 9 weeks and are offered in multiple languages and varying levels. Check the website for courses and enrollment dates.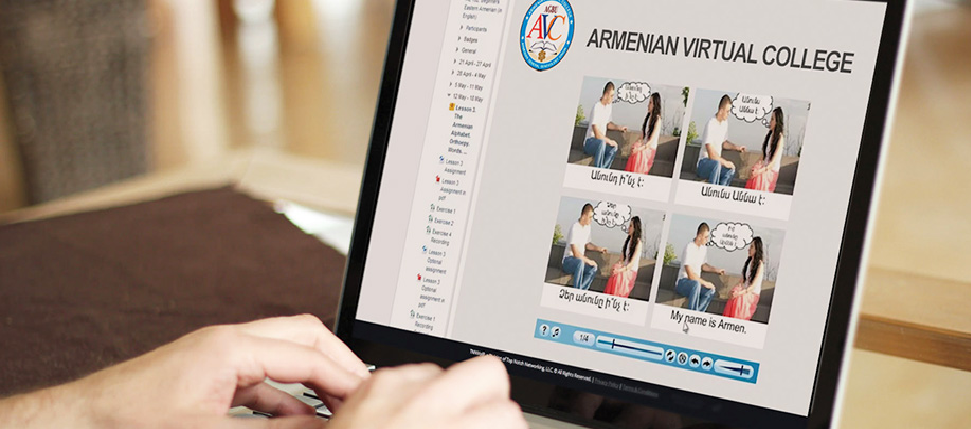 Why an A grade?
The answer is simple. AVC ticks off all of the boxes that a distance learning program for a foreign language needs.
Interdisciplinary: AVC believes that teaching the Armenian language is a great opportunity to also incorporate various elements of Armenian culture, such as history, music, food, and architecture into the curriculum. With equal stress on learning Armenian culture, this technique is one of total cultural immersion, as opposed to just language acquisition. We dig the 2-for-1 package deal!
Lifetime access: Students can download dozens of eBooks and resources on various Armenian themes, from history to politics to pop culture—for free. All material is available to access forever—or, at least, until computers become obsolete. (Calling all A.I. fanatics…)
Master one, get one free: As an incentive to encourage mastery of the subjects, AVC rewards each "A" course grade with a free course (to be taken within the same academic year). Imagine how much $$$ you'd save if your school did that.
Convenience: Through the comfort and mobility of the World Wide Web, you can practice your Armenian remotely anywhere, anytime. AVC credits can also be accredited and/or transferred to other learning institutions.
Personalized: With tutorials from professionals, participation in online forums and discussions, and weekly grading on assignments, you are always aware of your progress. Instructors are also available by Skype to assist students.
Community: Just like with any college, you become a part of a lifelong network of diverse, global people—all motivated by their love of Armenian culture.
Shared values and mission: AVC was founded with the intention of engaging diasporan Armenians with their cultural identity on a deeper level. Maintaining Armenianness in a globalized diaspora through the joy of education and discovery is a philosophy we fundamentally share here, at h-pem.
Cost
Course tuition varies depending on status, income level, and AGBU membership. Scholarships are available to those who make below $40,000 USD a year. (More information is on the website.)
As it stands, though, these are the current fees listed on the website:
Regular Student: $133 (AGBU Member), $199 (Non-member)
Auditor (non-credit): $99 (AGBU Member), $149 (Non-member)
Though the subscription fee is a bit steep, it really is a sound investment for conquering the language of Mashtots—and who can put a price on that?
Reviews
Don't trust our judgment? Armenia's former Minister of Diaspora, Hranush Hakobyan, was also an outspoken fan of AVC's teaching methods. She once stated: "This unique institution always stands out with its innovative offerings. The e-publications are what we have been missing today for a new generation of readers."
If you still aren't convinced, browse around the site and check out alumni testimonials from all over the world. Over a decade after its establishment, AVC's inclusive, interactive program remains the premier web-based resource to acquiring Armenian fluency—in whichever dialect (Eastern or Western) you choose.
How to enroll
Visit the AVC portal at www.avc-agbu.org, create your login, and submit your enrollment application. Enrollment for the Summer 2018 semester is from June 15 to July 1.
Join our quest to keep up with the trends!