'Zatik, Zatik': Celebrating Easter with good tidings
The Kousan Chamber Choir
April 02, 2021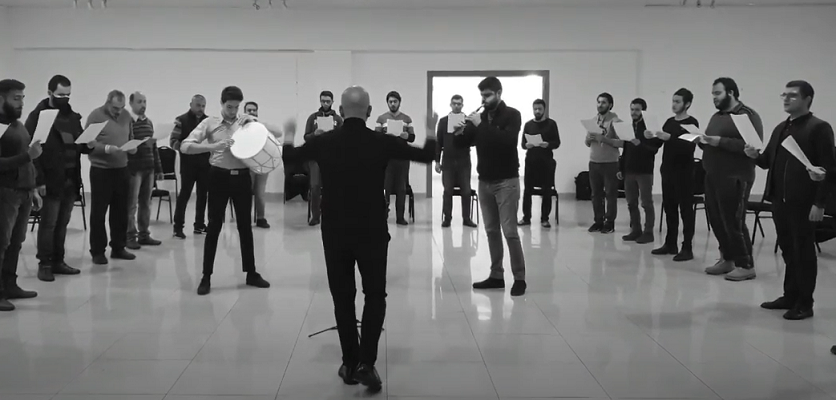 When Maestro Krikor Alozian restarted rehearsals after a long gap amidst pandemic, little did he know that a simple video recording of a well-toiled and tinkered little song would go a long way towards reviving ancient Armenian rituals. How did he do this? We had a brief phone conversation with the conductor to find out how he came up with an impressive little gem.
| | |
| --- | --- |
| Genre | Classical; folk |
| Released | Apr., 2021 |
| Location | Lebanon |
| Language | Armenian (with English translation) |
| Duration | 1:55 |
| Link | |
For the second year around, a quiet Easter is expected as many countries have tightened their lockdown measures to prevent a new surge of COVID-19 infections. Yet, nothing deters the Hamazkayin Kousan Chamber Choir of Lebanon to celebrate the Christian festival by melding the spiritual and the secular in its own distinctive way.
"After a few months of hiatus due to COVID-19 restrictions, the male part of the choir started rehearsing in churches to maintain a safe distance. Giving a performance increases motivation and satisfaction. A concert was out of the question, of course, so we decided to post homemade recordings of our songs on social media platforms," explained Maestro Krikor Alozian in a candid phone conversation with h-pem.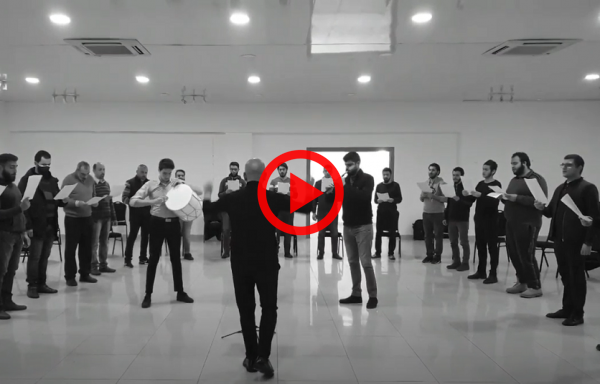 The song they were rehearsing in the last few weeks was "Զատիկ, Զատիկ" (Zatik, Zatik | Easter, Easter). It is not a hymn, but one of the few songs called աւետիս (avetis | good tidings) performed by layman at religious festivals in Armenian towns and villages.
"'Zatik, Zatik' originated as a dance song in Agn. There are similarities with a dance music which was performed in New Julfa," said Alozian, who is always keen to shed new light on songs too often considered as ecclesiastical.
"The song combines secular and religious elements that reflect the true image of our nation. There have been different attempts to define Easter through Armenian perspectives. Parallels have been drawn with forgotten pagan rituals and spring equinox festivals," notes the maestro. "Father Ghevont Alishan, for one, associates Zatik with the ancient god of justice in Eastern mythologies, as well as the Indian goddess of self-sacrifice, Sati."
Indeed, one cannot fail to observe the interplay of religious and folk elements in the lyrics and melody of the song: It's that time of the year, when "the hen has laid a red egg," and the singer has "dozed off in the chapel" dreaming of the "holy symbol"— the sign of resurrection. Who wouldn't jump to the occasion and celebrate with sweet wine?
"Zatik, Zatik" is often performed by folk groups in Armenia. What makes the Kousan Champer Choir's rendition unique, is its polyphonic structure, which itself mirrors the religious and folk nuances of the song. Alozian has worked out an arrangement where the ethereal quality of the classical choral singing is punctuated by the soulful duduk (Kevork Kechichian) and vibrant dhol (Serouj Koujoumjian) associated with Armenian traditional music.
Lyrics
Զատիկ,
Զատիկ, Զատիկ, Տէրն Յարութիւն է առել,
Զատիկ, Զատիկ, հաւը կարմիր է ածել։
Զատիկ, Զատիկ, ժամուն մէջը քըներ եմ,
Զատիկ, Զատիկ, սուրբ նշանը տեսեր եմ ։
Զատիկ, Զատիկ, գինին խմի այս գաւից.
Զատիկ, Զատիկ, գինին թող անուշ լինի։

Full Translation
Easter,
Easter, Easter, The Lord has risen,
Easter, Easter, the hen has laid a red egg.
Easter, Easter, I dozed off in the chapel,
Easter, Easter, I dreamt of the holy symbol.
Easter, Easter, pour the wine from the pitcher.
Easter, Easter, may the wine be sweet!
(Translated by Loucig Guloyan-Srabian)
Check out "Zatik, Zatik" in our video section below!
Join our quest to keep up with the trends!
Video
"Easter, Easter" (Armenian folk song)

Kousan Chamber Choir
?>

"Easter, Easter" (Armenian folk song)